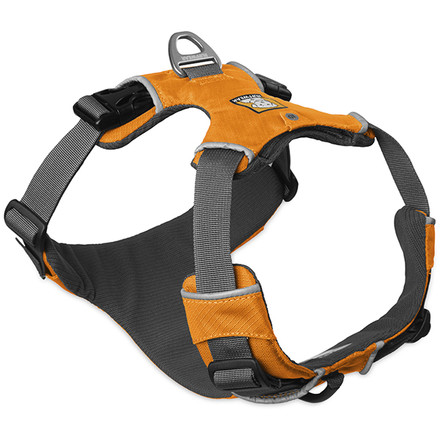 Colors
Hit the trails and get that tail a waggin'.
The Ruffwear Front Range Harness gives your dog a comfortable fit and a free range of motion for those long days of running and exploring that she loves. This easy-on, easy-off harness provides four adjustment points for a customized fit and offers leash attachment points on both the back (for everyday walks) and chest (for training or additional control). Padded chest and belly panels offer load dispersion for comfortable extended wear, and reflective trim allows for safety and visibility in low light conditions. An ID pocket stores dog tags and stops that annoying jingling.
Four adjustment points
Customized fit
Easy-on and off
Padded chest and belly panels
Aluminum v-ring back leash attachment point
Reinforced webbing chest leash attachment point
ID tag storage pocket
Reflective trim
Adventure Pup!
Familiarity:

I've used it several times
Just got a new puppy who is ALWAYS trying to keep up with my other dog on our walks. Using the loop on the front of this harness has helped teach her not to pull SO quickly. The harness is so easy to take on and off and she is more comfortable in it than she is in her normal collar! Straps make it easy to adjust, and she is growing quickly so we've already needed to adjust several times. Although I haven't had it for long, it appears to be very durable and high quality. Hoping this can last us through many adventures!
Casey Sandala
You might want to get a dog before you purchase this product. Once you get yourself a pup, I highly recommend this harness. I feel much better having my dog on leash with a harness, knowing I'm not putting any strain around his neck/ throat. Gives you more control and is also more comfortable for the pup. The leash loop is really convenient and the harness is really easy to get on/ off and adjust. Great for hikes and skiing!
Ciera Perry
Ruffwear quality harness
Familiarity:

I've used it several times
This is a great harness for the price
Charles Denney
Dog Loves it
Familiarity:

I've put it through the wringer
Great product, very adjustable within a single size range to accommodate growth. Somehow it calms our dog down a bit as well, which is super nice. The orange is high vis which is great when shes running around in the woods and the fit keeps her from pulling as bad.
Craig L
Favorite Harness!
Familiarity:

I've put it through the wringer
This is the second of these harnesses that I have purchased for my English Bulldog, Mortimer. The first lasted us 2 years which in harness years for him is a very very long time. We use it as a daily harness. It is extremely sturdy not just in the body but with the loops as well. It works great with all leashes, but especially the RuffWear locking leashes. The body of the harness is slightly padded and is wide/thick enough so that it doesn't dig into his body, even if he pulls. On the other side of that, it is extremely sturdy, so if he does pull The harness stays in place, and will not rip/break.
Bill Ison
Super harness for our 80 lb hyper husky!
Familiarity:

I've used it several times
While we've only used this product a few times, we can immediately recommend the product based on its superiority over every other harness we've burned through. Our husky likes this harness better, we believe, because he doesn't chew on it or at it, and doesn't mind us putting it on in the morning, which was a very easy process due to the logical design. His teeth cannot access the clips because they're located behind the shoulder. The padding satisfies our concern about other harnesses cutting into the sensitive skin under the front legs. This harness doesn't slip side to side on his back probably due to the padding, of which there is just enough. There's a cool top side pocket into which we stuffed a rabies tag, contact information, and GPS chip. The blue looks very cool on our pooch. There's a front clip in case he's feeling bossy, otherwise we use the back clip. Very well made and sturdy. The vet, doggy daycare lady, and friends all recommended and told us we would love this product. Indeed we're more than satisfied.
Cameron G.
Perfect design
Familiarity:

I've used it several times
Ruffwear thought of everything when they designed this gem. It fills well with multiple areas to adjust for a comfortable fit, Provides two options for leash attachment and a pocket for tags. The reflective trim is a nice safety feature. Awesome color choices too!
Shelly
Perfect for my little pupper
I love this harness! Before I purchased this I had a cheap harness that I purchased at the pet store, my little puppy would constantly bite at it and was always uncomfortable in it. Decided to splurge for his comfort and get his harness. The second I put it on he was super comfortable in it, and we haven't had a problem since! Been super helpful leash training him and getting him comfortable walking with a leash! It also is super high quality and can't wait to put it through the ringer.
Charissa Olsen
Dixie is over the moon
Familiarity:

I gave it as a gift but have feedback to share
My mom's dog has some harsh breathing issues in her old age and i didn't want my mom walking her with just a collar anymore. My mom has said that the halter is fantastic and Dixie's favorite color! couldn't be more happy with their new walk arrangements
Sonya Salansky
My baby Cachito loves this so much then having a leash around his neck! He's the cutest dog walking down the street with his harness !
Elsa P.
Favorite Harness
Familiarity:

I gave it as a gift but have feedback to share
We love this harness! Well, our dog (puppy- part German Sheppard/part malinois/ALL energy) doesn't love ANY harness, but this is definitely the harness he hates the least. Honestly, once it's on he doesn't even notice it. The design is great for allowing him to run and move however he wants, unlike many of the other harnesses we tried. We really like that it doesn't cut too high around his shoulders or in his armpits when he's pulling on his leash. We got it in blue and the bright color helps us keep track of him while we are hiking. The material dries pretty quickly when he jumps in lakes/rivers/oceans.



Our only downside is that our dog did figure out how to get out of this harness. But he also figured out how to get out of all the other ones he tried, I don't think that's a comment on the harness, our dog is very smart and sneaky. Still our favorite harness of all the ones we've tried!
Georgia S
Easiest Harness Ever
Familiarity:

I've put it through the wringer
I bought this for my growing 1 year-old lab puppy in a L/XL. It fits him snugly, but also has room for his big brother who is about 115 lbs and full grown to wear, as well.
This is easily the most functional and easy to use harness I've ever seen. You slip it over the dog's head and clip the two buckles on the back. It is super quick and easy, especially if you have a squirmy dog.
It is made of super-durable material and has really nice padding all around it. There are two different clip points - one on the back and one on the front for extra control. My pup has gone swimming in it several times. It drains and dries quickly.
I highly recommend it!
Ashleigh McClary
Good for Small Dogs
Familiarity:

I've put it through the wringer
I got this harness for my smaller dog (16 lb Miniature Pinscher - size XS) when I wanted to start doing some weight pull work with him. There are not a lot of good quality harnesses on the market for the little guys, and this little guy would and has broken some of the less durable ones from the pet store. This harness is showing no signs of wear and I love that the color is still bright! I also like that you can adjust both the neck and the chest for a really accurate fit.
Jani Holder
Awesome Dog Harness!
Familiarity:

I've put it through the wringer
Works and fits great! I have a 1 year old spaniel that has never been the best at on leash walking. This harness has definitely reduced the amount she pulls on walks and every now and then we'll even get a lose leash walk in! This is a great dog harness from Ruffwear and I would highly recommend it.
James McMahon
No More Pulling
Familiarity:

I've put it through the wringer
This harness works great! I have a heeler that would pull nonstop almost to the point of him passing out and within minutes of using this harness all the pulling stopped! Works great for hot summer days because the harness allows plenty of air to get to your dog. I got a size small for my 25 lb heeler. He has about a 27 in chest. Plenty of room to adjust and seems very durable. I would recommend this to anyone who has pulling issues with their dog.
George
So much excitement!
Familiarity:

I've put it through the wringer
My pup, Woodhouse, gets unbelievably excited when I pick this up to take him out adventuring! It fits him well, and helps me keep his pit bull strength in check while we stroll through the 'hood. I wasn't sure which size to get him as the chart puts him in both a medium and large with a chest measurement of 32" so I went up to the large in case this guy decides to grow a bit more. Having the ability to fully adjust the harness definitely is key when they are in between sizes.
Jennifer Wight