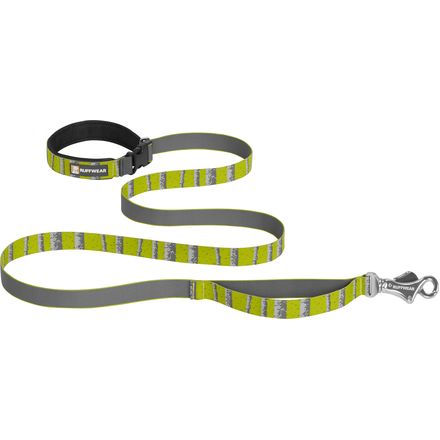 Colors
Walk o'clock.
The old, ratty climbing rope you call a leash has been showing its age, and you're afraid one more good pull from your excitable beast is liable to tear it straight in half. Don't wait for that to happen. Treat your lovable mutt to the Ruffwear Flat Out Dog Leash so you two can cruise around looking for smells and squirrels without worry. When your pup spies something enticing, the padded handle will keep your paws from chafing as pup pulls, and it can be adjusted to fit around your waist when you two lace up your running shoes to go burn off some energy.
Hang onto your mutt with this climbing rope-inspired leash
Talon Clip made for easy one-handed attachment
Traffic handle helps you keep your pup close on busy roads
Padded handle adjusts to fit around your waist or a tree
Accessory loop hangs onto extra walk essentials
A great leash
Familiarity:

I've used it several times
These are very good leashes. In general, they are quite well made and dependable.
Feature-wise, there is a lot going on for this leash. The strap is nice, being cushioned, adjustable so that it can be worn on your waist or wrist, and including a clip buckle. The clip is especially nice if you need to anchor your pet for a moment or hook several leashes together. The traffic handle is amazing, especially when walking around a busy college town. Lastly, the talon clip is wonderful. Not only is it easy to clip on one-handed, but it feels very durable.
This leash does feel a little heavy, however, my wife's small dog does not seem to struggle with it.
Overall, if you have a dog this is a great leash to have. It is very durable as well as versatile.
Caleb
Dependable!
Familiarity:

I've used it several times
I love this leash and the brand. I never have to worry about loosing my pooch with Ruffwear products!
Angela M
Perfect lightweight leash for our crazy pup-Love that you can adjust it to clip around tons of different size things (I've even put it around my waist). Great for backpacking around lakes/water as the thin material drives super fast.
mbr
Great lightweight leash.
Familiarity:

I've put it through the wringer
Great length. Cool padded handle with clip. The little handle at the bottom is great for keeping dog close on busy streets. I kind of question the durability of the talon clip because it's so light but it seems to work great.
Monique Lundstedt
Got this leash after our GSD chewed through a different Ruffwear leash. This one was much thinner but also cheaper so it won't be so much to replace when he chews through this one.
Timothy Justice
Favorite Ruffwear Leash
Familiarity:

I've put it through the wringer
We've been through a slew of different leashes with our newfie, and this one so far is the favorite. The padded clip handle is great- it's comfortable, easy to adjust, and makes it easy to clip her to something as well. My personal fav is the traffic handle- when I want her to stick close to my side, this makes it easy. The Talon Clip rocks too, by far the easiest to get on and off- especially with one hand. All in all, definitely would recommend to accessorize your pup!
Kayla Weiser
Can't Go Wrong
Familiarity:

I've put it through the wringer
This leash is great! The handle is cushioned thus making it comfortable and pleasant to take your pup on a walk/run! And let's not forget the beautiful colors/prints they come in.
Marylou
Leash-T of your Worries
Familiarity:

I've put it through the wringer
LOL I think I tried too hard with that Pun in the title. BUT I love this leash. I have three of them for my two dogs. ONE because the colors are amazing! and TWO they are super durable. We have had them to on fishing trips and camping/backpacking and they can really stand up to the test. THREE they are designed to make walking fido as easy as possible; you can hang poop bags or toys on the accessories loop to keep your hand free.
Jane Hwang