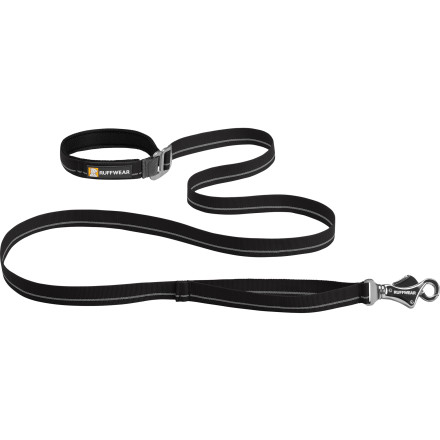 Colors

Detail Images

Community Images
An affordable and stylish leash.
That old, ratty climbing rope you call a leash needs to die, once and for all. Not only does it clash with your pooch's Hoopie collar, but it's about to break for good. Pick up the Ruffwear Flat Out Leash—the low-profile webbing maintains a bit of your climbing style, and the Talon Clip is easy on your paws and won't tremble in fear when the squirrel taunting escalates. The padded handle won't rub your hands raw and can be adjusted to go 'round your waist when you're taking your dog for a run. The traffic loop gives you a solid place to grab when you need to keep your pup close around cars or other dogs.

Tubelok webbing
Adjustable padded handle
Talon Clip, ergonomic
Traffic handle
Ian Anderson
The pooch loves it, probably just because it means more walks. The humans like it too- super functional!
The padded handle is really nice, especially if you have a dog that has an inclination to pull at all. The additional traffic handle is a nice touch too. In my opinion, the clip is probably the coolest though- super easy to function, and has a fairly wide opening so you're not struggling to attach to the collar.
All in all, another win from Ruffwear!
Kayla Weiser
Perfect Leash
Familiarity:

I've put it through the wringer
I love the material and awesome prints this leash comes in. The bottom clasp is easy and work well when you have gloves on in colder conditions. I bought the wildflower print and love the look. I paired it with the same print in the Hoopie Collar.
Annika
Great leash
Familiarity:

I've put it through the wringer
This is a good leash its made out of decent materials.
Jonathan W.
Tied in knots
Familiarity:

I've put it through the wringer
This is a good leash, the clasp works well even at extremely cold temperatures. The flat design is lightweight and packs well, but very easy to get tied into knots that are very hard to get out.
Bryan Baisley
Well designed, thought out and executed
Familiarity:

I've put it through the wringer
I love the feel of the padding of this leash at the hand loop. The talon hook for looping around things (like your waist if need be) is super cool. And when needed the short loop option is a great touch as well. Easily the coolest leash I've had attached this dog.
Matt Penny
Great leash, but preferred the fastex
These are great! We're on our second one (old one is still bomber, just looks bad after two years). I wish they'd stuck with the fastex buckle, as it's easier to deal with in a hurry. Still a great leash, though.
Glade S.
The quick trigger release is very nice. Takes less time fiddling with a normal leash release. There's a padded handle at the end that can be made to fit around the waste if needed. Also a handle near the front of the leash for when you need to stop the dog immediately. The leash has withstood some chewing as my dog is only 5 months old. So far it has been covered in mud but is easy to clean. Good product. Will buy another when (if) this wears out.
Tyler Means
Awesome Leash!
Familiarity:

I've used it several times
I recently bought this leash, along with the matching collar. The padded handle is really nice and I like how easy the clasp is to use. The length is good and the material seems very durable. I expect to have this leash for a very long time.
Amber Bozarth
Great leash
Familiarity:

I've used it several times
I bought two of these leashes along with matching collars for my dogs. I really like how the leashes are adjustable in length. There is also a convenient handle about 12 inches from the hook so if you need to grab your dog close, you can without having to grab their collar. The materials are high quality, and of course the colors and patterns are super cute!
rachel
Best Dog Purchase I've Made
Familiarity:

I've put it through the wringer
I bought this leash to run with my dog and I highly recommend it for that. I've also started using it for hiking and keeping my dog in the near me in the house. It washes well and feels like my dog will have a tough time pulling off of it.
Matt Rem
awesome leash
Familiarity:

I've put it through the wringer
I love this leash. It's adjustable so you can keep your dog close or give her 12' of space, but it's not retractable (booo retractables!) Also I LOVE the way the handle detaches so you can hook her to a fencepost (useful when we're hanging out at my favorite dog-friendly bar)... you don't have to detach the clip from the collar, thread it through the loop and reattach while dealing with a squirmy pup. Also, the clip is super bomber. Would definitely recommend it for anything but hands free running.

My only little issues are that if it were about a foot longer, I could put it around my waist and run with her (it's just a touch too short), and that the padded handle isn't movable (of course, really, if it were, it would probably get caught in the buckle and be more annoying.

So for real... my dog is spoiled. This leash (and the Hoopie collar) were the first things I bought for her and now she has a harness, a backpack, another leash, a bowl, a few toys... and in a few weeks she's getting a whole sleep system. So spoiled... but I also know it's a great investment because Ruffwear makes great stuff.
bikeclimbsail
It's FLAT-tering!
Familiarity:

I've put it through the wringer
Yuki loves this leash! And the pacific wave color looks great with her with fur! This leash is not only light, it's soft and comfy to hold. Not to mention that the clasp is super easy to use and there is no worry about you dog getting loose. Did I mention the handle is padded? oh yeah super sweet! Also the handle comes apart so you can attache a poop bad dispenser with ease. ALSO! you can shorten the leash super easy! and it has a loop at the end so if you have two dogs you can stick them together on one leash! Ruffwear seriously knows what is up when it comes to #dogwalkingproblems. I would highly recommend this to any dog owner. Yuki is about 45 lbs and we got the medium length and it's plenty good for length.
Jane Hwang
Solid all day e'ry day
Familiarity:

I've put it through the wringer
Great leash for doing anything, and dealing with the unexpected. The wrist lock that can unclip is absolutely amazing. I never realized how handy something like that would even begin to be until now.

It has made walking my dog fantastically lazy, because the webbing is narrow enough to fit into my belt loops. So, unclip, belt loop, reclip, hands free strolling in 5 seconds. Great for when you are walking your dog, enjoying a delicious adult beverage, and putting the hurt on a sandwich. Because, lets be real, as much as we judge that guy walking down the street, we all kinda wish we had his sammie, brew, and that dog really is kinda cute. So now, I have become that man, and it is glorious.

The clip is also able to grab onto the normal part of the leash and not just the handle part. So, got a fat tree you need to hook your dog to while you dive into a cafe to get a second sammie? Boom, hook him up to it, and chat up the cute girl at the register cause you are good to go. At least until your dog barks at you and you can now tell her about how awesome and cute your dog is. Nice move.

I can't tell if people cower in fear of my awesome while I strut down the street, or are scared that I may attempt to shove them off the sidewalk for walking too close to me. Either way, the leash is a perfect length for me to walk, not step on my lanky dog's legs, (he is a hound mix and is all legs, not like Jessica Rabbit though). Yet the length is manageable enough to give him a solid tug as a little baby who decided to smash his face with her sausage fingers attacks him all the while her parents fight in the busy intersection and you secretly hope for a large truck to drive through.

Its thin, light, durable, tough, easy to manage, and the bright blue is a hard color to miss, so it doesn't get lost under the table at beer filled cook outs. I have used a ton of leashes, all the way from a piece of rope to some fancy pants feature filled shenanigans.

The only thing I personally don't like, but totally understand is the Talon clip where you hook to the dog's collar. You push down on it (very easy and nice for arthritic people and the like) but its just.... weird. I don't like it. The number of times I have missed the clip and felt like a 5 year old, no motor skills dum dum as my dog has scurried off thinking he was on the leash ready to hike.... well.... lets just say its far too many. However, I can't discount points for this because for anyone with hurting / not well working hands the design is money.

So, be the king of the neighborhood, walk with your hands free, or full of beer. Your call.
Tyler Sutherland
Unleashed!
Familiarity:

I've put it through the wringer
This thing is sweet! has been a great tool for training my 90 pound Cane Corso puppy. Nice to have the hands free option and the ability to leash her to a tree or pole without having to run the leash thru itself. Also the loop near the collar comes in handy when I need to pull her close or keep a little more control of her
Joshua Roberts