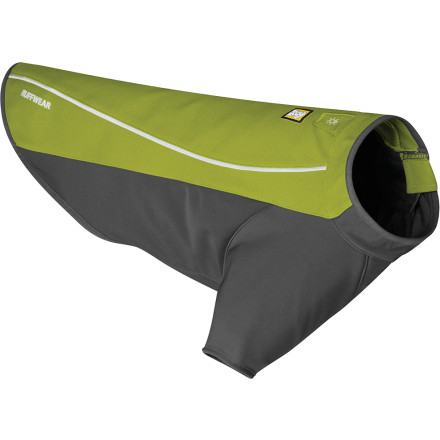 Colors

Detail Images
Never see your dog shiver again—the Ruffwear Cloud Chaser Softshell Jacket's waterproof and windproof three-layer fabric keeps your dog at constant warmth, and it's still breathable so your pup won't get overheated. The coated lower fabric doesn't allow dirt, snow, water, and other unwanted environmental substances to enter your house after a muddy hike or an epically dirty game of fetch. Four-way stretch gives your dog a comfortable yet active fit which looks so good you'll wish Ruffwear made this jacket for humans too.
Waterproof and windproof three-layer softshell upper fabric keeps your dog dry and warm
Coated fabric repels water, dirt, and snow
Insulating interior maintains heat so your pooch doesn't freeze
Four-way stretch keeps your dog comfortable and ready for action
Raglan sleeves maintain circulation through his or her limbs without limiting range of motion
Zippered closure so your dog won't wiggle out halfway through your adventure
Reflective trim and light loops keep your dog visible to you and others at night
Love this jacket
Familiarity:

I've used it several times
Nice thin shell that I use for my bully as a rain coat/windbreaker. It fits him very well and looks cool too. He always gets lots of compliments.
Mike J.
Love it
Familiarity:

I've put it through the wringer
I bought this jacket because my dog 'goes hard in the paint' and loves playing in the snow. She has the type of fur that creates snow balls and I bought this little jacket to minimize that issue. It's been a great piece and it's made of high quality materials!
Lindsay Clark
Just what I was looking for
Needed a jacket for my Irish Setter for Autumn in the Colorado backcountry. This should be perfect, fits her perfectly and comfortably, and seems sturdy.
Rachel L.
Great jacket
Familiarity:

I've put it through the wringer
I bought this jacket for my short haired Shepard mix. It is a great jacket. It allows her lots of movement while keeping her dry and warm. She's very active dog and this jacket doesn't inhibit her at all. Great Purchase!
Desiree L.
Doggie Digs It
Familiarity:

I've used it several times
I bought one of these jackets for my special girl to keep her torso dry when playing around in the snow. This past season we used it several times and I like it. It fits well, on the tight side which I think is better than loose, so it moves with her instead of limiting her movements. She is an active girl! As for keeping her dry it does a good job. I'd buy another if this one was lost or damaged.
gregory mogle
No more wet dog
Familiarity:

I've used it once or twice and have initial impressions
I just got this for my family pup. He's a goldendoodle and full of energy. He loves to be outside so we got him this coat to keep him dry and warm while playing in the Utah snow. I love the black option, it matches his black coat perfectly!
Samuel Nichols
Should have gone up a size
Familiarity:

I've used it several times
My new dog is right in between the size small and medium, and I am going to exchange the small for the medium. The bottom is very stretchy, but the small was too tight on her. She is 45lb mix, but is very stocky around the neck and shoulders. I think the medium will be too long on her back, but I might be able to hem it up a little. If you're right on the edge of a size, I would suggest getting the bigger of the two.

We have had this jacket for our golden retriever for a few years now and we love it. Helps keep the snowballs from forming!
Wesley B.
Great for in between weather
Familiarity:

I've used it once or twice and have initial impressions
XXS Fits perfect on my 9lb Min Pinscher/Chihuahua. Kept him nice and warm running through creeks on a 45-50 degree day.
Paula M.
Dog Loves it!
Familiarity:

I've used it several times
This is the first jacket I've gotten on my dog that he hasn't tried to take off or that STAYS on him! The fit appears true to size. The soft shell is perfect for hiking and biking in the rain, snow or cold weather. So far its a great jacket!
Jarquette
Great Quality
Familiarity:

I've used it several times
Our mutt measures between sizes so we bought both the small and medium jackets. If he wasn't so broad in the chest we probably would have stuck with the small- but we settled on the Medium for length and all over comfort. The zipper sticks, you have to fold over the fabric to keep it from pinching. Overall quality is great and the color stands out.
Matt Haberstock
Fashion meets function
Familiarity:

I've used it several times
Picked this up as an all around jacket for my 33lb Basenji (small). This jacket has considerably increased the time shes able to play in the snow. For her the fit is great and doesn't restrict any motion while playing. Tough enough to withstand aggressive doggy doggy play and just water resistant to keep her dry for a few hours.
George
Ruffwear Cloud Chaser Dog Softshell Jacket
Familiarity:

I've used it several times
This jacket is a game changer. My dog does not have a traditional two layer coat, but has curly hair instead of fur. His favorite place to be is playing in the snow and getting after it, however the snow freezes to his hair in big snow ball clumps on his chest, belly, legs and face. As a result we cannot play or hike for as long as either of us would like, but more importantly, once we are done, he has snow frozen all over his body which is a safety concern (from being cold and wet; yes we towel him off). This jacket almost entirely alleviates the issue. Not only does it prevent the snow from balling up on him, he stays completely dry, but maintains full range of motion while running and jumping and playing around. He actually gets excited when we grab his jacket because he knows we are going outside to have some fun.

The jacket is a perfect fit (size small; he's 35LBs), snug but athletic, which plenty of stretch in the arms for full range of motion; no chaffing at all; keeps him dry in all coverage areas; durable softshell material; and it actually has some fantastic style! We could not be happier with this piece.



Below are two pictures. One of my boy prior to purchasing/wearing the jacket and playing the snow, completely covered in frozen snow balls (the reason we needed to get him some coverage). The second is of him wearing the jacket and loving life!
Shaun Moyer
Good Fit
Familiarity:

I returned this product before using it
I purchased these for my mother-in-law who has two beagles. The dogs had never worn a jacket before and because of this she thought they didn't like wearing them and asked me to return them. They fit them well and seemed warm.
Jessica van Jaarsveld
Stylish Protection
Familiarity:

I've used it several times
We got this jacket for our Jack Russell to wear in the snow/rain and so far so good! We have a lot of Ruff Wear and have come to expect smart design, great fits and durable construction. This jacket is no exception to that!
Gian Colombo
Little extra protection from the cold
Familiarity:

I've put it through the wringer
Our forty pound Lab/Pointer mix has a short coat and we wanted to get him something to keep him comfortable on longer days hiking in the cold. This jacket does the trick. A snug fit, but allows him to tear around just fine. I think this is a great choice for an active day, but I'd go with something a little more insulated if you're going to be sitting around (winter camping, ice fishing, or what not).
Zachary B.
good water resistance, great fit
Andrew Reese
Almost perfect
Familiarity:

I've used it several times
It is very hard for us to find jackets (or any dog product ) for our weim. She is very chesty, long and skinny. The med cloud chaser fits her pretty darn good. The jacket has keep her warm and best of all keeps the wind off her. The only thing we would change is to have the neck a bit larger.



Overall the cloud chaser is a great doggie jacket and so far has preformed better than we had hoped.
Suzie M.