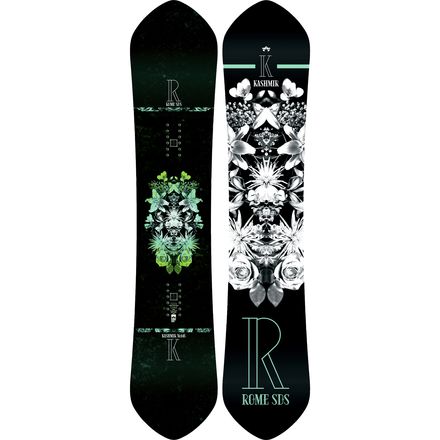 Bred for boosting.
The latest addition to Rome's arsenal of do-it-all freestyle weapons, the Women's Kashmir Snowboard amplifies your freestyle skills with its pointy twin shape combined with carbon and bamboo additives for explosive pop. Perfectly centered as a twin-shaped deck, the Kashmir is equally at home perfecting fronside 540s off park kickers and floating backside 180s into powder. Its powerful flex is best suited for the intermediate-to-advanced rider, giving experienced shred fiends the responsiveness and stability for hauling at high speeds and hitting bigger jumps without looping out on landings.
The Kashmir is built on Rome's Contact Camber profile, which is fully flat throughout the board's effective edge for a stable, locked-in feel at high speeds and predictable edge hold through carves. Since flat boards loose a bit of carving response when compared to their cambered siblings, Rome added a FiveGnar sidecut for a bit more liveliness. Essentially, this blended sidecut provides tighter turn initiation as you load into a carve, then exits with an energetic feel that's not usually encountered with flat boards. Since the sidecut is blended smoothly, you'll find an absence of "bumps" that tend to feel grabby in softer snow. And to ensure powerful response and plentiful pop, Rome threw in a HotRods Bamboo Single Barrel down the center to keep you boosting wherever you ride.
Explosive freestyle board for summit-to-park prowess
Flat profile for stability at speed and predictable feel
Responsive flex for high-speed charging and hitting big jumps
Freestyle-inspired twin shape with distinctive pointy tips
Biax glass with 90-degree woven carbon for energetic response
HotRods Bamboo Single Barrel amplifies pop and overall snap
FiveGnar sidecut gives flat boards liveliness while carving
The all-new Kashmir is our latest offering for flat-cambered, ride-everything fun. A true twin shape and flex pattern that is equally at home pressing in the park, darting through ancient forests or sneaking in a few laps before work. Our Contact Camber combined with our FiveGnar Sidecut brings snap and pop, but also rounds things out with a mellow torsional flex perfect for all-terrain prowling.
Brad G