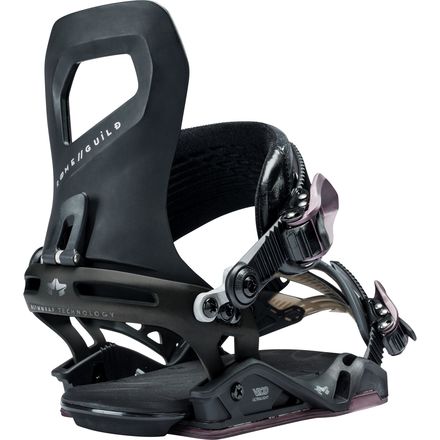 Colors
Hone your craft.
Show off your skills all over the mountain with the lightweight, yet powerful feel of the Rome Women's Guild Snowboard Binding. New for 2018, this super-light bindings offers a supportive and responsive, yet tweakable feel, along with tons of customization so you can fine tune it to match your riding style and stance. Groomers, powder stashes, and park hits are all in the cards for the Guild.
AsymWrap technology improves edge-to-edge response while maintaining lateral flex and board feel, meaning you get quick turning power and maximum board control. PivotWrap technology lets you adjust the strap position to customize how responsive you want your binding to be. Run it looser for mellow park laps and surfy pow days, or go ultra-responsive when taking on big mountain lines and railing carves on groomers. Its mid-stiff flex offers support and response for going big and fast, but it still allows enough flexibility for tweaking methods thanks to the women's-specific Guild highback.
Super-light performance for ripping the whole mountain
PivotMount lets you control response with strap position
V-Rod baseplate offers ultralight response and strength
Asym Vice is supportive, yet tweakable
EVA SubBase pad soaks up chatter and impacts
ContourBoss 2.0 ankle strap provide secure comfort
Full highback rotation matches highback to your stance
Based off the Katana platform, the Guild is our newest commitment to super light, customizable, ride-everything performance. Driven by our industry-leading PivotMount 1.0 tech, VRod Ultralight Baseplates and complimented by the Women-Specific Guild highback, this new model provides a blend of stability and flex never before seen at this price point. Built for riders who want the freedom to decide if it's time for the backcountry, the groomers, or the side hits on repeat, the Guild is ready to step up and throw down.
Brad G