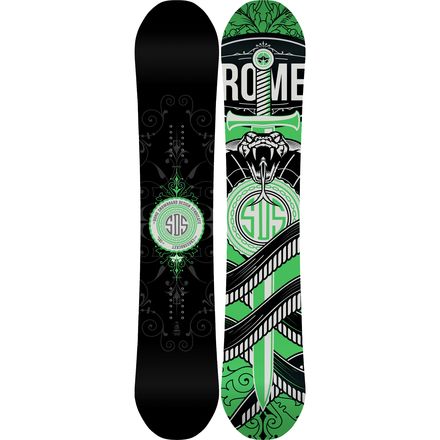 Colors
A unique blend of buttery float and responsive pop.
Powerful response meets playful, catch-free fun. The Rome CrossRocket Snowboard dissects anything you throw its way, slaying park kickers and floating through freshies with ease. Rome's NoHang-Ups Pop 2.0 camber gives you the best of both rocker and camber. This profile combines positive, diamond-shaped camber extending from the board's center to approximately 10-millimeters shy of the contact points, with a 3D concave rocker at the tip and tail. Ultimately, this hybrid profile gives you the powerful precision of a full camber deck with a really loose, surfy feel at the nose and tail.
Looking inside this all-terrain beast, you'll find a SuperPop Core Matrix for tons of snap off kickers, cliffs, and natural windlips. Carbon Single Barrel HotRods extend outward from the inserts to the tip and tail, giving you explosive ollie power without added torsional stiffness. New for this year, Rome added their Z-Tech 1.0 into the center of the CrossRocket. This one-inch strip of Zylon also enhances the board's pop without increasing torsional stiffness. Zylon is lighter, stronger, and snappier than carbon (hard to believe, right?), giving you insane levels of pop when you're sending jumps and hits into oblivion.
NoHang-Ups Pop 2.0 (camber underfoot, 3D-rockered tips)
Almost twin shape
SuperPop Core Matrix
StraightTriax30 laminate
Sintertrue base
HotRods carbon single barrel
Z-Tech 1.0
QuickRip technology
ButterOut transition zones
A straight Stiffy
Familiarity:

I've put it through the wringer
Fun board but right out of the box the initial stiffness is noticed. The stiffer flex works with the traditional camber under foot and through the middle gives you a solid stable feel throughout the board which allows you to munch through choppy stuff. I've used this board so far In all terrains possible from a foot of fluff to some crusty chowder to some hard iced runs. It has done well in most occasions however on hard packed runs the carving you get a real loose feel when trying to carve aggressively. The contact points seem to be real unbalanced and the tail seemed to get away from me sometimes. When taken to the park you definitely notice the Carbon Single Barrel HotRods awesome pop however it's a little too stiff to get that nice smooth transition onto boxes and rails you really have to hit it dead on to get a good feel and center of gravity otherwise I kept getting a real sketchy feeling like I would wash out and I did quite a few times. Overall impressions of this board floats well and does well in choppy and fluff stuff but lacks the gratitude of being called an All Mountain board from now on this board has been retired to my powder board collection and will only be taken out when fluff is on the rise.
Christopher H
The Board that does it all and then some
Familiarity:

I've put it through the wringer
I was very hesitate to get down on this board but damn was I wrong. You can take this board rip the groomers, pow and park no problem. The camber shape makes the board grip and rip turns like no other. With the 3D diamond shape on the nose and tail you can butter like it is a rockered board. My first day riding the crossrocket was in 15 inches of fresh/tracked snow and the board charged. The next day I took it to the park and got even more hyped. I could press on rails no problem. Then send it off jumps and stomp the landings with confidence in the camber shape. The hot rods in the nose and tail give you a good crispy pop. Just an epic board for the any type of rider. Rome killed it on this one!
Masta Bruce Amateur Snowboarder
Best of Both Worlds
Familiarity:

I've put it through the wringer
Can't decide between the playfulness of rocker and the stability of camber? Luckily Rome made the decision for you with the Crossrocket. It has camber under and between the feet, and a mellow, scooped out nose and tail. This lets you rip turns and hold a solid edge with the camber, as well as butter around with a catch free feel on the nose and tail. Not to mention, this thing floats in powder like a dream.
Evan Wilcox