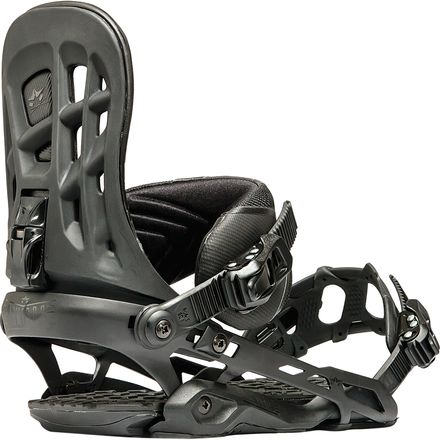 Colors

Detail Images

Community Images
Rips everything.
Renowned for its true all-mountain versatility, the Rome 390 Boss Snowboard Binding is the go-to choice for shred bums, shop kids, Rome team riders, powder junkies, and anyone else who wants a tough, versatile binding that excels anywhere and can take a serious beating. It offers a happy medium of powerful response and forgiving flex to help you light up everything from park jumps and urban rails to powdery glades and steep chutes.
One of the key features to its ride-anywhere, shred-anything prowess is the 390 Asym highback. This asymmetric highback is stiff enough for powerful heelside carves yet still laterally flexible for tweaking grabs and pressing with precision. Giving the binding high levels of edge-to-edge response, the binding's V-Rod baseplate is a rockered minimal contact baseplate that maximizes the true flex of your board, helping to reduce the dead zone underfoot. Its UnderWrap heel hoop wraps underneath the binding's chassis for near-instantaneous response when you're carving steeps and launching off everything on the mountain. Additionally, this heel hoop has Channel Adjustments for a perfectly dialed fit for your individual boot size.
A cult favorite for any type of riding
V-Rod baseplate optimizes board flex and feel
Adjustable canting correctly aligns your joints
UnderWrap heel hoop balances flex and power
V-Rod padding smooths chatter and cushions landings
Straps conform to boot without creating pressure points
AutoStrap tech keeps strap out of way when strapping in
390 Boss Classic
Familiarity:

I've put it through the wringer
These bindings are a classic in the rome line. I like how adjustable they are compared to the plastic baseplate bindings rome makes.

Performance wise, these have the amazing canted bed option. This gives your knees a break and keeps you riding for that extra hour. Plus the pop feels more like the ollie tail of a skateboard.

Straps are decently padded and comfy on my 32 Lashed boots.

Sizing can be tricky with these, depending which boots you rock. I/m normally a 9.5 and I like to squeeze in the s/m. I would only do this though if your boot has a slim outlining. When I switched over to a 32 boot in a 10, I had to bump up to the L/XL.
Rich Wheeler
390 Boss Bindings Strong and Reliable
Familiarity:

I've put it through the wringer
Great Bindings.

No issues... I ride hard: presses, butter's, large park jumps, rails etc... I have never had an issue.

I love the response when hucking 180's and threes.

The padded and canted foot pad is Boss for landing large park jumps, feels like butter every time... maybe its the 35' plus at mammoth, who knows...

Buy these bindings and have fun.
Brian G.
Back to Back Rome 390 Boss Bindings
I gave this as a gift to an avid snowboard friend of mine and this is what they had to say: "This is the second pair of Rome 390 Boss Bindings I have purchased and I still love them given the price and technology. So much customization, comfort, and a low profile binding. They are so damn soft and supportive, it's like a pillow cushion on your boot when you strap in! I wanted to get a new pair after my first experience with them back in 2010. The straps deteriated a little bit after 7 years but they are still working amazingly.

The new 390 Boss bindings (all black) I recently purchased through backcountry are a very very similar to my first bindings minus the color, foot bed, and durability. The binding is very customizable, easy toe/heel strap adjustments, easy forward press adjusting with a snap lever on the back of the binding. This versions straps are clearly more durable than my previous 390 Boss bindings, they are made with less soft material/leather and stitchings. However, the one thing I was unhappy about was the foot bed where you can place a 1.0 or 2.5 pad down after you place your degree and bolt the binding. This version has a poor design in my opinion, instead of bolting my desired degree of the binding and then sliding a two piece foot pad in the foot bed with a large single screw in the center(older design); I have to hold the pad in position/bend the pad while bolting the stance. Once bolted, I press the back end of the pad down over the foot bed and proceed with a very small screw in the back corner that you screw into place throw the pad. It's difficult to screw the pad in place but clearly they are trying to give you a final preference on customization of where the foot pad begins and ends in relation to the foundation of the binding bed. I feel like it's poorly designed in how easy it is to do it without messing with your stance/bolting. A first time buyer might not understand how to properly place the pad after bolt insertion and might strip a screw trying to reach the base with such a tiny screw/sliding foot pad like I did. Rome supplied me with a link for instructions but the only video instructions were for the Katana and another binding. Suprised me because I think these are the bindings people want to see more about just like any other newer model you may be presenting this year 😉. Thanks to backcountry I found another solid pair to keep me happy for years to come. I put these bindings on my new 2017 Lib Tech T.Pro 164.5W all mountain board, it's literally insane how light, fast, and versatile the board is with these perfectly matched bindings. I can't imagine a more comfortable and responsive setup. See you in Park City!



Cheers,

Chadwick "
Charles H
Solid as a rock, F.L.A. a bummer?
Familiarity:

I've used it once or twice and have initial impressions
Rode one full day, so far very happy with the purchase. They are incredibly adjustable in so many ways, you can spend hours making fine adjustments for a custom fit. Best attribute was their comfort when riding, felt like riding on clouds, even when stomping and carving hard turns. No longer do i feel that outer-leg burn, these bindings work with you. Very supportive, super easy tightening straps on the fly, and the Autotech strap feature is a sweet bonus. Pads are like pillows, no pressure points what so ever. Components are high quality, hardware is bombproof. So far, I'm disappointed in the tool free forward lean adjuster, even though it is convenient that it can be adjusted on the mountain in a jiffy, the system feels a bit junky, but mainly I am bummed about the levels of lean it offers, as I feel it doesn't come close to how far forward I would like it to lean. Maybe I'm wrong??? But I compared them to my old crappy Solomon binding's and my old pair leaned much further forward. I want that forward lean for better control between heel to toe side transitions, I have a wide, squatted stance, which asks for a higher forward lean. I just switched to the Yes I Can't 2.5% Inbed canting footbed, I'm excited to try it out, supposedly gives more power and control, especially for rocker boards, and eases pressure on the knees. They are also on the heavy side, but a good trade for high quality components, I didn't notice their weight when riding, but you probably will if you ride park a lot, which I don't. Cool colors as well. Toe strap works great both over toes or on top of toes.
Sean S.
Ankle Strap Snapped After 1 Year of Use
Familiarity:

I've put it through the wringer
I paid 140 for these bindings on sale. Definitely not worth full price. Stoked to get them. Really loved them for the year they worked. Overall, a pretty good binding, when it isnt broken. Im fine with the fact that they broke after 1 year of riding, but I cant get past Rome's "customer service" Its the beginning of the season and what do I want to do? Shred. What cant I do? Shred. Why cant I shred? Because Rome's warranty/customer service center is ignoring me. Why do they have a priority setting on their warrenty claim form if they aren't even going to pay attention to that? I choose "Urgent, shredding this week!" ... I get 5 days of silence and still no response. So I bought some Ride Bindings because Im desperate to ride by Sunday and Ill get them by Saturday. I dont know how the binding will treat me, but I think anything is better than Rome at the moment. Do yourself a favor and buy from a company that actually cares about their customers.
Leo Z.
Bossy
Familiarity:

I've put it through the wringer
These binders are dope. REALLY strong. The underwrap tech allows for extra torsional flew which makes turning and 180's a freakin breeze. Only complaint I could forsee for people is that they are a tad heavy but in my opinion its nice to feel your binders under your feel. Kinda like a truck feel with a skate board. Bomb proof bindings. Buy these.
Chaz Carbone