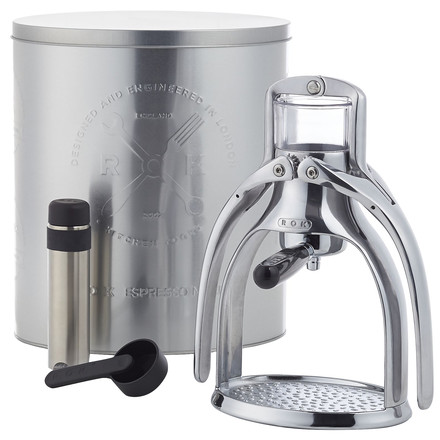 Colors
Simple as a singlespeed.
We're not entirely sure why manual espresso presses like this appeal to us so much, but one theory is that, as cyclists, we have grown to appreciate the interface between human-provided power and efficient machines. The ROK Manual Espresso Maker operates along the same lines, and the result tastes a lot better than the espresso-flavored gel packs we've all choked down in the past.
Espresso is a simple beverage, so it's appropriate that the Manual Espresso Maker is an elegantly simplified mechanism with an equally simple aluminum construction. The instructions are as uncluttered and perfect as a game of ROK/paper/scissors: boil water, grind beans, press. Like mounting and dismounting in 'cross, this simple process can actually take some time to master, so don't be afraid to spend a weekend morning cranking out espresso before cranking out those winter base miles. Four rubber feet on the base keep it stable during operation.
The ROK Manual Espresso Maker includes a storage tin, portafilter, tamp spoon, splitter, and milk frother for making cappuccino and lattes when you're feeling adventurous.
Beautifully Designed Machine
Familiarity:

I've put it through the wringer
The ROK espresso maker uses machined aluminum parts mixed with high grade plastic. The pieces all seem very high in quality and replacements are inexpensive. The company stands behind its product with an amazing 10 year warranty on all of the metal components.

As far as the brew goes. . . I am neither a coffee snob, or connoisseur, but I am a chef and have had my fair share of joe. That being said prior to buying this machine I was drinking at least one espresso daily from the local Starbucks coffee shops located on every corner near my domicile. In relation to those this machine makes a superior espresso. I have noticed that the grind of espresso makes a difference as well. If you are buying pre-ground Illy works the best. The machine makes a really nice cup with a decent amount of cream with little more effort than making a cup of tea. I highly recommend the ROK Espresso Maker, but also recommend watching all of their informational and instructional videos before purchasing.
Andrew T.
Lovely conversation piece
Familiarity:

I've used it several times
This apparatus is lovely, made from solid aluminum and plastic it seems built to last a lifetime.

It is not for backpacking or any activity where weight or space are a concern.

I've made lattes at home every day with a Bezzera BZ-07 HX machine going on 7 years. The thought of having good lattes while camping sounded nice. My goal was three to four lattes a per morning (me+3 friends).

I practiced at home using my stove to heat the water and my regular grinder and even then the process was slow and messy but I thought I could manage.

Once out at the campsite, everything just got harder and messier. Keeping the water hot enough was difficult because the aluminum is cold in the morning and short of soaking the top half in hot water before each cup, I don't know how to avoid it (maybe I need to keep this in my sleeping bag). The grind balance needs to be closer to Drip than Espresso if you want to push the water through it. The best results I could get were equivalent to a $20 steam pressure machine from Target (which I think are only sold to convince people they should stop trying to make their own and just go to Starbucks). By day three I was still hand grinding the beans but had resorted to the tried and true mocha pot.

This now sits on a shelf above my BZ-07 looking lovely, but that is about all it is good for as far as I am concerned.
Chris D.
Perfect for camping or taking along to bike races. Looks like a work of art.

I am in love.
Katie Stewart
ROK Manual Espresso Maker
Adam Saucedo