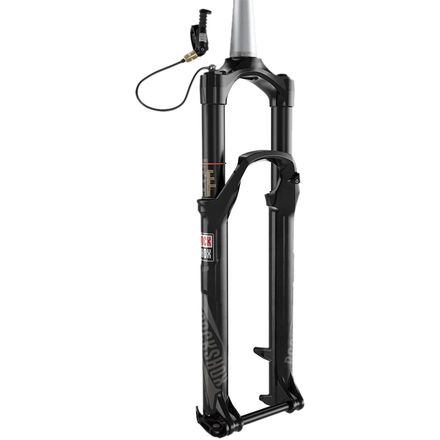 Colors
Roll solo.
Except for its more expensive stablemate's one-piece carbon crown and steerer, the RockShox SID XX Solo Air 120 Fork for 27.5in wheels is every bit the trail missile as the World Cup version. Though this model's substitution of an alloy crown and steerer makes for a slightly heavier overall fork, the SID XX still boasts a claimed weight of just 1,630g, putting it well into the lightweight fork category. The material differences also mean the World Cup model is a bit stiffer through the steerer, but the SID XX features the same built-up Power Bulge bushings at the dropouts to boost stiffness where it really matters and increase line-sticking confidence across techy sections of terrain.
The SID XX also includes the same top-end, race-ready Motion Control DNA damping system found in the World Cup model. Fighting off gravity and wallow is in this system's DNA, and it uses external rebound and incorporates separate circuits for low- and high-speed compression. The damping is remotely adjustable with the included XLoc remote, so you can dial it for high-riding sensitivity over consecutive bumps or larger impacts to maintain speed across flats and descents and protect the gap you worked so hard to open up on the previous climb.
The Solo Air spring is also easy to tune with a single Schrader valve, which adjusts both the negative and positive chambers at the same time, and RockShox's Bottomless Tokens, which alter the chamber's effective volume to dial in the compression curve and meet individual ramp-up preferences. Pairing all this with a Rapid Recovery valve that rebounds quickly after full impacts to prep for the next hit means you'll stay in control across root-latticed climbs and rocky descents.