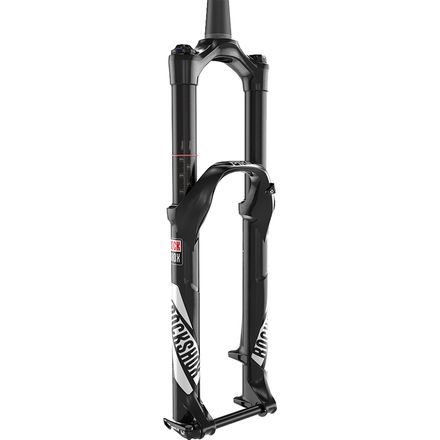 Colors

Detail Images
Undeniably suave.
Strong and intelligent makes for an incredibly threatening combination, and it's one that RockShox has executed admirably with its 29/27.5+ Pike RCT3 Solo Air 150 Boost Fork. Like a British secret agent with discerning taste in formalwear and cocktails, the Pike blends style and grace with turns of occasional, unapologetic brutishness delivered in the form of six capable inches of travel. Tipping the scales with cross-country lightness and delivering a forward-thinking Boost-compatible design, this Pike RCT3 will work with both the trusty 29in wheels in your garage or the new 27.5+ you can't wait to take out on the trails.
Using Solo Air, this version of the Pike ditches the adjustability of the Dual Position Air version in favor of a single 150mm travel position, saving you about 50g of weight and unnecessary complexity. The Charger damper's adjustability still gives you room to spin the pedals without feeling bogged down on a climb, allowing you to choose between Open, Pedal, and Lock modes, but Solo Air truly shows its strength on the steepest pitches and most destructive descents you can convince yourself to steer your bike into.
When you're dialing settings on the three-position charger damper, Open will let you enjoy discreet amounts of low-speed compression, while Pedal and Lock are pre-tuned for a plush platform that keeps moving across unyielding trail décor and maintains speed on smooth climbs and fire road transitions. You'll also get the benefit of RockShox's Rapid Recovery feature, which keeps the Pike hungry after successive hits and hand-numbing stretches of repetitive bumps, ensuring it stays high in its travel and recovers quickly to maintain cushion when you pick the wrong line.
The Pike's overall design brings us back to our earlier musings about its intelligence, as it features a reinforced lower leg and oversized bushing for stiffness with no corresponding increase in stanchion size. Along the rest of the design, RockShox carefully shapes, carves, and fine-tunes to ensure that all unnecessary weight was removed, and it also includes a printed PSI menu to take guesswork or the need for an Internet connection out of your pre-ride adjustment ritual.
Plush and stiff
Familiarity:

I've put it through the wringer
Awesome fork for just about any bike. plenty stiff enough to rip around on an enduro bike but plenty light enough to put on a trail or even XC rig. (Only 4 lbs!! What??) have one on a few of my bikes and would definitely spec it again.
Joe Bolton