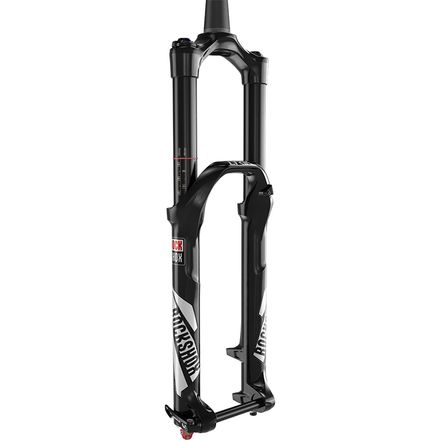 Sing a song of sending.
The RockShox Pike is a legend, but it's time for it to step aside and make room for the Lyrik RCT3 Solo Air 170 27.5in Fork. RockShox hasn't reinvented the fork, exactly, but it has taken just about everything that the Pike did and make it better, so you get a long-travel enduro fork that's lighter, stronger, stiffer, and smoother than ever.
The Lyrik's crown and stanchions are both burlier than the Pike's, which endows the fork with a stiffer feel that's perfect if your preferred method of descent often swings towards the hell-for-leather end of the spectrum—just point it and go. Underneath, the Solo Air spring has been updated with a new negative chamber and seal design that's smoother, requires less servicing, and helps the Lyrik gobble up washboard ruts (brake bumps, we're looking at you) and resist diving when you get on the brakes.
For all the advancements, RockShox didn't get too crazy, though. The FastBlack coating and bomber Solo Air shock design stayed the same, because they're awesome, as did the Rapid Recovery (small-bump compliance) system and the RCT3 Charger damper, which lets you power up those shuttle stages and hammer the descents like an animal.
Enduro fork that lost weight and increased stiffness
6.6in of travel for high-speed, chunky descents
Three damping settings accommodate varied terrain
Solo Air spring requires less maintenance
Rapid Recovery smooths out smaller bumps
Burlier stanchions and crown increase stiffness
Tapered legs reduce weight without losing strength
Unanswered Question
What is the offset measurement of this fork?
Alexander C.
I have had 2 Lyrik's now, this is my 2nd one and I am very very impressed. The Lyrik is a single crown boxxer world cup and is perfect for the more gravity oriented rider. I threw this on my transition Patrol and just love it. The nice thing is that the lyrik also comes with lockout now which makes pedalling up hill a breeze. The fork is very confidence inspiring especially pouinted downhill. I prefer 170mm travel over 160mm just to have a bit of extra cushion and I came off a Kona entourage to the patrol which was alos 170mm. I think the Lyrik is far more superior over the Pike that everyone is running. If you like to be a bit more gravity focused then this is the fork for you!
John Bamford