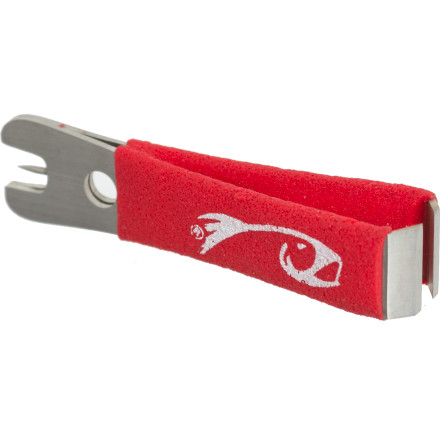 Colors

Detail Images
Use the Rising Nippas and debarb your hook to help ensure an easy catch and release.
Anodized aluminum body with a non-glare finish for durability and longevity
Patented, push-button, locking-pin-mounted mechanism swivels for convenience
Durable rubber handles are easy to hold
Nippers
Familiarity:

I've used it several times
They are little smaller than what I was expecting, but the perform and function exactly as you'd hope. Better than cutting line with your teeth by orders of magnitude!
Shaun Moyer
Works great! But somewhat small
Familiarity:

I've used it once or twice and have initial impressions
It was slightly smaller than I was expecting, but I did buy the cheapest one with this style of grip. They work great though, the grip will be helpful in the colder months and when hands are wet. If I could go back I would probably buy the big nippas from this same brand, but these will work fine and I don't want to go through the trouble of returning. Those with older hands or hand problems will definitely want the bigger "big nippas" but these will work fine for many young people like me.
Scott L.
Rubbery, grippy, and snippy
Familiarity:

I've used it several times
Great quality, easy-to-grip rubber handles, and nice and sharp for quick line cuts. Great set of nippers for all your nipping needs.
Doug Small
Snippy Snippy
Familiarity:

I've used it several times
Sharp, made in Utah, good company and people, making great product, what more can you ask for?
Perry Hall
Solid feel, and sharp blades. Perfect nips.
Ross Hayes
They're easy to use and work great!
Cameron C
Nippas!
Familiarity:

I've put it through the wringer
These things are great, and for a great price! a must have for any fly tyer out there, we all know how it is to to spend all that time tying flies just to have the eye hole plugged with glue, well these nippas have a pokey tool just for that! and the rubber grip is just a plus.
Magic Mike
Nippas!
Familiarity:

I've put it through the wringer
Rising makes excellent products and the Nippas are certainly no exception. Hard to really improve on nippers seeing as they are about the most basic thing out. Risings addition of the rubber grip is amazing, why no one ever thought of it before is beyond me.

The rubber allows you to easily handle the tool without fumbling around a slipping while your hands are wet. The bright red color helps you easily locate them if you drop them in the weeds too.

Matthew Pizza
Expert Gearhead
mpizza@backcountry.com
801.73.5363
Matthew Pizza
Marga
Solid Pair, Solid Price
Familiarity:

I've put it through the wringer
I have gone through like literally a dozen pairs of nippers since working in the fishing industry, they have broken off zingers, fallen off my waders, misplaced on the river bank, etc.

I stumbled upon the rising nippas when I was working in Montana years ago and literally though they were perfect for the price. I have had like 12$ nippers the same size as this little guy that go dull in no time at all.

These puppies cut and cut well. Not to mention, they come with a small grip cover over the nippers which really help in getting those fine cuts on 6 and 7x tippets. I lost that faithful pair of nippers once I left Montana but now I have found them again!
Ian Bisantz
Tiny... But Mighty!
Familiarity:

I've put it through the wringer
After fumbling around and replacing several more generic nippers since getting into fly fishing about 6 years ago, I found these lil guys and they are still cutting tippet like a boss 4 years later. The little hook eye clearer at the base has saved the day on sever less than proper tied flies that were blocked and I have since retired an older pair to be a dedicated staple of my tying bench for nipping wire.

Get several pairs as you will want these lil guys on all your packs, waders, and jacket. For more serious nipping needs, check out Rising's 'Big Nippa'!
Kyle Smyth
Nippin
Familiarity:

I've used it several times
I love the small size and rubber grip. I do not love finding a sweet spot for trimming my 7x tippet. These are 6 dollar nippers though so you can make it work if you're baggin' it
James Farnan
Used many times
Familiarity:

I've used it several times
Overall, I feel that these aren't worth the money. Have used other ones at this price point that work much better. I have a hard time cutting any tipper higher than 3x. I feel that you have to cut straight on with the tipper or leader to get a clean up. Shouldn't have to fuss that much!
Daniel H.
Yes!
Familiarity:

I've used it several times
Buying nippers is notoriously difficult. You can go cheap and risk getting nippers that cut like a spoon. Or you can go high end (Abel/Hatch) and spend $50+ on nippers that you know will cut...but then you just spend $50+ on nippers. OR, you can go middle of the road, which seems to yield extremely inconsistent results.
I decided to go the cheap route with these Rising Nippas, and I struck gold. They actually cut!
They're not going to match up to some high strength, tungsten carbide cutters, but they get the job done with 6x, and if you lose them...who cares?
Definitely give them a shot!
Ned Chanatry
Fishing essential!
Familiarity:

I've put it through the wringer
I keep these out and ready, probably one of the most used items i have. Makes very clean cuts and point on the end works well for cleaning out pole eyelets.
Dusty B
Rising Nippas
Familiarity:

I've used it several times
The Nippas didn't cut very well, and I was better off just using a nail clipper.
Peter M.
Classic Nippas
Familiarity:

I've put it through the wringer
I have a few pairs of Rising's Nippas, both big and small. I love them and use them almost exclusively.
Marc DiVall
Great nippas
Familiarity:

I've put it through the wringer
Rising makes awesome gear. I've got these nippas for my lanyard, and the big nippas for my hip pack. The nippas are sharp, molded well, durable and the grip is great for friction when wet.

I've had other more expensive nippas that eventually had the 2 blades not align, so I would spend time trying to find the place they did connect to make a clean cut. Or, I would end up trying to cut and because of the ubeven connection I would pull on the tag end of my knot. Not ideal. This is not an issue for these nippas.
Nick Schlegel
After many years of use I retired my old nippers. I bought this one as a replacement. The attraction was the wider grip. With the years aspects of fly fishing have grown more challenging: tying 24s on stream side in falling light and grasping the nippers to name a few. These nippers are easier to grip do what's asked if them. They also include the "needle" for clearing out fly eyelets. It does seem a little larger than my previous nippers and the smaller the fly you are using the more it becomes obvious.
P C.
NIPPAS
Familiarity:

I've put it through the wringer
That's what they are and they do what they are meant to do. Basic Nippas rubber handles make it easy to grip it and snip it. Not a bad price either compared to others in the fly game.
Christopher H