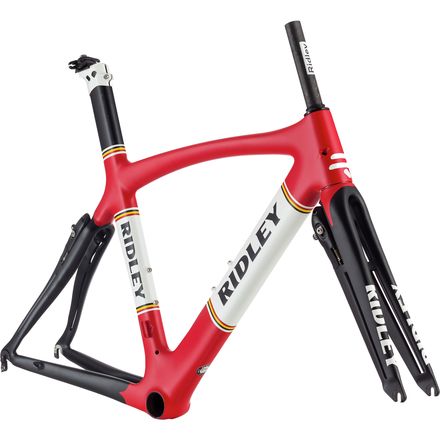 Colors

Detail Images
Rise above the hype flood.
Shopping for a new frameset has become a daunting task. In days gone by, there was no doubt about what you wanted: Reynolds 531, lugged, with a tight wheel base. Sold. But now, it's become almost impossible to sort through the claims and stated benefits of different frames and technologies. Integrated seatposts, weight, aerodynamics — it often sounds like so much superstition and marketing hype. With its new Noah Fast Road Frameset, Ridley throws you a lifeline to rise above the swelling tide of too-good-to-be-true bike technologies by providing the test numbers behind the acronyms, giving you proof positive that the frame is actually doing what the marketing materials claim.
The key to the Noah Fast's appeal is alluded to in a non-subtle way by the frame's name: Future Aero Speed Technology, which is the expansion of the acronym FAST. Ridley estimates that the frame's combination of strategically arranged 50, 40, and 30 ton carbon moduli and FAST elements result in up to 2.8 extra km/h (1.74 mph) while hammering out of the saddle and 20 fewer watts to maintain a rouleur speed of 40 km/h (24.86 mph). The high modulus carbon fiber speaks for itself, and the different moduli are used in different areas of the frame based on desired properties of stiffness, weight, durability, and the ability to absorb road noise. If you're looking for a top-end, full carbon frameset, then this is no doubt an old hat by now, so let's jump into the Noah Fast's real meat, the F-Brake, F-Splitfork, and F-Surface technologies.
The Noah F-Brake brings a delicious irony to the frame: it's a brake that makes you faster. Brakes like this have been in evidence on time trial and triathlon frames for a couple of years now, but Ridley is claiming to be the first manufacturer to make it work on a road race frame. The F-Brakes' calipers are attached to the frame (rear) and fork (front), and the cable just runs through them at the top. This reduces the obtrusive, drag-creating face area of regular brakes to just the brake pads themselves. Everything else is frame or fork material. When compared to a Noah frameset without F-Brakes, the F-Brake-equipped Noah enjoyed a 2.10% drop in required watts and a 2.64% lower heart rate while maintaining 40 km/h for just under four minutes. Everything about these frames are the same except the brakes. So yeah, the brakes do actually make you faster.
The F-Splitfork is counter-intuitive in that it actually creates more drag in the wind tunnel — but only while the wheels are standing still. When the wheels are spinning, the F-Splitfork nets a claimed 7.44% less drag than competing fork designs. It achieves this reduction in drag by redirecting the air resistance that spokes encounter at the top of the rotation, when they're moving forward into the wind. Think of the split in the fork as a kind of emergency release valve for the extra wind resistance that a wheel's rotation can create.
According to Ridley, the F-Surface paint addresses the tendency of airflow to release prematurely from certain areas of the frame, which in turn creates additional drag in the form of low pressure areas or stalled air in the frame's wake. These low pressure areas result from the tendency for bodies in motion through a surrounding medium (in this case, bicycles through air) to create turbulence in the lamina, or layers, of air through which they're passing. It's helpful to think of the F-Surface paint as embracing and facilitating that turbulence. We'll forgo the details of laminar and turbulent drag by noting that, basically, the paint's texture keeps the air on the bike rather than letting it release into the low-pressure areas of stalled air that create drag. This results in a claimed drag differential of -4.03% at 50 kilometers/hour (read: fewer watts required to maintain the same speed while riding solo).
The Noah Fast's construction affords the option of internal cable routing that's compatible with mechanical and electronic groupsets. The bottom bracket is English (68 millimeter) press fit 30. The frame, integrated seatpost, and fork come in at a combined claimed weight of 1,910 grams for size medium. (You can pop over to the tech specs for the other claimed weights.) These aren't exact, though, and true to form Ridley readily admits to a possible 10% variance in either direction. Given the nature of the F-Brake system, Ridley recommends the following maximum wheel-related sizes: rim width of 30 millimeters, brake track width of 23 millimeters, and tire size of 25 millimeters.
The Ridely Noah Fast Road Frameset is available in five sizes ranging from X-Small to X-Large in the color Grey/red.
A racing frameset whose name says it all: FAST
Aggressive geometry rewards slammed stems and hammering
Features a suite of aerodynamic tech to encourage solo moves
Even the brakes make you faster by eliminating drag
Mixed moduli of carbon fiber balance strength and weight
Ridley's race pedigree has been proven by the fastest riders at the top level
Unanswered Question
Will a Carbondale sisl crank work with this frame?
Jose Jaime L.
My 2nd Noah and still awesome!
Familiarity:

I've used it several times
Purchased XS 8/2017. It's my 2nd Ridley Noah from CC and I couldn't be happier. The frame is solid and fast. I equipped with DA9100 DI2 and it rides beautifully.
JHPHELAN
Fast, fun and furious
Familiarity:

I've put it through the wringer
I purchased mine (red/gray) late in 2016 and after almost a full season of riding it I must say I love it. The bike's aero advantages are most noticeable on the downhills when I'm typically coasting past other cyclists...even when they are pedaling. I've raced it in a few crits and the bike is responsive, accelerates and handles very well. Some have claimed the bike has a harsh ride but with carbon wheels and handlebars the ride is more subtle compared to my aluminum CAAD10 with carbon wheels, seatpost, handlebars). I also enjoy the fact the Noah Fast seems to fairly rare as (to date) during my local rides and out of town travels I've yet to encounter another one.
Jeffrey R.
Do you have the black on white color?
Dien L.
Hi Dien,

all we have is the retro color shown here available.
Kyle Br
Is this frame available for delivery to Korea?
san105308953-0
I can ship that to Korea, feel free to contact me directly for details or help on that.
Kyle Br
Do you have small frame stock?
san105308953-0
Hi Carlos!



We do have the Small in stock. Give me a call or email me directly and I would be happy to further assist.



801.204.4563

tlinthorst@backcountry.com
Trevor Linthorst
FAST
Familiarity:

I've used it several times
Definitely a fast bike, as the name implies. It's very aero, Ridley always does a great job (I've owned 3). The Noah is a very stiff frame, for some people over a long haul it may be a little rough compared to some frames. Carbon bars and wheels definitely help. Handling is excellent, I've always put the Noah at the top of my crit bike list. Sizing is a little different, they run pretty big. email me with any question on the sizing or on builds. kylebrown@backcountry.com
Kyle Br
Bib Barrett
' turns out it does! These are included in the small parts with the frame.
Bib Barrett
Do you recommend this frame? I have a Wilier cento uno and wanted another fast bike. I'm 5'10 and was thinking about a small frame. the medium seems to big,
Junio A.
I love the Noah. I am 5' 9" and I ride a "Small" - Ridleys run a little big
Bib Barrett