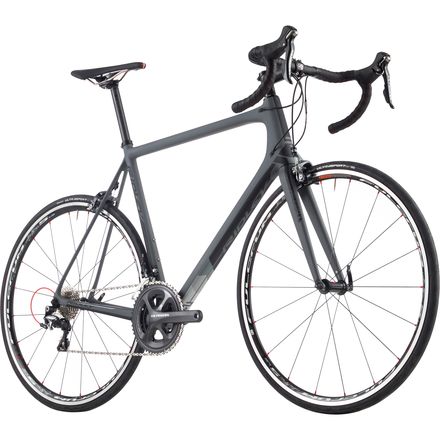 Colors
Float the climbs.
Few bikes manage the low-weight/efficient-stiffness balance better than Ridley's Helium SLX Ultegra Complete Road Bike. As the Belgian brand's superlative climbing bike, it's got plenty of lightweight pedigree; however, it's also still a Belgian bike, so it's built to handle the abuse of cobbled muurs. When mated with an Ultegra drivetrain and Campagnolo-built (shh!) Fulcrum 5 wheels, the frameset becomes a classroom for putting on a climbing clinic.
The SLX's climb happy personality starts with a blend of 60, 40, and 30-ton high-modulus carbon fiber. The result is a World Tour worthy frame that efficiently transfers power while shaving about 30g of claimed weight compared to the SL. The front end sees a slightly different curvature at the tube junctions, a small change that Ridley claims boost stiffness by 15% and translates into even snappier, more responsive handling when diving into switchbacks or pushing out of the final corner.
As with the SL, the SLX features rounded tubing emanating from the seat tube juncture, which slowly becomes box-shaped as it approaches the head tube and bottom bracket junctures. As Ridley puts it, this system creates a clean transition from stiffness to comfort. Supporting this ideology, the rear triangle blends the two shapes. The asymmetric, flat chainstays provide a stiff platform for power transfer to the rear wheel, while the ultra-thin seatstays create a vertically compliant ride quality without sacrificing rigidity.
A race bike for those who turn the screws on climbs
Racing geometry proven on the world stage
Ridley's lightest, stiffest carbon fiber layup
Shimano Ultegra drivetrain is equal to a racer's needs