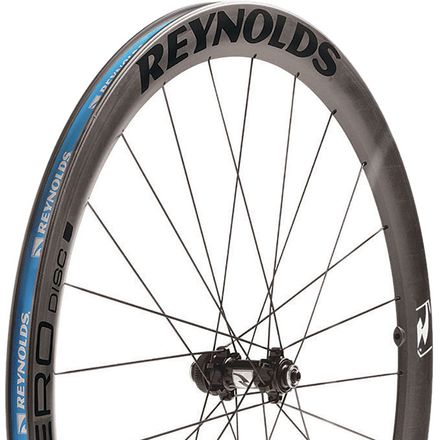 Clinching a spot in the future.
The only way that Reynolds could have made the 46 Aero Carbon Wheelset any more versatile for everyday use in the years to come is making a clincher version and adding disc brake compatibility. Clinchers mean that a flat tire doesn't finish a ride prematurely, and since disc brakes seem to be the wave of the future, the 46 Aero Discs Carbon Clincher Wheelset will be party to races and training rides for years to come.
The wheels are built around Reynolds' Dispersive Effect Termination (DET) design philosophy. DET begins at the NACA-shaped rim's bed with a maximum width of 26.2mm, which brings the rim up to the tire's width. There are myriad benefits to this design, including reduced turbulence, increased lateral rigidity, and a more comfortable ride. The Aero's shape smooths airflow over the wheel and reattaches it at the rear of the rim. This alleviates the stalled pockets of dead trailing air that create a backward pull on the rim.
It also nets aerodynamic gains at angles between 0 and 20 degrees of yaw, which is where you spend 95% of your riding time. Reynolds' rim-shaping DET also distributes side forces (read: cross wind) so that the center of pressure is pushed beyond the center of mass. This means the pulling due to cross wind and the like is much less pronounced. All told, the Aero's handling "sweet spot" is extended to a window of 7.5 degrees higher than the competition.
Since it's kind of jargon-laden information, you may not be interested to know that DET's center of pressure maximizes the forward thrust vector (a quantity that has direction and magnitude) and the rim shape increases lift and decreases turbulent flow. But you'll definitely enjoy the forward thrust that all that jargon translates into on the bike. Essentially, this system works almost like a turbine, generating extra watts of propulsion from the wind. The legendary DT Swiss internals of the Reynolds hubs mean that those watts won't be wasted.
A versatile, aerodynamic wheelset
Stiff carbon fiber construction
DET rim shaping improves cross wind stability
Compatible with 6-bolt disc rotors