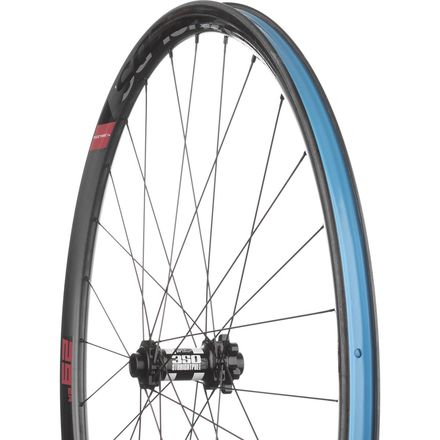 Colors

Detail Images
Capable.
With advances in suspension design technology, we're starting to see more and more 29ers with surprising low travel that are capable of tackling terrain we would have reserved for five or even six-inch bikes just a few years ago. In the 29 Trail LTD Carbon XD Driver Wheelset, we've partnered with Reynolds to produce a wheelset that — in our ever humble opinion — gives those capable 29er frames a platform that's stiff and responsive enough to let them shine to their fullest potential.
Even when this wheelset was still just a figment of our daydream imaginations, we knew we'd have to go with Reynolds' 29 Trail rims. There's a reason why other wheel manufacturers focus on making hubs and just lace them to re-branded Reynolds rims: the Utah-based company has already built a virtually perfect XC race hoop. Since carbon rims are stiff enough that the difference between Boost and 142/100mm axles is far less notable than with alloy rims, the 29 Trail LTDs bring our present XC race frames up to snuff, stiffness-wise. The hubs that Reynolds typically uses are already essentially rebranded DT Swiss models, but we opted to keep the DT logo, giving the wheel more of a custom-built look, and we've outfitted the rear hub with a SRAM XD Driver body for all you one-by 29er fetishists.
Finally, we admit to the occasional streak of vanity, and the half-and-half color of the wheels' Reynolds label is our way of visually representing the versatility of today's 29ers. Those new suspension designs and innovative frame geometries we mention above have obliterated the old stereotypes of wagon wheels being for fire roads and ribbon-smooth singletrack only. Toward this end, the wheels have an ideal profile for 2.25in tires for confidence through berms and gnarly lines, but they still excel as worm-burning climbers courtesy of carbon fiber's inherent stiffness and low rotational mass.
Mind blown
Familiarity:

I've used it several times
I wanted a set of carbon hoops for years and for under $1400 with DT Swiss 350 hubs the purchase was a no brainer. Everything I heard about carbon wheels is true with this set - they flat out roll faster than an aluminum set especially on a decent. It's insane and just the feeling alone is cool as hell. Also these wheels are extremely stiff and precise meaning where it's pointed it's going in that direction regardless. I can't be as sloppy with these as I can with aluminum. Aluminum wheels are great and I rode them for years but I think I'm hooked on carbon now and won't be able to go back. Thanks!
Gregory Vierra
how would these do with a 2.35 maxxis ardent or equivalent tire size?

ap.101577227
Hello,



The 2.35 tires would work perfectly fine. however, if you are looking for something with extra high volume, there are a few options that you should look at. You can email me at gcelentano@backcountry.com if you want some suggestion on some other wheels.
Greg Celentano
Unanswered Question
Can you convert the this rear XD free hub body to a SRAM 10 speed or is it a 11 speed only thanks.

Gavin
GAVIN E.
Fast and Smooth Wheelset
Familiarity:

I've used it several times
This is my first year riding a Reynolds carbon wheelset, and I already can feel and see the results they are making in my riding. They are stiff but also very smooth through all terrain. They are a lighter carbon wheelset than I have previously had on my bikes, but they are by far a faster and smoother ride when riding trails for fun or during a full on race.
Matthew Tyler E Turner
Hi Kyle,
I have a Cannondale Trigger with the Lefty Supermax. Are this wheel compatible with it? If not, could it be adapted? Thank you.
Peter
This spec is running a 15 x 100 mm front hub. You would have to get a lefty specific front hub which DT swiss does have and is compatible with this wheel, dont believe competitive carries lefty specific hubs work however
zachcalton
Peter; the front wheel would have to be rebuilt around a Lefty-specific front hub. Unfortunately we do not carry these normally; a special order is a possibility, but we could not offer these wheels at this price and still do so, as we would need to do a custom wheel build.



Feel free to reach for additional details.



Bradley Gehrig



Customer Account Manager - Bike Gearhead



Office: 801-746-7580 ext. 4823

bgehrig@backcountry.com


Bradley Gehrig
Has great performance and looks
Familiarity:

I've used it several times
I recently got this wheel set on my Pivot 429sl. I have already taken them out on a variety of trails from huge, rocky drops to tight, smooth courses. These provide excellent stiffness I look for on my race bike, stable cornering, and great acceleration on tight courses. With all the great performance on the trail and the looks to make your bike look awesome what more is there to ask for!
Jacob Sacket
Solid performer from every angle
Familiarity:

I've used it several times
These wheels, while not the lightest in their category, do punch far above their weight in stiffness and control. Stiffness is not the only factor to take into account when riding a wheelset, and these wheels also have the compliance to match. In 10 hours of aggressive trail riding I am very pleased with them.
Matt Behrens
What is the weight of the wheelset?
Michael S.
Best Answer
Hey Michael,

This Reynolds 29 Trail LTD Wheelset weighs approximately 1530 grams. Feel free to contact me directly with any additional questions.

- Kyle L. - Expert Gearhead - klivingston@backcountry.com
Kyle Livingston
Like Kyle said. My digital shame meter brought them in at exactly 1527g. For a wide rim, that is not bad. Exact same rim as their previous generation black label wheels with 350 hubs.


spookyload