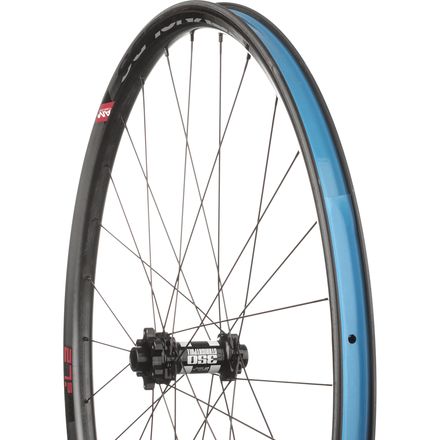 Proper all-mountain.
After having the chance to ride some of the new Boost-stiffened enduro sleds, we admit that our own 142/100mm axles and alloy hoops are feeling a bit insubstantial. To address this, we partnered with Reynolds for the custom 27.5 AM LTD Carbon Wheelset, which features DT Swiss hubs, Reynolds' carbon expertise, and our own penchant for understated graphical styling. The result is a wheelset with one of our favorite hubs, a carbon rim that stiffens up non-Boost rides, and an aesthetic that stands out from any other 27.5in Reynolds wheels.
We're well familiar with the stiff mettle of Reynolds' 27.5 AM rims from personal experience, so they were the obvious choice as a canvas for our arts-and-crafts impulses. There's a reason why other wheel manufacturers focus on making hubs and just lace them to re-branded Reynolds rims: the Utah-based company has already all but perfected the science of the mid-sized wheel. Since carbon rims are stiff enough that the difference between Boost and 142/100mm axles is far less notable than with alloy rims, the 27.5 AM LTDs go some way toward erasing Boost envy without forcing us to shell-out for a new race frame. Reynolds' hubs were also an obvious choice, and we've opted for the DT logo instead of the usual Reynolds re-branding to give the wheels more of a custom-built look.
Finally, we admit to the occasional streak of vanity, and the half-and-half color of the wheels' Reynolds label is our way of visually representing a proper all-mountain bike's ability to straddle climbing and descending. We enjoy the challenge of cleaning lines in both directions, and the 27.5 AM LTDs' combination of low rotational mass, high stiffness, and generous internal width make for a wheelset that climbs like a featherweight but tracks like an enduro bruiser while enjoying the secure footing of high-volume tires.
A wheelset built to endure the abuse of enduro racing
Reynolds carbon rims add stiff tracking to the menu
DT Swiss hubs remain the standard for any custom build
Unique Competitive Cyclist colorway stands out from the rest of the 6in crowd
Unanswered Question
Will these wheels fit my 2017 Pivot 429 trail?
Thanks,
Carlos O.
Carlos O.
Unanswered Question
Will these hubs fit an 11 speed Road Cassette?
John M.
Light, good price on sale
Familiarity:

I've put it through the wringer
They have held up really well. Nice and light. I replaced the 18 tooth with a 54....complete overkill, but what the heck. They have stayed true through various trips to Moab. Mine have the XD hub. I normally run a 2.25-2.4" tire on them.
Nawrocki
Unanswered Question
Do you know what the difference is between the Reynolds 27.5 AM and Reynolds 27.5 AM LTD wheelset is?
Chris M.
Point and Shoot
Familiarity:

I've put it through the wringer
These wheels are stiff and don't flex so they go where I want them to go, even for being non boost.
Ben Melini
Does this price include both front and rear wheels?
Pete W.
Yes this will include both the front 15x100 and rear 12x142.
Ben Melini
Will these work with a Shimano 10 speed cassette?
Ned N.
Hey Ned, yes these will be compatible with Shimano 9, 10, and 11sp cassettes & Sram 10sp Cassettes! Feel free to reach out if you have any other questions! Cheers, Connor
Connor Johnson
Will these fit on my Santacruz 5010 with a SRAM GX 11 speed.
Kevin M.
Hey Kevin, yes if you have the original 5010 (non boost), but for a GX drivetrain, you'll want the REY002F. Give me a call at 801.204.4547 or cojohnson@backcountry.com and I'd be happy to help answer any other questions or get an order placed for you! Best regards, Connor




Connor Johnson
You'll need to get the version with xd driver hub
Chris M.
Do these DT350 hubs have the 18 or 36 Star ratchet?
Charlie Chough
what is the weight of these wheels


James C.
Ben Bolliger
As Ben mentioned, they come with the 18 point. I upgraded to 54, but it may not be worth the price. I'm a bit anal, so it was worth it to me and they work great, but I had money burning a hole in my pocket for a new build!


Nawrocki