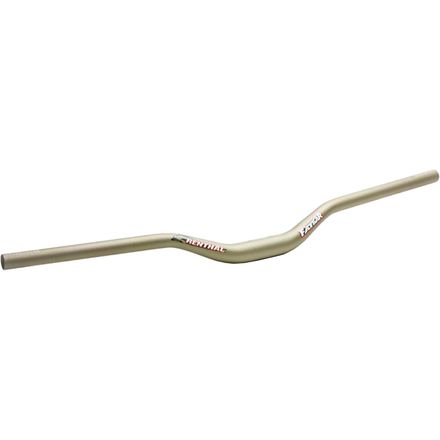 Colors
The bar that wins races
For the past five years, Renthal has made a name for itself in the trail-riding scene by making some the most bombproof equipment that wins world championships. Renthal's acclaimed Fatbar is built with a stout 7000-series aluminum, and is tapered and balanced to produce the ultimate combination of strength and lightness. Renthal uses a shot-peened finish and a hard anodizing process to ensure the Fatbar is built to last. The Fatbar has a seven-degree backsweep and a five-degree upsweep and comes in four different levels of rise (10mm, 20mm, 30mm, and 38mm).
7000-series aluminum
Shot-peened finish and hard anodized
Seven-degree backsweep and a five-degree upsweep
Offered in four different levels of rise
Gold Standard
Familiarity:

I've put it through the wringer
Renthal has brought their knowledge and design expertise from their legendary motorcycle components to the mountain bike industry. The few mountain bike components that Renthal manufactures have proven to be among the best on offer. This handlebar is stiff yet compliant. The gold ano looks awesome and provides a super durable finish that will last for years. I highly recommend this handlebar.
Dan Be
My Go-To
Familiarity:

I've put it through the wringer
Handlebars are a personal thing, and personally, I've yet to find anything I like better than Renthal's OG Fatbar. They have a touch less back sweep than some other bars, which helps to keep elbows in an aggressive position. They're available in plenty of sizes to help fine-tune your fit. They have a pleasant, if somewhat firm, flex to them, which lends a solid feel to the bike's front end. And they're immensely strong, which equates to peace of mind, the value of which can hardly be overstated. Of course, nothing is perfect. They are heavy, and only available in gold. Neither is a significant issue, ATMO. I've owned four sets to date, and that number will undoubtedly continue to grow.
Garson Fields
The standard
Familiarity:

I've used it several times
I love these bars, prior to these I had a flat set of 800 mm bars. Love the width and the rise of these 780 mm bars, have allowed me to better attack corners in a better position over the front of the bike. I have less front tire slippage and better traction. They look great too and match my Fox front fork will buy again.
David M.
Renthal has been a dominant bar in the downhill world for quite some time. The gold coating makes a statement and lets people know that you are ready to rip. I went with the 30 mm rise for some extra height and I really dig them. The sweep feels natural and relaxed. 780mm feels right for me, but if you want to go skinnier just take a hacksaw to them.
Davis Anderson
Renthal!
Familiarity:

I've used it several times
Coming from a background in dirt bikes I was excited to see Renthal enter the mountain bike space. This company makes great products and has been for many, many years. The quality is evident in their mountain bike line and I'm proud to use their products on both my motorized and non-motorized 2-wheelers.
Emma