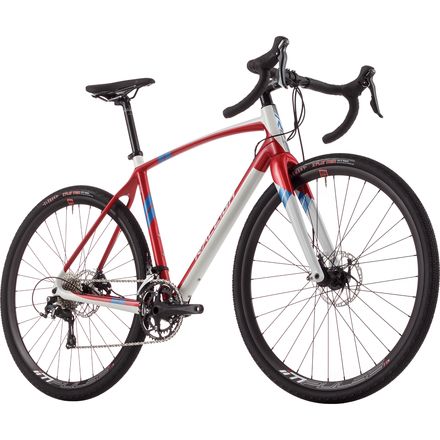 Colors

Detail Images
Built for abuse.
For years now, we've been treating (or mistreating, rather) our road bikes like gravel bikes. Dirt, gravel, patchy weeds—nothing was off limits. The new trend of bikes like Raleigh's Roker Sport Complete Bike promise to save our racing machines from the abuse of all-terrain cycling by combining the punchy responsiveness of carbon fiber with the frame geometry and tire clearance of a bike that isn't afraid to push on when the road ends.
Compared to a traditional, all-purpose road racing machine, the Roker's bottom bracket sits about 7mm lower and its head tube is around 1.5 degrees slacker. While dimensions like wheelbase, stack, and reach are all similarly gravel-minded, the Roker's low slackness are the primary contributors to the bike's confident stability across all manner of surfaces. When paired with the above mentioned carbon fiber and the kind of stiff thru-axles we'd expect to see on enduro sleds, the frame's geometry dispatches stretches of rough terrain with the same ease that it punches up steep forest paths.
As with the frameset itself, the Roker Sport's component spec is eminently abuse-able. It's largely composed of Shimano Tiagra with a strong supporting cameo by TRP's Spyre mechanical disc brakes. The build kit's biggest highlight might be the surprisingly sexy finishing touch in the form of Clement tires. Raleigh assures us that the frame has clearance for 45mm tires, but the included 40mm X'PLOR MSO donuts ride so well across everything from smooth tarmac to gravel and washboard fire roads that we can't think of any reason to replace them. A big part of their success are the rims, of course, which boast a 24mm internal (28mm external) width. That Herculean dimension allows the tires to fill out far more than the typical plus-size rims, which top out at just under 21mm internally.
A gravel grinder with a penchant for abuse
Stable geometry keeps its footing on all manner of terrain
Lightweight and efficient carbon construction
Plush tires from one of the sexiest names in cycling
Frame clearance for up to 45mm tires
Bottom bracket is threaded to eliminate PressFit creaking
150 mile rides to bike packing trips
I adore this bike ( Roker Sport) .. I use 32 tubless and it is the best feeling road bike I ever had and lords knows I have had many. When I do the crazy stuff , like the AML last spring or AMLX this fall I use 38 tubless and i have a hell of a great time on wet grass, mudding trail and nasty gravel we have in south west VA , this is a wonderful bike that did not break the bank account.
ed B.
A Capable Gravel Bike
Familiarity:

I've used it several times
For a few months now I have been looking for a replacement for my 28-pound Swiss touring bike that I had tweaked to be my Southern California gravel grinder. I loved that bike. I put Avid cantis on it, Schwalbe Land Cruisers and double wrapped the bars. The problem was the weight. The bike rode like a steel dream, but at Grinduro it nearly killed me. I needed something lighter.
I had my eye on the Giant TCX Advanced SX, the Diamondback Haanjo EXP Carbon Comp, and if I won the lottery, the Caletti Scrambler. I found a TCX on Craigslist but missed out to another buyer. Then I saw an ad for this bike. I test rode it and immediately knew it would suit LA riding. I live 9 miles from trails, so I need something that will get me there quickly as much as I need something that can handle the trails.

I think this bike fits my needs perfectly. I rode a rutted, single track canyon this morning that showed me its limitations, so I would not recommend it for really rocky or technical terrain. But on a gravel fire road or backwoods path with a little mud, bring it on. The Clement X-Plors need no introduction, but I thought I was on my Giant Advanced Defy the whole time.

It is a much cheaper version of the Santa Cruz Stigmata or the Open U.P., but is a lot closer to those than the price would suggest.

Sizing was pretty true, if a bit small. I'm 5'10" and the 54 fits me perfectly, though I wonder how stretched a 56 would feel.

Upgradable parts on this bike are the easy ones. Frame is solid, fork rocks, thru-axles bomber, and the gearing is decent for anything short of a serious grade - I may swap out my small ring for something more forgiving. Throw Ultegra on it, sure. The alloy bars and stem are cheap, and easily replacable, as is the saddle though I haven't quite gotten around to changing it, for whatever that's worth. I'd rather have mechanical brakes because I may bikepack on this rig, so I'm happy with them as they are.

Great bike.
Jay S.