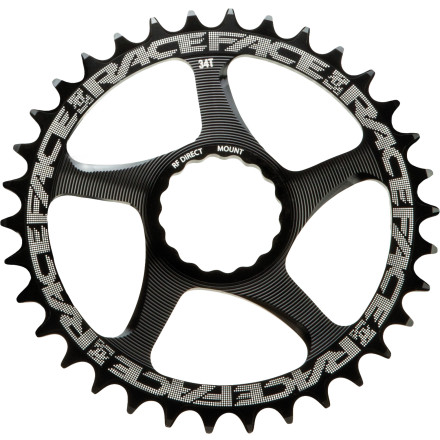 Colors
Simple, stiff, light.
Of all the recent innovations in mountain biking, the Narrow Wide tooth profile featured on the Narrow Wide Cinch Direct Mount Chainring is arguably the most understated progression. Race Face has designed a tighter interface between the inner and outer links to prevent the chain from jumping. The Narrow Wide Cinch Direct Mount Chainring eliminates the weakness of four-bolt interfaces, and its 7075-T6, 4mm-thick, aerospace-grade aluminum transfers pedal loads without flexing, offering the lightest and stiffest interface between Race Face cranks.
Narrow Wide tooth profile
7075-T6, 4mm-thick, aerospace-grade aluminum
Cinch-compatible works with 9-,10-,11-speed drivetrains
Cinch spline found on the Narrow Wide Cinch Direct Mount Chainring uses a standard Park BBT-22 bottom bracket tool for installation
Never an issue
Familiarity:

I've put it through the wringer
I've never had an issue with any of these chain rings, other than me buying too many to try and find the perfect combo. The cinch style is easy to use, and the construction is high quality. At around 1500 miles a summer I've never replaced one due to wear, but RF offers a steel ring if longevity is more your concern. I usually replace them due to changing my setup.
-kris
Unanswered Question
Is this chainring compatible with Race Face Aeffect crankset??
Andres C
Keep your chains tucked!
Familiarity:

I've put it through the wringer
Holds the chain on tight, i will echo the wear comment below and that after one season I find I want to replace the ring. This is why a light and small chainguide like the one from MRP is an awesome accessory to prevent headache, especially if you are racing.
Perry Hall
Bought this as a replacement that came on my bike after the old one it a rock quite hard and bent. It will last you at least a season and always holds the chain on. Highly recommend this!
Sam Broome
Better wear would be nice.
Familiarity:

I've put it through the wringer
This is my third RF Clinch Direct Mount Front Chain Ring. They really don't last quite as long as I thought, (photo attached of worn ring with hooked teeth) but that's kinda' okay because they work great. Go on without a hitch and I have never, ever once dropped a chain. Plus, the ease of changing sizes makes you more willing to experiment.



I've run a 32, a 30 and now a 28. For all the climbing in Salt Lake, the 28t makes me (and my knee's) really happy. I can spin out on fast descents, but thats a freaction of the time I spend climbing puke hill or Pinecone or any number of other steep pitches we have to get up along the Wasatch Front.
r0c1nant3
Awesome rings!
Familiarity:

I've put it through the wringer
These rings are great. I haven't worn one out yet, but I did downsize for early season riding from 32 to 30 tooth, and added some anodized flare to the bike while I was at it. These rings install easily with an older Shimano bb tool, I use TL-UN52. I run this chainring with a Shimano XT M8000 group, works great!
Ryan Emery
A colorful chainring
Familiarity:

I've put it through the wringer
Need to swap to a different size front ring? Easy. These work great with any Race Face cinch crankset so I can swap my ring out as my legs get stronger with the season. Plus the color options are a great way to add some flair. They don't wear too quickly so I can run one for at least a whole season without worn down rings or dropped chains
Christine D
How do I know what the chainline will be with this? I want to change my xtr di2 from a 2x11 to a 1x11. my bike has boost spacing and my understanding is that I need a chainline that is 51-53mm. If I use this chainring, what will my chainline be?
Brad G.
Hey Brad!



Chainline on these is 51mm. They work great on most boost bikes. Feel free to get in touch directly if you have any more questions!
Luke Dordai
Great color options and durability
Familiarity:

I've put it through the wringer
Nice hard alloy, lasts a lot longer than stock SRAM offerings. Great color options to add a bit of bling to your bike (I love that they do purple ano). No dropped chains for me so far!
Luke Dordai
Is the chainring compatible with Shimano XT 1x11 rear mech and chain?
Tor
Hey Tor,



This will be compatible with a Shimano 1x11 chain/cassette/rear derailleur (compatible with Sram & Shimano 9, 10 , 11 speed drivetrains), but you will need to use the RaceFace Cranks that use the direct mount with it. Let me know if you have any other questions and i'd be happy to help, feel free to give a shout at 801.204.4547 or cojohnson@backcountry.com. Cheers, Connor
Connor Johnson
Works great. Looks great.
Familiarity:

I've put it through the wringer
For the riding I do, this ring works great. Easy to install and the chain hasn't dropped once. And the color is perfect!
TomJ
no dropped chains, easy install and removal
Colton Rice
Lasts longer than my XX1
Familiarity:

I've put it through the wringer
Had xx1 last year, these work just as well, but last longer. I'll take that any day!
Paul Clark
Great Chainrings!
Familiarity:

I've put it through the wringer
These will only work with CINCH system equipped RaceFace cranks.

That said, they are extremely easy to change, and work fantastically well. No creaks, noises, or excessive wear so far; very happy!
Bradley Gehrig
Hi, Is the CINCH chainring available in 38T? Your drop down menu shows 38T, 40T, 42T?! I thought these were only available up to size 36T? Please confirm.

Kovas L.
On Race Face's website, they list the larger cinch chainrings under "CX." But as long as you have a cinch crank, you can run any size from 24T - 42T (provided your frame can accommodate it).
Virginia Dickinson
My bike came with a 32t that I don't feel I'm quite in shape for when climbing so I decided to buy a 28t to swap it out with. They're pretty easy to change (if you have the tools) and I'm very pleased in the difference so far!
Than Volk
Color fun!
Familiarity:

I've put it through the wringer
I wanted to have the options for better climbing, I have the blue 30t and green 28t and they both rule! No chain dropping, smooth , easy install and super cool looking, Race Face is the bomb! Totally in love , Thanks Race Face for making super bomber components with a little flare! No photo yet, but soon, so you can really see how sweet this is.
Marla Bailey
Race Face Keeps It Tight
Familiarity:

I've used it several times
Race Face Narrow Wide Cinch System is the bees knees. It is a total game changer and along with Shimano, and Sram provides that ever so consistent retention capabilities that those three are known for.
Ryan Logan
Great Direct Mount Option
This is a great direct mount chainring. Haven't lost a chain yet and its performed flawlessly!
Emma