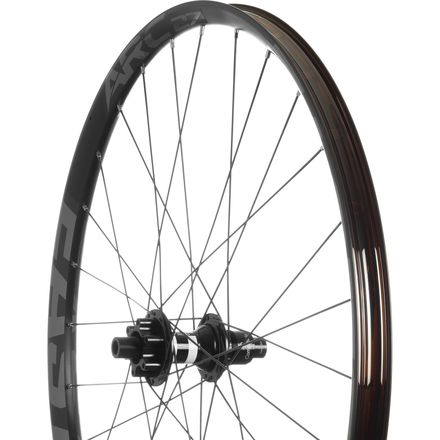 Colors
A wheel that matches your powerful riding style.
An extremely hard worker, the Race Face 27 DT Swiss 350 27.5in Wheel is built to handle cross-country and aggressive all-mountain terrain while also meeting the needs of every style of riding. An aluminum rim and welded seam keeps you flying down the trail with confidence thanks to an optimal strength-to-weight ratio. DT Swiss 350 disc hubs are ideally suited for more powerful riders who prefer XC, trail, and gravity rides, and the added stiffness from the straight pull spokes enhance overall responsiveness.
Versatility meets strength in this XC and trail wheelset
Aluminum rim offers an optimal strength-to-weight ratio
DT Swiss hubs best suited for XC and downhill riding
Unanswered Question
The selector claims 12x142mm, the specifications claim 12x148mm. Is this a boost hub or not? The spec's also list the front hub specs, is this a wheelset or just a rear wheel? If not, is there a boost arc 27 for sale? Or a wheelset?

Bill B
Backup wheel.
Familiarity:

I've put it through the wringer
I bought this wheel as a replacement for one I blew up. I'm not expecting this one to last very long, either. But, it's done it's job so far. Awesome wheel for an awesome price.
Wes
Heck of a deal!
Familiarity:

I've used it several times
So I picked these up for a full suspension 27.5 build I'm doing for my wife ((Morewood Zula, 100 rear travel 120 front, got a great deal on a NIB a few years old) and trying to keep the costs down. Overall these are very nice wheels which needed a bit of effort to set up. As DM said below, these are labeled as Easton rims, not Race Face...same company, different stickers. No big deal for me. They came taped for tubeless, which was a nice surprise, but the tape was not stuck down well. I put tubes in them at 40 psi for 24 hours and the tape went down perfectly. Got some Maxxis TRL tires to seat without sealant using just a floor pump and they held pretty well overnight, rear got a bit soft. Topped them up with Stans and they are holding air perfectly.

There have been some so-so reviews for some very similarly built wheels (Easton ARC laced to DT Swiss 350) that were spec'ed on Santa Cruz bikes last year (maybe two years ago), several went out of true very quickly. For that reason, I threw these on my stand, and with an inflated tire the tension was pretty low (drive side 900 N when the rim maxes out at 1200 N) so I brought them up tension. I ride the 29 inch version of these rims (ARC 27) that I built to DT Swiss 240 hubs, and I've had no trouble with them staying true. I weight 220 without gear and I live in a rocky area, so I run them on my Ibis Ripley a bit firmer than some (28ish rear, 25 front) and I've had no issues with dents. My wife is well under 130, and I figure these should last very nicely for her use.

The stickers are not very durable on these rims, but for ridable wheels on sale for $280, These seem great, I'll update if anything changes.
Zachary M.
Here's what showed up
Familiarity:

I've used it once or twice and have initial impressions
The item description is pretty ambiguous, so I thought I'd share what the actual product is. I ordered the rear wheel.
- 142x12
- XD Driver
- 36 tooth star ratchet internals
- ARC 27 rim with Easton decals (not Race Face)
- 28 straight-gauge spokes and brass nipples
- Rim taped with Easton tape (same as what comes on Heist).
- Rear wheel weighs about 975 g
The rim tape wasn't applied firmly, so air and sealant leaked between the rim and tape when I tried to set up the tire tubeless. I replaced it with Gorilla Tape. I might have avoided issues if I had inflated my tire with a tube first to press the tape into place.

As for the performance of the wheel itself, I have owned a few ARC rims. They're light and set up tubeless easily, but also dent more than other rims. The alloy seems a tad soft. I can't comment on the hub, but it's a DT 350 so that's a pretty safe bet.

Overall, the wheel was a good deal. If I wanted to spend more, I'd likely avoid the ARC rims, but you can't go wrong for this price.
DM
Unanswered Question
What year is this wheelset?
Alexander G.