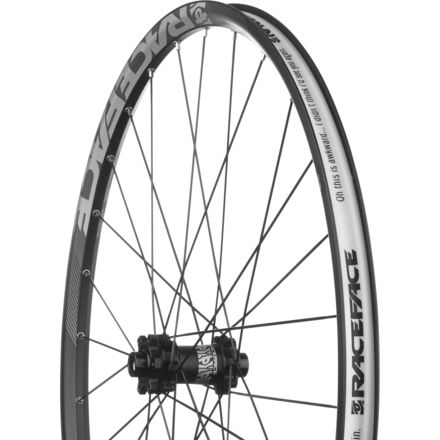 Colors

Detail Images
Your high-mileage trail companion.
In Race Face's own words, the Aeffect 27.5in wheelset was designed to be a "hardworking, no-nonsense set of hoops." Already known for solid, reliable drivetrain kit, Race Face has only recently entered the wheelset category, introducing a wheel for everyday XC and trail miles that further burnishes the company's sterling reputation for bombproof-ness. With a claimed weight of 1,820g, the Aeffects don't break any records for their lightness, but they also won't empty your wallet the way some of their featherweight compatriots will.
To give the wheels stiffness and durability without the price tag of carbon, Race Face uses treated 6061 aluminum to construct the rims. They feature a generous 23mm internal width and 27.3mm external width with a depth of 20.5mm. They're laced with 28 straight-pull, bladed spokes in a cross-laced pattern to achieve a stiff and snappy response as you corner and climb on singletrack. The hubs feature Race Face's sturdy, custom sealed cartridge bearings and 3-pawl design to offer fast and reliable engagement across 21 points.
Race Face Aeffect Wheelset
Familiarity:

I've put it through the wringer
I rode this wheelset most of the summer, and for what it is... it's been great. Not the lightest, or best hubs in the world but has proven to be pretty durable throughout several trips to Moab, Breckenridge, etc. Put a lot of dings in the rim but I expected that.. I rebuilt one wheel but that was pretty easy considering all the spokes, front and rear, drive and non-drive side, are the same length.
CJ Brish
I generally never write any reviews, positive or negative unless something really stands out to me.
I've had these wheels for about 8 months on a brand new bike I bought and at first all was good. I was doing some maintenance and saw that one of the pins to hold the pawls in place on the freehub had broken and the spring on another of the 3 pawls had popped out. I had that freehub warrantied through RaceFace and was told it was out of stock and would not be available for about a month or more. The freehub arrived within a week, so I give lots of credit to RaceFace for support and the quick turnaround.

I installed the new freehub and again, this time within about a month and a half, 2 more pawls had broken. I am now on the third freehub within 8 months and have just ordered new wheels because I do not want to get stuck out on the trail. If the pawls on the freehub could get beefed up a bit, I think these would be some great wheels, especially for the price.


Dane C.
I've been through two sets of these now. The first I sent back to Backcountry for warranty issues. I kept breaking spokes and couldn't figure out why. I'm not a big guy (170lbs) so that wasn't the issue. I race enduro and trail ride like any other. So this weekend at the Vail enduro, I'm on my first transition stage and climbing (yes, climbing) up to the first stage and a spoke in the rear wheel just breaks and I flat. Same issues as the wheels I sent back under warranty. Long story, but don't buy these. Spend a little extra and get better.
Justin P.
WEAK WHEELS WEAKER SUPPORT
Familiarity:

I've put it through the wringer
I bought the 29in version of these wheels as part of a custom built NINER. Picked them over the Stan's Flow to save some dough...big mistake. I love the bike but these wheels are awful. They were sent to me set-up tubeless inflated and ready to go. On my first ride I checked the pressure and took off. After couple miles in I noticed my rear tire was going flat. After numerous laborious sessions with the hand pump my ride ended with a catastrophic and sudden loss of tire pressure on a rocky downhill. I avoided a crash but trashed a brand new Maxis HR II with a tear in the side wall and dented the rim.

When I took the tire off the rim I discovered the rim was taped with some super cheap looking cellophane that was already delaminating from the rim which was probably the causing problem.

After contacting CC about my issues they forwarded Race Faces response that I should have contacted them about their products inability to hold air (kind of hard during a ride) and offered to replace the wheel at a "massive" discount: $125... 25 bucks less then I payed for them. I was not happy with this remedy and after voicing my displeasure with this remedy I was ghosted by both CC and Race Face.

I bent out the dents on the rim and re-taped them with Gorilla tape and they now hold air fine but after 6 months or so of riding even at conservative tire pressures(28/30psi) the rims are full of dents and need to be trued every couple rides. My ridding buddy has a set of ZTR Flows on his bike which he bought a few months before mine and they have zero dents and have only needed to be trued once despite similar use.

I don't know if its a design or material flaw but either way these wheels are garbage even at this price point. Also my experience with RACE FACE has shown me they do not stand behind their products and I will avoid their components in the future. Also I was a little disappointed in the competitive cyclists handling of this. don't trust the 100% returns they were prompt and professional in dealing with me but didn't really offer a solution besides pawning me off on the manufacturer. (Theres a photo below of Race Faces sweet tape job)
emerson hammerslag
Is the non XD version Sram/Shimano 11 speed or only 10?

Twain B.
Hi Twain,



The non XD will work with both 10 or 11 speed.
Scott Gartman
Ok for what they are
Familiarity:

I've used it several times
I cannot keep air in these for more than a couple days. They showed up flat, so I added sealant. Two days later they were flat. I filled them back up and sprayed them with soapy water and they were leaking around the bead and every spoke hole. I removed the tires and re-taped wheel, re-seated the wheels, and filled them with sealant. I was sure I had found the root cause, but three to four days later they were flat again. I'm close to taking them to my LBS and letting them have a crack. However, when they are holding air they seem like pretty capable wheels.
Brian R.
Good for the price
Familiarity:

I've used it several times
Wheels are heavy but durable. Not great freehub engagement with only 21 points of contact.
Don West