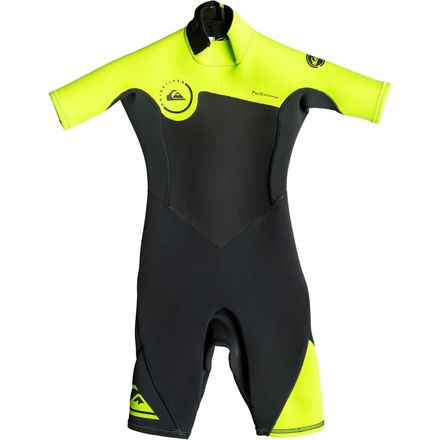 Colors
Comfort and performance for warmer water.
Fall surfing in the Outer Banks requires a bit more than a rashguard, so equip junior with the Quiksilver Boys' 2/2 Syncro Back Zip Spring FLT Short-Sleeve Wetsuit before heading out on your big family vacation. It offers premium performance at an economical price, so you don't have to drain half your trip fund to buy it.
F'N Lite neoprene is built with extra air bubbles that increase warmth, which means the suit remains light and flexible. Vaporstretch panels at the chest and back block prevent the wind from sapping all his core heat on gusty days. Flatlock seams are super-durable, and they offer a smooth feel that won't chafe his skin during those lazy September afternoons.
Lightweight warm-water performance that won't drain your savings
Flatlock seams offer smooth, chafe-free comfort
Back zip allows effortless entry and exit
F'N Lite neoprene provides excellent flexibility and lightweight warmth
Vaporstretch mesh chest panel enhances warmth and water-resistance
Hydrowrap adjustable neck closure collar creates comfortable seal
Have an autistic 8yr. Old boy who likes to swim but takes off his trunks. He needs a back zipper type he can't take off. Saw the one you had but only went to sz. 6he would need 8 or sz. 10in a child's.with no color to scratch his neck.there are a lot of autistic children out there who would love the water, but have same problem as my grandson. Taking it off at the pool.do you have any suggestions on this type of suit? Thank you. Mrs. Askew. ealaskew@gmail.com
eileen askew