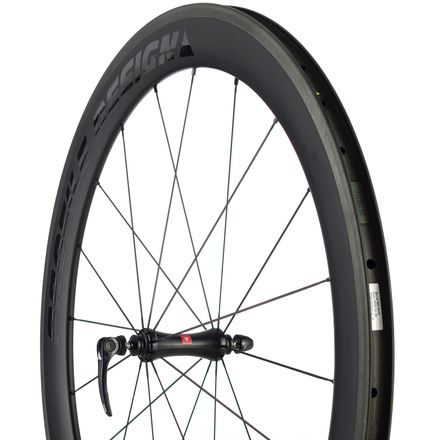 Colors

Detail Images
Make every second count.
Long known for its aero bars and wind-cutting triathlon accessories, Profile Design has expanded its reach over the past few years to include additional componentry, including wheels. The 58/TwentyFour Carbon Clincher Wheelset combines Profile's long-established expertise in aerodynamics and reputation for durability to give any road or time trial bike a fast, smooth ride towards whatever finish line you choose.
Profile collaborated with specialists in Computation Fluid Dynamics to analyze wind tunnel data and determine the best rim shape to achieve low drag and solid handling in crosswinds. To replicate real-world situations, the engineers even mapped out weather data from recent high-level cycling and triathlon events to recreate those wind conditions in the tunnel. The result of all this work is a wheel that isn't just fast in the virtual lab world — it's fast out on the pavement in real-world wind conditions.
The name tells you a lot about these wheels. The 58 references a 58mm medium-dish, aerodynamic rim with an external width of 24.5mm to straighten the tire's sidewalls for a plusher ride with less rolling resistance. The rim itself has a slightly curved side and rounded spoke-facing edge that manages the lateral force of crosswinds for better stability than traditional airfoil rims.
Profile uses its own high Tg point resin on the carbon braking surface for a claimed 30% increase in heat capacity compared to other high Tg resins used in the industry for carbon braking surfaces. This means, in theory, that these wheels have better, more consistent braking across changing weather conditions and long descents than the competition. The wheels let you stop constantly checking those hourly temperature reports and radar forecasts and get out for a ride with confidence that you'll be able to stop when you need to, regardless of weather.
The other half of the name references Profile's TwentyFour Series hubs. They're made of forged and machined 6061-T6 aluminum for a durable, strong, and stiff hub body. The freehub is machined from 7001-T6 aluminum and then shot-peened hard anodized for a claimed 18% increase in strength over standard aluminum freehubs. This helps prevent the cassette from digging into the hub body or moving unnecessarily, which means crisper shifting and more efficient power transfer for a quiet, fast ride. You'll stay in the zone till you hit the finish line without any distracting drivetrain noise or shifting issues.
The Profile Design 58/TwentyFour Carbon Clincher Wheelset is compatible with Shimano and SRAM 9, 10, and 11-speed cassettes, and can be converted to Campagnolo 10/11-speed with a separately sold Campagnolo-specific freehub.
Love them
Familiarity:

I've put it through the wringer
After some initial issues with a damaged wheel being shipped to me (which competitive cyclist took care of), I have been very happy with these wheels. They are stiff and ride really well. I weigh over 200 lbs, ride some crits and put in a lot of miles. I have about 1500 miles on them in the past couple months. No noticeable flex in these wheels. Spin up fast. Hold speed well. Add almost 0.5 mph to my my average speed on a slightly hilly course. Brake really well, nearly as good as aluminium wheel rim brakes on my Ultegra setup. Not too bad in cross winds. Good all-around wheelset. I have been really happy with this purchase.
j_m102828487
IS IT POSSIBLE TO RUN THESE WHEELS WITH TUBELESS TIRES?
Michael H.
Hi Michael, these are not made to run tubeless.
Scott Gartman