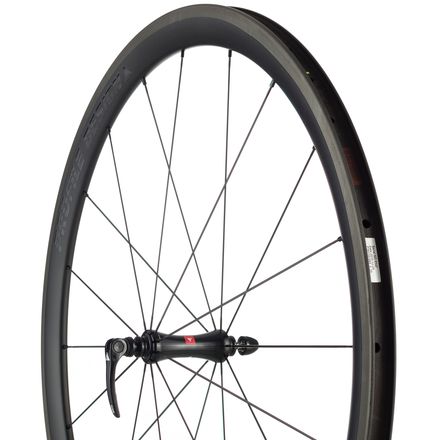 Colors

Detail Images
An all-around speedy workhorse.
If you walked into any high-end bike shop in the '90s, you'd see the Profile Design logo prominently displayed as the go-to brand for aero bars and wind-cutting triathlon accessories. Since then, Profile has expanded its offerings with additional componentry, including wheels. With the 38/TwentyFour Carbon Clincher Wheelset, Profile combines its expertise in aerodynamics with a reputation for durability to bring you a solid all-rounder that can climb, corner, and get down the road fast.
Profile engineers camped out in the wind tunnel with Computation Fluid Dynamics specialists to analyze testing data and determine the best rim shape for low drag and solid crosswind handling. To replicate real-world situations, they even mapped out weather data from recent high-level cycling and triathlon events to recreate those wind conditions in the tunnel. The result of all this work is a wheel that isn't just fast in the virtual lab world — it's fast out on the pavement in real-world wind conditions.
The specs are in the name with these wheels. The 38/TwentyFours feature a 38mm rim that gives you just enough aerodynamics to slice through the wind while maintaining a relatively low profile in crosswinds. They also feature slightly curved sides with a rounded spoke-facing edge that manages the lateral force of crosswinds for better stability than traditional airfoil rims.
Profile uses its own high Tg point resin on the carbon braking surface for a claimed 30% increase in heat capacity compared to other high Tg resins used in the industry. This means, in theory, that these wheels have better, more consistent braking across changing weather conditions and long descents than the competition. So put away the hourly temperature reports and radar forecasts and get out for a ride with confidence that you'll be able to stop when you need to in any weather without risking a catastrophic rim failure.
The other side of the name references Profile's TwentyFour Series hubs. They're made of forged and machined 6061-T6 aluminum for a durable, strong, and stiff hub body. The freehub is machined from 7001-T6 aluminum and then shot-peened hard anodized, increasing its strength by a claimed 18% over standard aluminum freehubs. This helps prevent the cassette from digging into the hub body or moving unnecessarily, which means crisper shifting and more efficient power transfer for a quiet, fast ride. You'll stay in the zone and fly to the finish line without any distracting drivetrain noise or shifting issues.
The Profile Design 38/TwentyFour Carbon Clincher Wheelset is compatible with Shimano and SRAM 9, 10, and 11-speed cassettes, and can be converted to Campagnolo 10/11-speed with a separately sold Campagnolo-specific freehub.
Hello do these rims come with brake pads ?

Are they compatible with 700*25 c tyres?
harshad
Hey Harshad,



They do include brake pads and are compatible with 25mm tires with no issues.
Tommy Liao
Nice wheels
Familiarity:

I've used it once or twice and have initial impressions
Mine just showed up and shipped with no problems. These wheels come with brake blocks, rim tape, extra spokes, tire wrenches, and a 10 speed spacer. They are very nice looking wheels--we'll see if my legs can spin them a little :).
Zach C.
Unanswered Question
Hi Can you please confirm that these rims are available with white graphics,

Thanks Jeff
Jeff Rayner
Great deal
Familiarity:

I've put it through the wringer
I have been riding these every day for a little over a month now, so I suppose I should leave a review for the greater good. I have been bike commuting for three years now, and decided to step up my training to start racing. I purchased a power meter and computer in April, and began tracking my data. My wheelset was definitely the weak point of my bike, and after much deliberation, I took the plunge on the Profile Design 38/24, despite a lack of reviews. This is my first carbon wheelset, so I don't really have a basis for comparison, but I can say that I SMASHED all of my strava PRs within a couple days of buying these, with very little difference in my watt output. I haven't noticed much of a dropoff in braking from my old Mavic aluminum wheels, even in the rain. I blasted a pothole and flatted at high speed, and there isn't a scratch on them. I did a 117 mile ride with questionable fitness and set a PR on the last segment. They roll forever, are incredibly light, and might be the cheapest (as in dollars, not quality) wheelset on the market. The 20% off coupon was just icing on the cake. I've never ridden Zipp, Enve, or any of the other high-dollar wheels, but I can't imagine that they could be much better than these. I could not be happier, These are race-worthy, but (relatively) affordable enough to be ridden daily.
Jon K.
Top quality wheels , braking is great
I've had 3 other carbon fiber wheelsets in the past. I am not racing for any team now and I had to pay them for my self. In the past I loved the carbon wheels feeling on the road but not so much the braking. I read some reviews about the wheels and they kept on saying the braking was really good , that's why I decided to buy these. They did not disappoint.

These wheels are light and stiff. They hold the angle of attack while cornering on descends. They are good climbers and have good inertia while rolling on planes but above else the braking is supreme on dry conditions and more than OK on wet conditions. The only down of these wheels is that they are not tubeless ready. I've had tubeless road wheels before and I had mixed feelings about it, but it would be nice to have the option.
Edith V.
Do these wheels come with rim tape installed, or is it at least included in the package?
Pablo Bles
hi Pablo, it does not come with tape.
hardik V.
Rim tape is included, not installed.


Zach C.
Does this wheel set come with a wheel bag?
Carlos P.
hey Carlos they don't come with a wheel bag
Kyle Br