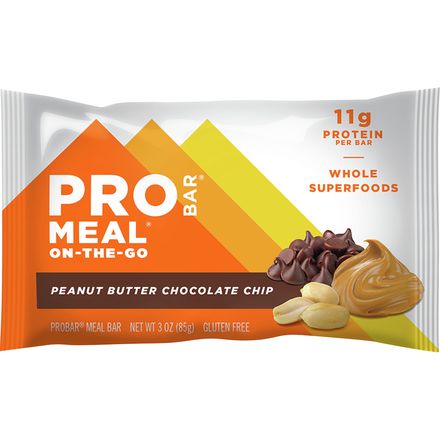 Colors

Detail Images

Community Images
Refuel right.
The ProBar Meal Bar features a non-baked recipe with all-natural and organic ingredients, offering you a much healthier (and tastier) way to refuel. The Meal Bar is 100% vegan and its low glycemic-index prevents sugar spikes and crashes. ProBar also carefully controls the sodium-protein balance in the recipe, which means it requires less water to digest so you can hydrate efficiently. Also, the Meal Bar has an excellent shelf life even though it's preservative-free.
Non-baked recipe with organic ingredients
100% vegan
Carefully controlled sodium-protein balance
Contains peanuts and tree nuts
Best Bar by Far
Familiarity:

I've put it through the wringer
I love Pro Bars! No other bar comes close in deliciousness or satisfyingness. All the flavors are good, and this box is a great deal compared to buying them individually.
Jes Ford
My "On The Go" Meal of Choice
Familiarity:

I've put it through the wringer
Great source of energy to keep you going all day. I always have a few in the pack while out touring, hiking, or biking.
Clay Puglisi
Meal bar that's healthy tastes great!!!
Familiarity:

I've put it through the wringer
These are awesome for a long ride or hike! eat one at the top and it gives you the energy you need to get back to the bottom safely. Plus these taste so good you wanna eat them regularly!!
D Trent Childs
My Favorite Bars
Familiarity:

I've put it through the wringer
Packed with power, filling, nutritious, and delicious! I honestly can't recommend ProBar enough, in fact, I find myself wondering why I ever eat anything else when it comes to bars. Seriously.

Love all the flavors, but chocolate coconut (maybe topped with a ProBar almond butter, mmmmmm!), Superfruit Slam, and PB Chocolate chip are my go-to's.
Taylor Journey
Love the meal bars!
Familiarity:

I've put it through the wringer
Taste like a cookie but fills you up like a meal! You should try it for sure!
Casey Jorgensen
Perfect for long rides
Familiarity:

I've put it through the wringer

Fit:

True to size
These bars are super high calorie which makes them a perfect bar to bring along on long rides when you don't want to stuff your pockets full of 100 calorie bars.

While the bars are nearly 400 calories, it doesn't kill my stomach to eat and digest them on the bike. I love the fruit flavor "Art's original blend" and the fact that they are vegan, organic and no- bake is a huge plus to me. I always have one of these in my jersey for a ride over 50 miles. These bars are really tasty and a good moisture (sometimes bars like this are dry and gross, this is not the case with the meal bars!)

Overall would definitely recommend!
Sarah Edwards
Height:
5'11"
Weight:
145lbs
Been around a while
Familiarity:

I've put it through the wringer
I am an old fan of pro bar ...unfortunately the flavor a I remember are no longer available. Weird stuff but man did it hit the spot. Felt like more than a typical congealed mass of goo....you could see actual seeds and chunks of real unidentifiable hay straw and or kelp or whatevervweird magic was in there. They did expire though if I remember correctly so when the zombie apocolypse hits I won't go all "woody harrelson" and waste my time looking for one. Anyways, I just ordered a boat load of what appear to be the new mass market popular flavors like peanut butter.....lame! But hopefully pro bar will have snuck some chia seeds and quartz rocks in there so it's still interesting to eat!

Scott T.
edible energy for tough days
When I'm really exerting myself, eating a blob of congealed sawdust protein or super sweet goo is really unappealing. Pro Bars on the other hand are delicious whole food meals that are tasty and easy to eat.

Superfood Slam, Whole Berry Blast, and Art's Original Blend are by far my favorite flavors out of the current offerings, but I'm so bummed that they discontinued older and amazing flavors like Nutty Banana Boom, Sesame Gogi Berry, Cherry Pretzl, Coconut Pistachio, and Lemon Raspberry. My mouth is watering just thinking about them, they were that good.

Buy up the flavors you like now because it seems Pro Bar is moving away from the tasty and unique flavors that differentiated them and are now chasing boring mass market flavors and packaging to try and compete with competitors on their terms... lame! They're still my favorite bars though.

Miles Dickson
Perfect for on the move!
Familiarity:

I've put it through the wringer
After years of eating basic protein bars and shakes, I have converted to the Probar system. These things are seriously the best! When you are on the move, whether hiking, biking, or skiing, it is hard to get sufficient calories in a small package, but the Probar meal delivers. With all natural ingredients, it won't leave you feeling groggy, and provides more than enough energy to keep you going!
Hunter Foraker
If there's a better bar out there to replace lost calories and get some energy back, I have yet to find it. The taste is good and I don't feel horrible about eating them.
Spencer Oliphant
Taste better than they look!
Familiarity:

I've used it several times
These bars are green, from the wheat grass, but the raspberry puree and chocolate chips are the dominant flavor. You barely taste the wheat grass. It kind of reminds me of the experience of the super green odwalla drinks. They pack enough calories to keep me full when I can't eat a sit down meal.
Mike Rosenberg
These ProBars are pretty great. They are quite filling, and do well as a breakfast bar. All the flavors are pretty great. Its nice to have quite a few flavors to choose from. The super food slam is more of a savory bar, with some spices and delicious flax seeds. Great for after a hike. The Berry ones are obviously sweeter, and great for on the go. I don't really like eating one in the middle of my hike since they do fill you up pretty well. However they are great for long day hikes 10+ hours since they do keep you a little more satiated than a cliff bar. Cliff bars for mid hike snack, and pro bars for post hike snack.
Courtney Scott
Pro Bars are by far my number one. After choking down plenty of bars found in my pocket, no need to go back after finding the Meal Bar! The taste is far superior- doesn't taste processed, you feel like you're actually eating real food. If you need a good snack for a day of activities, this is it- gets you some good calories and it doesn't make you miserable. Easy to throw in your jacket pocket, pack, purse, etc. I've enjoyed every flavor I've tried so far, but I will say that the Superfood Slam and Oatmeal Raisin are the current favs...
Kayla Weiser
My wife's favorite
Familiarity:

I've used it several times
I bought a box of these for a mountain bike trip in the Pacific Northwest. My wife questioned my decision at first saying stating she wanted a different kind of granola bar. Then she tried the ProBar Meal Bar and she was sold. She constantly asks me which flavors we have in stock when our supply is low.

These bars do feel more heartier than others on the market and they taste better, too.
Cameron C
Actually filling
Familiarity:

I've put it through the wringer
These are delicious, and one of the few meal bars that actually leave me feeling satisfied. I usually try to carry a couple with me in my commuter bag, and they are perfect for in between meal snacks, or even as a meal replacement if you're really in a bind.
Roger C.
Great taste
Familiarity:

I've put it through the wringer
These are all nature and they sure do taste great. I love to eat these an hour before my ride. They don't sit heavy in your stomach. They go done every easy, no more choking down powerbars.
Dan Dalton
Great Taste & Goes Down Easy
Familiarity:

I've put it through the wringer
Ever had that feeling when you're going hard where you literally have to "choke" down those precious calories? That's what I love about the pro bar -- they taste great, and I'm able to consume them under pressure without experiencing that. Many great flavors to choose from too -- chocolate coconut, oatmeal raisin and mixed berry are some of my favorites.
Hap Seliga
My backcountry lunch
Familiarity:

I've put it through the wringer
Pro Meal bars are my standard backcountry lunch. They are tasty and high in calories and I have yet to get tired of them.
gene_backcountry@smalltime.com