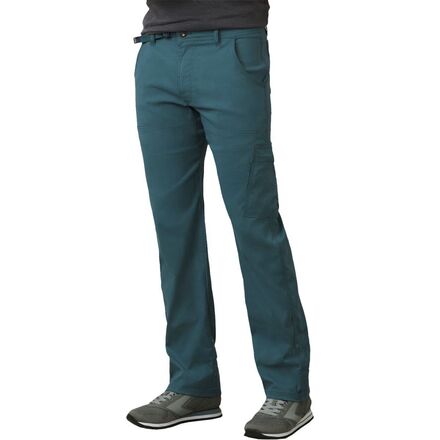 Colors

Detail Images
Pants for the vertical and horizontal world.
Whether you're teching your way up a tough slab, figuring out the sequence on a roof section, or hiking in to camp, the Prana Men's Stretch Zion Pant can hang. Its stretch nylon fabric and gusseted crotch provide a natural range of motion for all your scramble-loaded adventures, while the water-resistant finish helps keep your legs dry if you get caught in a little rain.
Technical pants for hiking, climbing, and travel
Zion fabric is stretchy yet durable
DWR finish repels light moisture
Roll-up snaps secure cuffs while climbing
Standard fit with inseam gusset for added mobility
Best pants I've owned
Familiarity:

I've put it through the wringer

Fit:

True to size

Size Bought:

34 x 32
These have been my go to pants for just about ever occasion. Whether its climbing, hiking, or out on the town these pants fit the bill.its made from a super comfortable and water resistant/ quick drying material. The snap bottom cuffs are great for climbing or to just vent off some extra heat on hike.
Randy Nelson
Height:
6'1"
Weight:
200lbs
Favorite pair of pants
Familiarity:

I've used it several times

Fit:

Runs small

Size Bought:

30x30
I bought a pair of these for climbing and absolutely love them . I heard about them from a friend and got a pair. I wear 28x30's in everything else but had to exchange for 30x30's. I talked to the guy who recommended them and he had to size up too. After getting the correct size they've been my favorite pants. They're breathable and have great stretch for anything climbing can throw at you. I haven't had them long enough to know how durable they are but they seem to be made well. Definitely getting another pair.
Matt D.
Height:
5'7"
Weight:
145lbs
I found the Holy Grail!
Familiarity:

I've used it once or twice and have initial impressions

Fit:

True to size

Size Bought:

36x32
I'm new to quality outdoor clothes. I come from a world of big box stores where the outdoors clothes are pretty basic. My gateway drug was Kuhl and I like a lot of their stuff too. And that got me looking at the Prana's. Honestly, I'm not a hiker, camper, rock climber...I'm a competition shooter but we do a lot of running around and movement in our sport. I was just out looking for some great outdoor pants and shorts which would take the abuse and not have that tacticool look. And something I could use on the town with my wife, traveling, walks, etc. I started out with a pair of Brion's which were nice and something I could easily wear into work. Shot an indoor match with them too and they worked great. The fabric just moves with me and is lite and comfortable. I then decided to give the Stretch Zion a try and I like them even better! The fabric is the same but just the added bonus of the integrated belt and leg pocket is a plus. I can wear 35x32 or 36x32. I found the Brions a little loose but acceptable in 36x32 but will probably go 35x32 in those in the future. But the Zions at 36x32 are just fine with a small adjustment in the belt and I'll stick with 36x32 with them. Neither appear baggy on me and I'm average build. I now have 1 Zion pants, 2 Zion convertible pants and 2 Zion shorts. Where have these things been all my life! Now my wife doesn't criticize my pants/shorts and I'm ready to sprint, squat and do all kinds of movement in comfort and style. PS...Backcountry customer support is the best I have seen online. Gearhead Caleb is A#1 and everyone I've chatted with has been awesome as well. If you are thinking about ordering from these guys, do not be concerned, they are great in every way.
Mike N.
Height:
6'0"
Weight:
185lbs
Size - Please make a 36x36
Please make these in a 36x36! They are amazing pants and came in this size in the past but I need more... Just because your tall it doesn't mean your fat!
russ
Height:
6'6"
Weight:
215lbs
If you haven't tried 'em, you should
Familiarity:

I gave it as a gift but have feedback to share

Fit:

True to size
Fantastic pant, durable nylon, repels water, has stretch, killer waist design with just enough adjustability to wear as you like for casual or hike/climb (no bulky built-in webbed belt); absolutely great for all kinds of uses--hiking, climbing, casual, even spring touring (yep, they're versatile and amazing). Because they're offered in different waist and length sizes, it's not hard to find one that works for most. The Zion shorts are equally fantastic. Cargo pocket is not sloppy or bulky looking, just practical, like the rest of the pockets.
Karen Lindsey
Height:
5'10"
Weight:
146lbs
Comfortable
Familiarity:

I've used it several times

Fit:

True to size
The most comfortable, versatile pants you can find!
S Jones
Height:
5'7"
Weight:
160lbs
Making jeans obsolete, one day at a time
Familiarity:

I've put it through the wringer

Fit:

True to size

Size Bought:

40/32
Never mind that the "denim" color leaves a lot to be desired compared to the same thing in actual denim. These pants move, stretch, protect, wear, repel stains, clean up, dry out, walk, hike, run, lounge about and just look good in a way you simply are not going to get in combination in any jean. Nor in just about any competing pair of outdoor pants. They are four-season comfortable, resisting wind and moisture about as well as most people are ever going to need, and are the only pants that I have worn to the office - shirt and tie office - on a date on a hike and on a run, the latter made easy by the rollup snaps on the legs. The bellbottoms may be a style turnoff to you but they shouldn't be; they make these pants easier to get on (and get out of the way for donning socks and boots) than any other pants I have used; in fact you can pull these right on over most boots. As if this weren't enough, the two-zipper feature on the cargo pocket makes that maybe the most useful pocket I've ever had on a pair of pants. The front zipper, which will be right where you want it to be when you are sitting inside a vehicle and need to access your parks pass or your cash for tolls, just do it once, is so convenient that I even use it when I'm standing up instead of the top zipper. A belt is really optional with these pants thanks to the little built-in belt on the right-hand waist. I could go on and on about these pants but let me just say that there is almost nothing, outdoors or in, for which these won't be just about the best pants you have. I have six pairs. I am seriously considering donating all the rest of my pants collection save possibly one wedding/funeral pair. For which, truth be told, these would work. Do I really need to say more?
DonnOutside
Height:
6'1"
Weight:
220lbs
Want to wear them even after the climb
Familiarity:

I've used it once or twice and have initial impressions

Fit:

True to size

Size Bought:

32 x 30
Just climbed 2 days in Joshua Tree, I am a new trad leader. Loved the pants. I had one pair and just took advantage of the sale and got 2 more. I had all the room and stretch I needed. Great durability even in some off widths with hip scrubs. I got the Mood Indigo and the Dark Ginger both look and feel great. They are so comfortable I wanted to wear them to the movies after the climbing but they did need a washing. I like the adjustable built in belt, makes it easy with my harness with no hassle with belts.
scott C.
Height:
5'8"
Weight:
160lbs
Wonderful Pants
Familiarity:

I've put it through the wringer

Fit:

True to size

Size Bought:

36x32
I could write a long paragraph...I wont'. Just like most said...a really, really good pair of pants. Quit looking, just buy. You won't be sorry. I am 55 yrs old and don't have the body shape that I used to. I was worried that the design and use would result in them being too tight. Wrong! they fit perfect and were true to size. May be just a small bit long. Perfect with boots though. Look great on an old guy, with no ass, if I don't say so myself. There may be other pants that compete but if there is a product out there that is better, let me know, I want it.
John H.
Height:
6'0"
Weight:
185lbs
Favorite Pants
Familiarity:

I've used it several times
I bought these for my boyfriend, here is his review. "Best climbing pants I've ever worn. They are stretchy where you need them to be, yet durable and tough enough to take a beating from the walls. They vent really well so you can keep sending without getting sweaty. They are also casual enough to wear out after climbing. One down side is the length is a little long. Pants fall to the heel of my shoe. When climbing, not an issue since you can roll them up and button them in place."
Courtney Less
Inconsistent fit
Familiarity:

I've used it once or twice and have initial impressions

Fit:

Runs small
I have tried on 3 pairs of these pants and only one fit. I grabbed a pair of 32x30 at REI that fit perfectly then ordered the same on backcountry.- they were too short so I ordered 32x32 which were too small in the waist. I compared the two and the 32x32 were approximately 2 inches smaller than the 32x30.

I love the pants otherwise but the lack of consistency makes them impossible to shop for online.
Nathan F.
Height:
5'9"
Weight:
175lbs
Not for me...
Familiarity:

I've used it several times

Fit:

True to size

Size Bought:

34X34
I don't get the popularity of these pants. The fabric is the only positive - nice and stretchy, and a great weight for fall and spring hiking and summer climbs. That's where the positives end. What's not to like?

(1) The fit is definitely not to my liking and is quite uncomfortable. If you like really low-riders with a short fly zipper, then this might work for you. Also, they fit great through the thigh but are too baggy at the ankle.
(2) The pockets are made of a mesh-type fabric that almost instantly pilled out.
(3) The side zip pocket is way low (nearly to my knee) and is barely large enough to fit my iPhone 6 (regular, not a plus).

If I was still inside the return policy timing, I would have returned them. If you want a pair, you might look in your local thrift store - that's where mine resides right now.
Kirk W
Height:
6'2"
Weight:
170lbs
My favorite pant of recent years
Familiarity:

I've put it through the wringer

Fit:

True to size

Size Bought:

33x35
Dark ginger, 33x35 ~ true to size
What it is: A full length pant that stretches and moves as you move, breathable, convertible into 'capri' style shorts for climbing purposes
What it ain't: Insulated, drafty
I bought these pants back in early '16 as I wanted to try something new to my regular jean-wearing lifestyle. Being my first pair of Prana pants, I didn't know what to expect save for the reviews and color. Needless to say, I was pleasantly surprised by these pants. While there are plenty of reviews for you to get the full details below, I feel the best things to know about these pants are that they're great for early spring-late fall (area dependent of course) and are great for active use - plus they have a solid storage system for all your gear and essentials! MY only recommendation is to limit washing machine use on the pants - the stitching and fabric of the pants can be delicate if put under too much stress.
Thanks
D
Donald D.
Height:
6'3"
Weight:
195lbs
Love 'em always
Familiarity:

I've used it several times

Fit:

Runs large

Size Bought:

35 34
These are fantastic pants. I'm not normally the strechy pants wearing kinda guy, but my GF promised me I'd love them and I do. Lots of room for my big thighs, and they seem plenty durable. They do run a little large on the size chart. I'm notmally a 36waist 34 inseam. I've purchased both 36 and 35 waist. The 36 waist is just a touch bigger than I'm used to, but not a big deal with the pant's included adjustments. 35" with the 34" inseam was perfect.
Nellie Lingwall
Height:
6'2"
Weight:
230lbs
Just get a pair
Familiarity:

I've put it through the wringer

Fit:

True to size

Size Bought:

28x32
Seriously, do it! You wont be disappointed.

I inherited a pair of these bad boys from my dad a few years back, and I'm still using them! I instantly fell in love with the supreme articulation given to these pants from the Stretch Zion fabric and the gusseted crotch. I've been thankful for the extra stretch in the pants on many occasions, most notably when heel hooking a high hold on the climbing wall, crawling under fallen logs while backpacking, and even just doing some improvised yoga.

The mobility, durability, and style make these my go to pant everyday since they are perfect for yoga and climbing in the morning, school in the afternoon, and work at night!
Alex Blackmer
Height:
6'0"
Weight:
130lbs
Great Pants
Familiarity:

I've used it once or twice and have initial impressions

Fit:

True to size
Extremely comfy pants, constantly feels like you're wearing running pants. The stretch is amazing. Very relaxed fit.
Danner Peter
Height:
6'3"
Weight:
185lbs
These are my favorite climbing pants. They are stretchy and well-fitted. I use them for bouldering, sport and trad. They have nice pockets for storage on multi-pitch climbs, and the roll up nicely for sport climbing (when I want to really see my feet).
Teresa Nguyen
Didn't live up to the hype
Familiarity:

I've put it through the wringer

Fit:

True to size

Size Bought:

31x34
When I bought these I was looking for a durable, stretchy, slim fitting climbing pant. The Prana Stretch Zion didn't meet many of my expectations.



Durability:

After a few approaches and a few pitches these pants started to wear through at the knee. I have attached a picture of about a month of moderate use. The side zipper also came sewn with fabric in it. This makes it difficult to zip up and down but it's probably a defect with this particular pair of pants.

The Fit:

These pants are snug at the thighs and rear and loose and baggy at the ankle. If you are looking for a slim fitting pant with a straight leg then these are not it.


Tim M.
Height:
6'2"
Weight:
180lbs
My favorite pants
Familiarity:

I've put it through the wringer

Fit:

True to size

Size Bought:

31X32
These are great all around pants that are super comfortable and the built in belt is awesome!
Charles Denney
Height:
6'1"
Weight:
168lbs