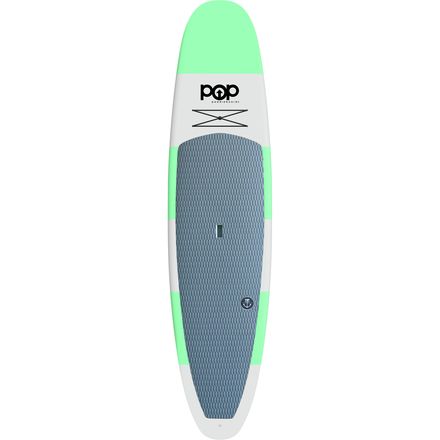 Make any body of water an open highway.
Like an oversized American sedan from the '60s, the POP Paddleboards Throwback Stand-Up Paddleboard is a behemoth built for cruising in comfort. Whether you want to go on epic all-day tours around the lake or play around on small waves along the coast, the Throwback offers the speed and stability to make it fun and easy.
Tons of volume and rolled rails make it extremely stable so you're not burning a ton of energy just trying to balance when paddling long distances, and this stability also makes it easy to surf small waves with. Plus, its stable nature means you can easily bring your pup aboard or pack a bunch of gear for long outings. Meanwhile, Vice construction with vacuum-packed technology keeps it surprisingly lightweight, without sacrificing strength or performance. Get ready to explore more on the Throwback.
Buoyant boat of a board built for speed, stability, and distance
Handmade Vice construction is stronger and lighter
360° Diamond Traction is grippy, firm, and forgiving
Futures Thruster fins are removable for custom configuration
Gore-Tex Vent Plug releases heat pressure without letting water in
Ergonomic handles with ribbed grips won't cramp your fingers
Perfect for Beginners and Pros Alike
Familiarity:

I've put it through the wringer
The Throwback is the Cadillac of paddleboards! I've demoed ton of paddleboards, but this is easily the most stable, smoothest riding, and surprisingly fast board I've ridden. It is the perfect board for beginners because it is is built for stability with its 32.5" wide base, 210 liter overall volume, 11'6" length and 4.75" low profile shape that allows waves to roll right over it. Even though it is great for beginners, anyone can enjoy this board because it rides so smooth and fast.

I love that it is hand made and shaped in the USA and has all of the features you could want in a paddleboard. It has a huge diamond traction pad for great foot grip, especially when compared to other boards with flat pads. It also is really lightweight at only 27 lbs and has an "animal" handle that makes it easy enough for anyone to handle. Additionally, it is built with a Gore-tex vent plug to prevent delamination.

I've ridden this board all summer long in conditions from perfect glass water to really choppy water with wind and boat wakes and no matter the conditions, it is really enjoyable to ride. I love and highly recommend this board!
Ashleigh McClary
Great Board!
Familiarity:

I've used it several times
Love this board! After trying out a few different boards, solid and inflatable, I'm happy I went with the POP board. Super light and easy to carry, the handle is by far the best out of any board I've used. It's incredibly quiet while gliding in calm water, and stiff and stable in a little bit of chop. I ended up losing the main fin, but it was no hassle to get a replacement from POP!

Shipping was easy and faster than I expected.
Andrew Herring
Love this board!
Familiarity:

I've used it several times
I have a lot of experience with paddle boards and was looking for something for that was stable, nimble, and quick. I couldn't be happier that I picked this board. At first, I thought it might be too big and hard to steer/turn, but I was dead wrong. The board is surprisingly lightweight making it easy to carry long distances. It's also great because it turns on a dime and practically glides on the water. It's easily the most stable and balanced board that I own. I couldn't fall off of this thing even if I tried. The only downside is that my wife absolutely loves it and keeps stealing it for her "floating yoga."

Great board--I just wish I bought two.
Lucas L.