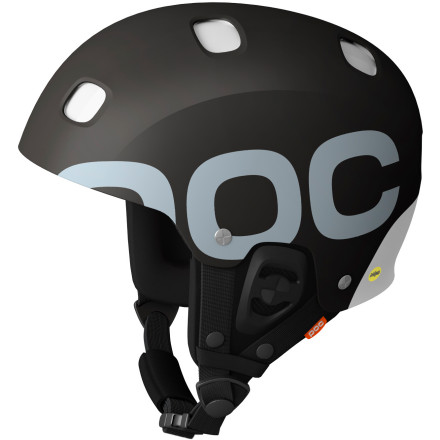 Colors

Detail Images
An advanced helmet for advanced freeskiers.
Since most impacts to the head occur while you ragdoll down a slope, POC designed the Receptor Backcountry Helmet to protect against hard shocks as well as the brain-jostling that happens during high-speed crashes. Thanks to the award-winning MIPS technology, your vital gray matter doesn't get jostled nearly as much as with standard helmets.
MIPS technology employs a small plastic piece that breaks during harsh impacts and allows the liner and outer shell to rotate separately, which reduces the stress of ragdolling on your brain

Tough ABS/PC outer hardshell withstands encounters with rocks and branches, and an aramid barrier between the shell and PC liner further reduces shock

Equipped with RECCO avalanche rescue system in case of an emergency

Neck Buckle realease helmet during crash
Familiarity:

I've put it through the wringer
I am seasoned skier and mountaineer for the last 20 years. And using a POC helmet i had a serious accident where the neck buckle of my POC helmet fail. By this i had a unvoluntare release of my helmet causing me serious injuries.

I cant be more disapointed about not only this helmet, but also this brand. I had no answer, no support... after several emails.

I strongly recomed anyone that is serious about their head to buy another brand with a better buckle system., The one used in POC is cheap and lacks of desing. POC is mostly about fashion.

I know that is one in a million chance to have an hyperflexion of the neck throwards your chest and cause excess preasure of the buckle and having release of the helmet. BUT, i think nowadays there is a HUGE offer of helmets and people should care about having the one that will remain attached to their head.

The buckle is the one used in this helmet.

Be SAFE

Jorge
I really wanted to like this helmet, but for the price I expected better. The interior padding arrived in a mess and I still haven't figured out what is supposed to go where. On top of that, the little velcro attachments don't stick to the helmet well, so they often just pull off with the padding instead of sticking to the interior. The goggle clip has been mentioned on here already but I have to reiterate how bad it is. I took a yard sale and my goggles flew off like they weren't attached at all - the clip is totally worthless. As for good things, the helmet fits as expected and is generally comfortable. I also like how the ear flaps attach to the chin strap. I bought it for nearly %50 off, which still felt like too much, honestly.
Andrew Adkins
I retired my smith helmet after the 15/16 season and wanted to try something new. This helmet is unbelievably comfortable. The helmet runs small, but after getting the right size I couldn't be happier.

The goggle clip sucks, but isn't something I'd utilize normally so I wasn't to bummed about it.

I am sold with the MIPS technology. If there is anything I can do to help mitigate head injuries I will gladly shell out a few extra bucks.

It also doesn't hurt that it is a pretty sweet looking helmet.
Vance S
google clip sucks
Familiarity:

I've put it through the wringer
Great helmet with good quality but the goggle clip is cheap. POC needs to upgrade this part only. Otherwise happy.
Rick M.
High marks
Familiarity:

I gave it as a gift but have feedback to share
"I wanted to update my helmet as I have had it for 5 seasons. I was interested in the technology that maximizes the protection from concussion. I was a little concerned about the fit as it was non adjustable, but it fit great and matched my goggles. I have worn it on very cold and snow days, as well as warm sunny days, worked great on both. I give it high marks."
Kate Cronin
POC
Familiarity:

I've used it several times
Great fit. Super tough construction. Love it.
Dudley Campbell
I just recently switched over from Smith helmets to Poc helmets and I am very pleased with the decision. I love the skate styled helmets. This helmet is very warm, stylish, and comfortable. Added plus with the MIPS technology. I would definitely recommend this helmet to anyone in the market for a new one.
Lee Klitzner
A customer of mine's helmet review
Familiarity:

I've used it several times
" I had purchased a POC receptor over the summer and was having a bit of a time fitting goggles with it. i wanted to try the Marker and Smith to see if they fit better with my existing gear. Each of those helmets-Markerand Smith-were a bit too loose. I am used to a race helmet and traditionally free ski in a hat. So it has been difficult to get accustomed to the soft lined free ride helmets. I do like how lightweight and comfortable they are; I just feel they would be too bouncy on the hill, for me.
That being said, the Oakley line miner fit great with the POC. and the prism Lens is amazing. It has taken a ling time and a lot of money but i have finally put together a great kit for all conditions! Thank you BACKCOUNTRY. "

Patrick Kilbourn
Simple, Comfortable Helmet
Familiarity:

I've used it once or twice and have initial impressions
Right off the bat, I believe this helmet runs a bit small in comparison to other brands - I went to a local shop to try on a POC helmet before buying, and I was so glad I did. As it turns out, my head is 59cm, meaning I had to order the XL. I have cycling helmets in a sized small/medium from Lazer, and a medium Catlike, so jumping to XL for POC seemed extreme, but apparently they just run small. The POC helmet fits really great on my head, no doubt about it. There's a removable foam pad for blocking out the vent holes to adjust temperature in the helmet. It's a bit primitive, since most helmets (even the POC Fornix) has a plastic lever that allows you to open and close them.

Pros: Comfortable fit. Simple, bold graphics. MIPS for safety. RECCO for backcountry folks. No frills - no headphone jacks, no speakers, no wiring, no adjustable dial like Giro's or other brands, no on-the-fly temperature adjustment like the POC Fornix. This is simply a helmet, which to me, is a pro.

Cons: Goggles clip. I had read this over and over again from previous reviews, but the clip is absolutely useless. It comes unattached in a plastic baggie, you stick it between the styrofoam and the plastic shell on the back - it feels like an afterthought. It feels like it's going to just pop off after a day of riding. It looks horrible. It doesn't really do anything to assist in keeping your goggles in place. Why does it exist, I'm not even sure. Most goggles have sticky patterns on the strap, so I'm guessing this is probably the reason why POC didn't design a helmet clip into the helmet. And honestly, a clip isn't really necessary, since your goggles stay in place pretty well with the sticky pattern

If you're looking for a quality helmet with no frills, no helmet clip, and you know your head size, this helmet would be a great option.
dom salbatera
will this helmet work with electric eg3 goggles?
GDP
Best Answer
Hey GDP! Yes it should be compatible with the EG3 Goggles
Brennan K
Beautiful but low quality
Familiarity:

I've used it once or twice and have initial impressions
First of all, I'm a fan of POC, I have 2 other helmets (Skull Light and Cortex DH) and this particular helmet is the most beautiful helmet I've seen.

Secondly, unlike my other POC helmets, this disappointed me in terms of small details:
- the box was unglued, once I opened it, it fell apart
- MIPS pin was detached from the helmet, now I'm not sure how securely it's connected to the helmet and how often I will loose it
- the EPP liner edges are not polished and smooth
- the liner that covers vent holes was split to layers with no effort
- useless google clip everyone complains about.

I hope POC reads this will pay more attention to the quality to retain its customers.
Denys Nevozhai
Great helmet, but not perfect
Familiarity:

I've used it several times
I went to this helmet from a Smith Vantage and have been happy so far. The fit is similar and the weight is comparable. It's a nice piece of mind having the MIPS for extra protection and overall quality is very high. There are a couple of quirks; the goggle clip in the back is a little piece of plastic stuck into the foam - sort of a cheap touch for a $260 ski helmet. Also, the vents are plugs, for the price it would be nice to have sliding vents like the Smith helmets. Regardless, the helmet is excellent quality, fits true to size and offers superior protection. If a pricier helmet can keep me even a little safer, its worth it.
Matthew M.
POC Love
Familiarity:

I've put it through the wringer
I wear this every time I hit the slopes, and no complaints yet. Luckily I haven't needed it to protect my cranium yet, but I think it'll do its job it it ever needs to. Great fit, great look, awesome helmet .
Mackenzie Martin
Awesome helmet!
Familiarity:

I've put it through the wringer
Offers a superb protection for my noggin. I feel very safe with it knowing that I'm wearing the MIPS which is supposed to give you an unparalleled head protection. It's very comfy, stylish and loved the color orange.
Nelson
Only helmet I will wear
Familiarity:

I've put it through the wringer
After enduring multiple concussions in competitors helmets, I will never wear anything else other than the POC Receptor Backcountry. I have taken some pretty big falls in this helmet and hit my head on anything from hardpack ice to tree logs and still have yet to come up seeing double. If you have ever had head injuries and cannot afford any more this is the helmet for you.
Seth Barnes
Great helmet!
Familiarity:

I've used it several times
Love the helmet. Looks and works great. Runs a bit tight but once broken in/ worn a few times the fit is good and comfortable. Used to dislike riding with a helmet now I can't ride without it!
Artsiom
Great Helmet
Familiarity:

I've used it several times
I got this helmet to replace my Poc Synapse 2.0 and so far I love it. The fit is very similar, I wear a medium here with about a 22 inch circumference head. I alternate wearing it with Poc lobes goggles or the Smith IOX photochromic turbo fan goggles, and both fit great with no gap. The helmet has good ventilation and comes with extra padding to adjust the fit.
Ari
Unanswered Question
What size and model of POC goggles will best fit an XL receptor backcountry? I'd try some on at my local shop but no one has more than one or two models of POC goggles.
BoulderJB
Unanswered Question
Will the receptor backcountry helmet have a different fit to a recepeter adjustable helmet. Having tried the receptor bug adjustable helmet, none of the helmets sizes fitted me. I was just wondering if its just as safe to fit the helmet with padding rather the adjustable disk system? Thank you !!
max
My head measures right at 23 inches. Would you go with a L or XL? Thanks!
R jordan F.
Hey R Jordan,



I would recommend you go with the POC Receptor Backcountry Helmet in an XL. The Large will most likely be too small. If for some reason the XL is way too big, I can always help you exchange it at no cost. Feel free to contact me directly with any more questions about POC Helmets or if you are interested in setting up an order.
Kyle Livingston