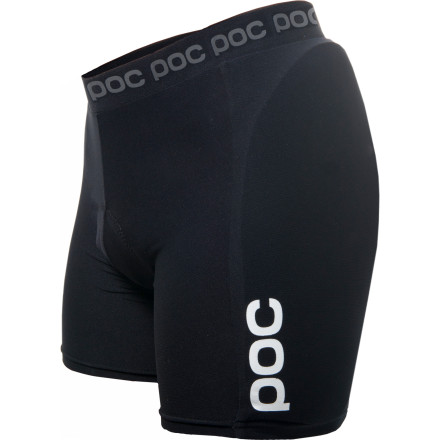 Colors
Protect your money maker
You're probably not a geriatric, so your hips don't rank high on your list of things that need protection while hucking. However, regardless of your age, you'll find that the ability to walk is pretty important. The POC Hip VPD 2.0 Ski Shorts add a protective layer that won't inhibit your movement in the snow. These shorts can be difference between an ouch-and-rub or a two week leave of absence from the hill.
Made from a super-stretchy, ventilated mesh, the Hip VPD shorts are flexible and won't affect your freedom of movement. Treated with the odor-resistant Polygiene, the shorts stay fresh after a day of riding hard. For protection, the three-ply Visco Elastic Polymer Dough (VPD) inserts conform to the body and stiffen when impact is applied. And though the material is soft and flexible, it can absorb an incredible amount of shock and dissipate the energy of a brash fall.
The inserts have a slim profile and fit under shorts and pants without being bulky. And whether you're hucking yourself over snowy cliffs or bombing a descent through the aspens, they provide a high level of protection for your hips and tailbone.
The POC Hip VPD 2.0 Ski Shorts are available in the color Black and in sizes Small, Medium, and Large.
Don't Leave Home w/o Them
Familiarity:

I've put it through the wringer
Key piece of ski/bike gear for me. I used the original version for a few years - these are a considerable upgrade. The updated VPD is super soft and malleable but does harden noticeably with only a light impact. It's much thinner than the older version and form fits very well. The VPD 'pads' are a cinch to remove which means the shorts get plenty of laps in the laundry. A must have for skiing and biking. Highly recommended!
Elias Littenberg
Unanswered Question
Does anyone have a picture at another angle?
I know POC makes high quality gear, but this picture kinda looks like a cheap pair of shorts with a lot of fluffy foam padding.
Is the padding comparable to the type of padding used in G-FORM products?

Thanks!
i.pp404354
POC Hip VPD 2.0 Ski Shorts
Familiarity:

I've used it once or twice and have initial impressions
Bought for hip skiing protection on ice. Failed on first fall, severe bruise. Not recommended.
James R.
VERY NICE!
Familiarity:

I've put it through the wringer
I picked these up in the summer and used for x-country mountain biking and now that the snow is flying have used them snowboarding and done a tumbles at speed on both the bike and the board.



Let me begin by saying I contributed a femur to my snowboard sport and all I got in return was an titanium rod and some screws in my left leg in return so suffice to say.. when I land on my left hip.... I notice. This protection DOES make a major difference for me and I am very happy with it! One small complaint is that the tailbone protection pad can pop out when I'm just tossing the shorts around (i.e.: not wearing) however I have yet to have it slide out of place when I'm actually wearing. Hopefully in future versions then put on overlapping flap of material to prevent this one very small issue.



Overall.. very impressed and highly recommend. All POC armour is top notch but you pay for that quality. At the end of the day... can you really put a price on your health/protection?
Joe Bright