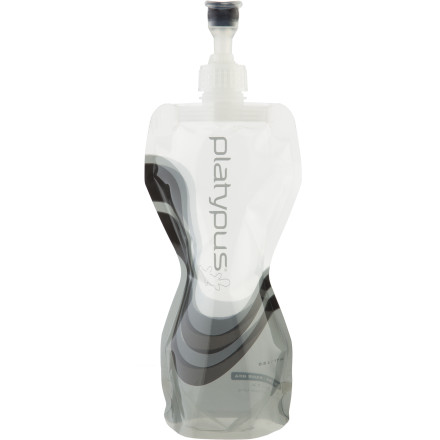 Superlight, super packable.
Weighing less than five standard water bottles put together, the flexible Playpus Platy SoftBottle is the way to go for weight-conscious adventurers. Once it's empty you can roll or flatten the bottle, making it ideal for any adventure whether you're backpacking, hiking, or running. Its BPA-free plastic is tasteless and provides a clean source of water wherever you roam, and it comes with either the standard closure, push-pull cap, or an intuitive HyperFlow cap that gives you an edge when you're moving fast.

BPA-free plastic
Available with closure, push-pull, or HyperFlow caps
Perfect for minimalist activity
Familiarity:

I've used it several times
I've been using a camelback for days on the slopes, but have wanted to switch to a small hip pack to free up my arms and shoulders. This fits perfectly into a small fanny pack. I will still revert to a backpack hydration system for longer days when I don't want to stop for a refill, but the platypus has been working out great. I could probably put it inside my jacket or the cargo pocket of my pants, but prefer to keep it in a pack.
EmiH
these were great
Familiarity:

I've used it several times
and i guess they still are, but the new softer bottles like the ones offered by osprey or hydrapak are much better options.
Russell Bangert
Toss it in your pack.
Familiarity:

I've put it through the wringer
Great bottle to have in your pack. Compact, durable, inexpensive, and easy to use.
Sunn Kim
Impressive Package and Use
Familiarity:

I've put it through the wringer
Really like this platypus more than I thought I would. On a discount it was a really great deal and I've used it a ton. Lugging around a nalgene or hydro flask when traveling or at a camp site can be a little cumbersome, while this platypus can be folded into a small package. I'm really impressed with the quality of the plastic and overall construction.
Brian Chausmer
I WANT THEM ALL!
Familiarity:

I've put it through the wringer
I can't even tell you how many of these I own. These things are awesome. i prefer the push/pull top myself because.. hi if you don't have to screw the top off, then why would you? they squish into any bag and are super malleable and durable. Crazy bang for your buck. I would highly recommend picking some of these up.
Emily Noll
Review
Familiarity:

I've used it once or twice and have initial impressions
These are awesome! They are super light, malleable to fit into a pack, and fit a bunch of water. I would definitely recommend it to other people.

I also wanted to mention how great BackCountry is. My package didn't come in when it was supposed to, I waited a couple days, and it still didn't show up. I looked it up, and the shipping company said that it was delivered a couple days before, but it never showed up. I called Back Country, somebody got to me right away, and the problem was solved! It was super easy, they sent me a new package, and it was a pleasant experience, totally worth waiting a couple extra days to receive my package.
Manuel M.
Great for skiing - I tuck it in my inside pocket.
Heather Finney
You Need This!
Familiarity:

I've put it through the wringer
I ALWAYS carry a water bottle with me but will forget it on my desk or in my car - what I love about the Platypus is I can fold it and put it in my purse or backpack without the extra bulk. This is perfect for traveling and hiking.

I highly recommend this product!
Kaitlyn Taylor
A Must Have
Familiarity:

I've put it through the wringer
I have so many of these Platy SoftBottle's because they're perfect for just about any use. I take them fishing, camping, hiking, and sometimes even backpacking (if I have room). They are so simple, yet so efficient. Only downside to them is they can be quite tricky to dry after use. I find that I have to hang them up with a clothespin for multiple days before they're finally completely dry. Other than that they're well worth the $9
Caleb Lecker
Great liquid containment unit.
Familiarity:

I've used it several times
low price high function. These are some great bottles at a great price. they are very small and lightweight and the price is low enough that there is not any reason to stress or worry about them breaking or wearing out.
Matt Weinberg
Love these for climbing
Familiarity:

I've used it several times
I try to always throw one or two of these in my climbing bag when I go out. I don't have to worry about them breaking or denting when I drop them. Grab a couple while they're on sale.
Spencer Oliphant
Stowable Goodness
Familiarity:

I've used it several times
I got a similar product that is now out of stock for bike packing. Super handy to be able to carry 8 liters of water capacity and when everything is empty have it roll down to the size of a Nalgene.

Can't comment on durability but they seem pretty well built in my opinion
Dylan Witwicki
very useful bottles ...
Familiarity:

I've used it several times
use these both at work and while hiking ,great water bottles... have replaced for the most part my old hard round nalgenes. ..also picked a 1/2 liter size ,just as good... also work well with carrying booze and tonics for hikes...just remember to rinse w/ hot water then dry...
ALAN W.
Best Soft Bottles for the Price
Familiarity:

I've put it through the wringer
There are many different hydration options when you are on the trail. You can go regular water bottles to hydration packs but these are the best. There are also many different options even when it comes to soft bottles but for the price and the quality, I only buy these. You can get ones that are half the price but they are either leaking when you get them or they will leak after one or two uses. I own about five Platypus bottles and they are all in great working shape even after taking a beating. I highly recommend these bottles and again they are the only ones I will use.
Shane Nelson
I love this water bottle and use it primary for resort skiing when I don't want to wear a pack. They fit nicely in the internal goggle pocket of my shell, and are comfortable to ski with since they're non-rigid. With the valve cap, I don't have to unscrew anything or remove gloves when I want a drink. Never had any leaking, and these are easy to clean. They take awhile to dry out, though. Great for minimalist traveling - they roll up VERY compact. Highly recommended. I use them all the time.
Eric P.
Awesome for hiking
Familiarity:

I've used it once or twice and have initial impressions
These work just as they should. Hold a liter of water, are very light, and take up minimal space. They get smaller the more you drink as well. After 1 2-day backpacking trip, they seem very durable and easy to jam into your bag.
mike d
Unanswered Question
What style top would the Sawyer Mini Water Filter screw on to? I am looking for a water pouch like these, but the Sawyer has to be able to screw onto it.
Monica
Loved them!
Familiarity:

I've put it through the wringer
These water bottles were great! I ordered two and took them to the Bonnaroo Music Festival with me. They kept our drinks cold all weekend and the slim fit made them easily portable. My friends liked them so much they took them from me when we were parting ways. Would definitely recommend and purchase again!
Carleigh L.
Does the HyperFlow cap make drinking from this kind of bottle much easier?
Samantha M
Hey Sam,



The HyperFlow cap adds fast, hassle-free access to your water, making it easier than ever to stay hydrated throughout your day. Just bite and drink.
Adam Saucedo
This bottle great is easy, folds up when you are done, I dont know if there is much more than that. Easy thing to add to a pack when you think you might need just a little bit more than your bladder or nalgene. Good thing to thrown in your pack on days when you are skiing as well. Not bulky at all you will never notice you are carrying anything.
Nate Driggs