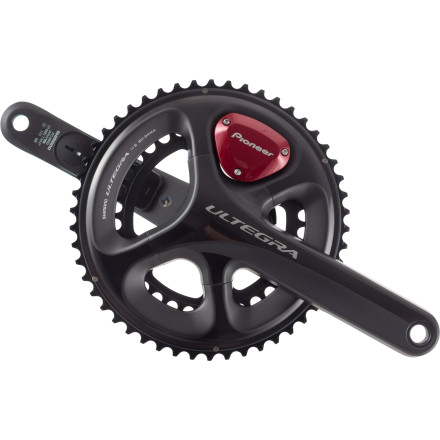 Colors
Ride smarter, ride faster.
After teaming up with Belkin's professional cycling team for extensive testing, Pioneer created its latest power meter design to ensure the best possible performance through punishing conditions. The re-engineered Pioneer Shimano Ultegra 6800 Power Meter Crankset is compatible with ANT+ cycling computers, pairing with Pioneer's SGX-CA900 and 500 cycling computers for real-time monitoring of torque vectors (Pioneer computers only) and other performance-savvy metrics. It even uploads data via Wi-Fi to Pioneer's CycloSphere, which is a free, cloud-based service for post-ride analysis of riding statistics.
The cranks themselves are fitted with a left and right strain gauge for force measurement at 12 points every 30-degrees throughout each pedal rotation. Measuring the smallest of details, the sensors relay data to a transmitter bolted directly to the crank's spider for a sleek, low-profile design. Displaying data in real time, power magnitude, power direction, and pedaling efficiency are delivered to your cycling computer for analysis as you train.
The Shimano 6800 cranks benefit from trickled-down technology from Dura-Ace 9000, notably its Hollowtech II construction for reduced weight without sacrificing stiffness. Additionally, its four-arm spider further contributes to its low weight and high levels of stiffness.
Compatible with ANT+ cycling computers
Uploads data via Wi-Fi to Pioneer CycloSphere software
Is it possible to change chainrings on the drive side crank? Say I buy the 50/34 and want to move up to 52/36 do I have to purchase a whole new setup or can I just buy new chainrings?
Ryan L.
Hi Ryan,



Yes it is possible to just swap out the rings later on if so desired.
Scott Gartman
yes, just change out the chainrings
Jenny Zarzuela
Great so far!
Familiarity:

I've used it several times
I just installed my first Pioneer on my new road bike last week, and I am very happy with it thus far.

Power numbers have been consistent and on par with my Computrainer and Tacx Bushido; I have had zero issues, granted it has only been one week, it is still electronic equipment, so I take this as a victory.

Installation was as expected, and very simple. I even used my CA500 computer to do a firmware update before first use, which was relatively easy.

I was not terribly confident in using their magnet patch on the drive-side of the bike; in case of a dropped chain, it could be torn off. So I employed a K-Edge Chain Catcher Pro w/ SRM magnet, which is a perfect solution, especially if you have low clearance where you would normally place a magnet.

Overall, the construction appears very solid, and I expect to update this at a future date with better details, and hopefully a successful experience.


Bradley Gehrig
Customer Account Manager
Office: 801–204-4541
bgehrig@backcountry.com
Bradley Gehrig
A+ Hardware and Customer Support
Familiarity:

I've put it through the wringer
Great powermeter, by far the best of the ones I have tried. Have it paired with the 500 Pioneer head unit. It's accurate, consistent, easy to use, the cycling dynamics are unique to Pioneer but so intuitive and frankly useful. Unlike so many other units, just works flawlessly all the time.

I emailed Pioneer customer service to let them know I wanted a data field added to the unit (didn't expect much but worth a try). Got a response a few days later that it would be added in the next firmware update, and it was just a few weeks later.

Considering buying another for my other bike. Just wish they had a campy version.
Luigi S.
Unanswered Question
I use an iPhone 6+ for my "bike computer" I have a Wahoo RFLKT+ and I understand it has an ANT+ bridge. Will this work with this combo. I mostly use the Strava App and Wahoo's app.
Don
WON104131065-0
I am from Hong Kong and if I buy and ship to HK, how to do installation ?
WON104131065-0
My Bike is Ultegra 6700 53/39 10 speed setup and 170 crank arm length
WON104131065-0
The Insides
Familiarity:

I've used it several times
Here's what the crank looks like inside the cap. CR 2032 batteries are easily replaceable. Two caps come in the package- one black, one red. Let me know if you have any questions or looking for the best price. My number here is 801-736-6396 x 5630 or email adewitt@competitivecyclist.com
Adam D
Hello,

I have a 2012 Cervelo S5 and I was wondering if the Pioneer power meter Ultegra 50/34 crank fit my bike.
Centurion Cyclist
We haven't yet seen a bike that has fit issues so it should be fine. There are 6 spacers that come with the crank (or BB) and it might take one or 2 of these to make it work.
Adam D
Does this work with a 10 speed set up?
CHRIS H.
It can work with a 10 speed setup but was really not designed to, it can be a little hit and miss with perfect shifting on it. I have seen a majority of times that it has worked ok.
Kyle Br
Pioneer Pedaling Monitor System
DAVID FIKE