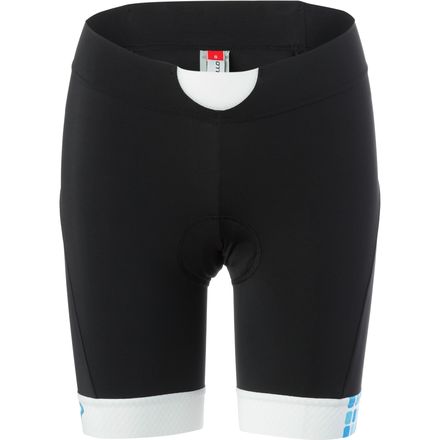 Platform for the base.
There are as many preferred racing setups in the Competitive offices as there are racers, but when it comes to training Pinarello's Corsa Women's Shorts are a near constant—at least among those of us rocking a Gan or Dogma. With construction input from Giordana, the Corsa is a short built for racing, sure, but its top-tier chamois, yoga-inspired waistband, and generous leg bands make it the ideal platform for long miles spent building a base.
The shorts are finished with some stylishly subtle Pinarello branding, but the real key to their long-mile aptitude is in their beautiful simplicity. Instead of an alphabet soup of proprietary materials, the Corsa is built with just one: the gently compressive Moxie. Moxie helps to reduce fatiguing road vibrations over chip seal by stabilizing the muscles. Less energy spent self-stabilizing means more energy spent on pedaling, and since every panel but the double-folded Lycra waistband is made from Moxie, it spreads that effect throughout the entire body. The fabric is finished with a treatment that accelerates the transfer of moisture away from the skin.
Cycling shorts for everything from base building to racing
Gently compressive bodies help reduce fatigue over long miles
Double-fold, yoga-inspired waistband holds comfortably
Wide leg bands maintain fit without pinching
Features Giordana's high-end chamois for all-day comfort
Reflective details help keep you visible on pre-dawn departures