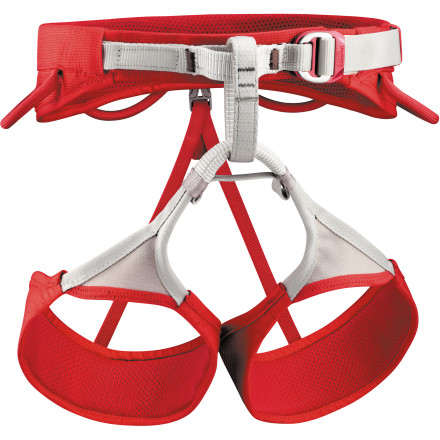 Colors

Detail Images

Community Images
Light enough to send, comfortable enough to work a project.
The Petzl Sama 2 Harness provides sport climbers with the lightweight performance they need to send, yet is comfortable enough for long sessions spent working out sequences on a project. The waist-belt is wider on the sides, and the elastic leg loops have double-webbing for improved weight distribution, ultimately providing enhanced comfort.

Specially designed waist-belt is wider on the sides to provide optimal weight distribution for greater comfort
Specific stitching on the belt eliminates seams from contact areas for less chafing
Pre-threaded DoubleBack buckle can be quickly adjusted and secured with a single pull
Dyneema tie-in points are super strong and resistant to rope abrasion
Elastic leg loops stretch for a snug fit
EVA foam padding and breathable mesh increase comfort
Two rigid gear loops in the front and two soft loops in the rear provide easy access to equipment
Two slots will accept Caritool tool holders
Rear loop provides a place to secure a tag line
Not bad!
Familiarity:

I've used it several times
I've used this climbing both indoor and out door routes and it has been great! I really like how comfortable it is. I am a pretty skinny guy, and the small fit me really well. The leg straps don't adjust though, so be careful you get the right size! Overal I have liked it, and it has been very reliable.
Jaxon S.
Wolfgang Schweiger
Great Sport Harness
Familiarity:

I've put it through the wringer
I have been really happy with this harness. I have purchased two now for my growing and now grown son. It is perfect for sport and gym climbing. I love the price too as gearing yourself for climbing can be expensive. I recommend this harness all the time for beginners as well as very advanced climbers.
If you have questions about this harness or any other climbing gear, feel free to contact me!
M-F 8-4 MST Office: 801.736.4347
I check email regularly: ledlund@backcountry.com
Lisa Edlund
PETZL - Commitment to Quality
Wolfgang Schweiger
Petzl - Sama / Selena / Adjama / Luna
Wolfgang Schweiger
Not the same as the old Sama
Familiarity:

I've put it through the wringer
I had the older Sama (2012?) and it was a far superior harness. The old harness had great breathability due to the perforated holes in the leg straps and the cool construction of the waist belt. This harness doesn't have either of those features but is still pretty cool. It's lightweight, and pretty comfortable. Just not as comfortable as the older model.
Stephen Sperry
Second time buying this harness.
Familiarity:

I've put it through the wringer
This is the first time I've purchased the same harness twice, but that's because Petzl's Sama harness really is that amazing. Usually I bounce around from company to company in search for the best harness for me, but I think I might stick with the Sama for a few more years. Although it's Petzl's sport-specific harness, I believe the Sama is adequately padded for the hanging belays on the Black Velvet Wall. Its performance-driven design lets me move on the wall without hindering my mobility. The gear loops allow plenty of space for draws and cams, and although I don't climb ice, I still use the ice slot holders for stoppers, locking carabiners, and cords. As far as fit goes, I'm a fairly skinny dude, and the waist and elasticized leg loops have never bothered me in the slightest.
Derek Newman
Leg size really matters
Familiarity:

I've used it several times
I really wanted to like this harness. It looks cool, and was comfy to hang or fall in, but belaying was just terrible. I think it's because I have skinny legs. Every time I tried to belay with this and someone fell or weighted the rope the leg loops would ride up super high into my crotch and well you can guess the rest. The waist fit fine (I have a 31" waist and got a medium).I think I just have to use a harness with adjustable leg loops to be comfortable. For most people it's probably fine, but I highly suggest you try one on and simulate a standing belay situation and see if the harness rides up. I might try the Corax next since that has adjustable leg loops.
tmgold
Great Harness
Familiarity:

I've put it through the wringer
I absolutely love this harness!

I've had it for about 10 months now and I climb about 5 days a week. I also work at a climbing gym so I'm in it constantly.



It is comfortable to hang in while working a route as well as to belay. There are not the awkward pinch points that some harnesses I've used have had. Also the buckle is very smooth and the extra webbing stashes away well. I haven't had a problem with the gear loops which I know some people don't like. I also prefer fixed leg loops it is less webbing to have to deal with and just aster to put on.



Overall if you are someone who is looking for a harness that excels at sport climbing and comes in at a great price you will be hard pressed to find something better than the Sama.
Sean Patrick Maguire
Gear loops ruin it
Familiarity:

I've put it through the wringer
Short review: It's a decent harness, but the rear gear loops are way out of the way. If you have a chance to try one on, or before you take the tags off, put something back there, and see how they work out for you. I've since moved on to BD for harnesses and have no plans to go back.
Sean Hermany
Any major differences between the Sama and...
Any major differences between the Sama and the Sama 2?
Antonio Caligiuri
Best Answer
Antonio!! So I contacted my homie David from Petzl and this is the info he gave me. The new Sama moved the stitching in the waist belt to the top so it doesn't rub. The padding in the waist was increased and replaced the mesh. The color changed from orange to red obviously and the sizing is slightly different. All dimensions can be found here:



http://www.petzl.com/us/outdoor/mountaineering-and-climbing-harnesses-0/sama
Skylar Davis
Great harness
Familiarity:

I've put it through the wringer
First a bit about me so you know where this review is coming from: 6'5" 165lbs 17 years old. I started with a small but am growing out of it. I like gear with color.



I could go on forever about this harness but here are the highlites on the good and bad:



Good:

Easy to use because of the fixed leg loops and pre double backed buckle



No pinch points and the leg loops and waist part are the perfect thickness and amount of padding. Very comfy, even after being short roped on a fall and hanging for 5 minutes at a time when projecting



Great color, bright enough to look good and be noticed but subtle enough to not look ridiculous.



Front gear loops are easy to clip and unclip draws to and from and are big enough to hold enough draws for a long pitch along with extra biners, webbing, and cord for making anchors. I would recommend clipping all biners and draws backwards (gate facing out). Thats what I've always done and its fast and easy.



Rear gear loops take some getting used to but work out great! They are out of the way when not in use but easy to find and clip after some practice.



Leg loops are the perfect size



Lightweight, packs well, and has great mobility



Bad:

The webbing and the pre double back buckle interact weirdly when loosening the harness, but its still pretty easy, even when pumped out of your mind




Jeff S
comfort off the ground
Familiarity:

I've used it several times
This harness is very comfortable! It has great loops to clip into and the self locking waist belt is great! Many people look to Black diamond harnesses because they are less expensive but I find Petzl harnesses to be so much more comfortable. I use this harness about 4 days a week at the rock wall and I am always happy with it.
Marc
Nice and Comfortable
Familiarity:

I've used it once or twice and have initial impressions
This is a very comfortable, easily adjustable harness that is great for sport or indoor climbing!
Ron Bergundy
Comfortable and Functional!
Bought this harness as a gift. Feedback was nothing but great - comfortable harness that was functional and form fitting.
Michele V
Amazingly comfortable
Familiarity:

I've put it through the wringer
This harness is a great sport climbing harness, its so comfortable! The fit of the leg loops is spot on, and the cushion in the swammy makes sitting in the harness for extended period no problem. I will say though that the gear loops are rather small and may not accommodate a bunch of gear for trad climbing.
Taylor M.
Loops in the back are small..
Familiarity:

I've used it several times
Yes those loops are small!! that makes them a little hard to find just by touch.. thankfully I just use it for sport climbing.. definitely not the best choice for a long crack, with a bunch of gear...

It still a very comfy and light harnes!
Andres Cas
Amazing and comfortable harness
Familiarity:

I've used it once or twice and have initial impressions
Fist harness and I could not believe how comfortable it was to belay and hang in this harness for me. I tried a couple different ones before purchasing this one, and while they were fine this one was hands down my favorite.



Personally, I love the look of the harness. My girlfriend disagrees due to the color and said get the Adjuma...however I wanted the non adjusting legs. I have a 34 waist and went Medium. Fits decently, a L would have been more centered but I am currently heavier than usual.
CAD