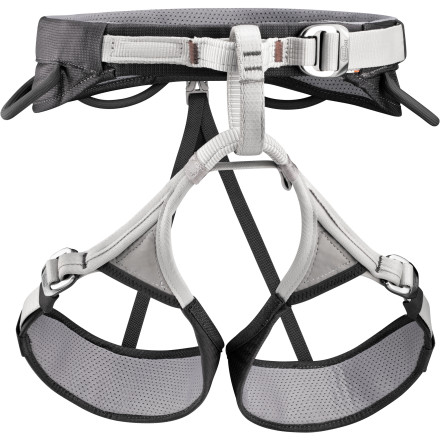 Colors

Detail Images
Comfort and versatility for every season.
Whether you're making alpine dashes in the summer, projecting sport routes in the fall, or swinging ice tools in the winter, the Petzl Men's Adjama 2 is the only harness you'll need. Thanks to the optimized weight distribution and the absence of seams on contact areas, the Adjama provides enough comfort for hanging belays and long sessions spent working projects.

Specially designed waist-belt is wider on the sides to provide optimal weight distribution for greater comfort
Specific stitching on the belt eliminates seams from contact areas for less chafing
Pre-threaded DoubleBack buckle can be quickly adjusted and secured with a single pull
Dyneema tie-in points are super strong and resistant to rope abrasion
Adjustable leg loops with secure DoubleBack buckles provide the versatility for sport, trad, and mountaineering applications
EVA foam padding and breathable mesh increase comfort
Two rigid gear loops in the front and two soft loops in the rear provide easy access to equipment
Two slots will accept Caritool tool holders
Rear loop provides a place to secure a tag line
I purchased this harness as a go-to for top-roping and easy sport climbs. It fits comfortably and holds all of the gear I require for a good day on the rock.
Joe Coughlan
Comfort rules
Familiarity:

I've put it through the wringer
Very comfortable harness. I climbed with a Petzl Hirundos harness for several years and this is far more comfortable without much added weight. the gear loops toward the back are a little further back than I would prefer, but you get used to them. The adjustability of the harness makes it perfect for in the gym and outdoors. It also looks cool.
Richard P.
Comfortable
Familiarity:

I've used it several times
This seems like a great harness. I never think about it when I'm on the wall and I think that means its pretty comfy.
The front gear loops are nice because they stick out, but the back ones are a little harder to get things on and off of.
I climb several times a week and have only had the harness for a couple weeks but it doesn't seem to be wearing too much. Looks like a pretty durable harness but its tough to tell only using it for a couple weeks.
Also, I climb without a shirt a lot and it has never bothered my skin. I read some other reviews where people said they had that problem.
Carter
Dean Raynes
Good harness, would not buy again.
Familiarity:

I've put it through the wringer
I've had this harness for over a year and I climb 3-4 times a week in it. It's an alright harness that does the job, but it's got some drawbacks. First, the rear gear loops are hard to reach and it's obnoxious trying to get anything off of them. Second, the padding under the buckle rubs pretty badly and has basically given me carpet burn on my stomach. Finally, I have it cinched all the way down and the padding under the strap still doesn't stay under the strap very well. I only have issues with the padding when I'm wearing it for extended periods. It does its job and it's not uncomfortable for short climbs, but I wouldn't buy it again.
Paul Baker
Good fit, Replacing MTN-ing Harness
Familiarity:

I've used it once or twice and have initial impressions
Been looking for a multi-role & a good fitting mountaineering harness. Lays flat, generous gear loops & does not interfere with a loaded pack, simple + safe buckle - Found all that it in Adjama 2.
KazMo
Need to update the rear loops
This is my second Adjama. I had an old light blue one from about 8 years ago. It was great, used it for everything from short steep routes to multi pitch slabs, sport, trad, ice and mountaineering. Then it was time to upgrade as the old one was worn out. I got this new grey adjama and found those rear loops are terrible! They lay very flat against the harness making it difficult to rack your gear. This is especially true during sport climbs where I have less on those loops (a leash biner, belay device, and not much else). The older versions rear loops flared out just enough to make racking a breeze, and I never found them to get in the way while wearing a pack.



Overall the harness is an upgrade in the comfort and packability departments. Just wish those rear loops would stick out just a tad more, it would make them much more usable. Still debating on keeping this harness or trading it for something else.


JR
good transition harness
Familiarity:

I've used it several times
We were looking for a harness for a 13 year old fairly serious climber. Junior harnesses were getting small, but adult harnesses too big...the thighs (which run small on this harness) are still a little big, but manageable. My son says it's really comfortable (more so than his former harness). Suitable for indoor and outdoor climbing, a lot of room on the gear loops. Woud be fun if it came in more colors. Will be able to grown into it, yet it is still a safe, if slightly big, fit.
Rebecca S.
Solid harness
Familiarity:

I've used it several times
This is the second Adjama harness that I have had. From walls to gyms, this harness is solid. I can easily fit a double-set of cams, nuts and draws for a long pitch on the four gear loops. The padding is pretty comfortable. For day-long climbing, I haven't experienced any discomfort from this harness. After a two-day climb of mainly hanging belays, I definitely noticed some pressure points in my hips and thighs, but I reckon that is to be expected in all harnesses except the most padded.



I do wish that this had a full-strength haul loop.



Compared with the previous models, the L/XL is noticeably smaller, but this still fits my "robust" 36 inch waistline.



Bottom-line: I like it!




Nick Borys
Best harness I've owned
Familiarity:

I've put it through the wringer
This thing is super comfy, durable, well priced, and performs great even on long days. I would have to disagree with the one "2 star reviewer" and say this thing rocks for trad and even mountaineering. The back gear loops are specifically small to be comfy when you have a pack on, and they do that job well. I should mention for trad I like to rack some gear on a sling and some gear on my harness so 2 gear loops in plenty for most routes. My only real complaint is the haul loop, which isn't a haul loop. Why not put a rated haul loop on there Petzl?? I think they thought, sport climbers don't need a haul loop. But this is an all arounder.
Andy
Great for Everything
Familiarity:

I've put it through the wringer
I got a new Adjama for work (used daily for the past two months) and it is awesome. Belaying, climbing, hanging, carrying gear, I have yet to find a use where it does no work. It is burly enough to carry all the gear I need for multipitch trad yet comfortable enough for sport onsights. Great as a first, second third, or fourth harness.
Sam G
Great sport climbing harness!
Familiarity:

I've used it several times
This is one comfortable harness. The adjustable leg loops fit very snug, and the harness fits my body well. I have used this harness for multi-pitch sport routes and it was great. I had no issue with the gear loops, though some back loops that drop down lower would be nice for trad. I never once felt uncomfortable on the hanging belay and would have been ready to take big whippers if I couldn't figure out a route. I haven't needed to yet but I think I may just to feel the comfort!
Grant Burton
Bad harness for mountaineering/trad
It's light, comfy and aesthetic (if you actually mind), but the gear loops, mostly the rear ones, are awful. For a sport it is ok, but for trad or mountaineering, where you use all the gear loops, it is terrible. The gear loops are way into the back, so much that you can't even see what you're carrying on the rear ones, especially if wearing a jacket or a backpack, which forces you to twist your torso too much to try to see. Plus, the rear loops are to small and too close to the belt, so that clipping or unclipping, especially notched-end biners, is a pain in the ass. When you're wearing a backpack, they get completely obstructed by the pack's belt. To me, the gear loops are one of the most important parts of a harness because I'm using them all the time, so I just got another one.
Rodolfo S.
Wish the leg loops allowed more room
Nice harness, I have always used Petzl harnesses. I just wish the leg loops had a couple more inches of expando in them to allow for down pants and/or other mega layering situations. May be just a bit tight in the quads if you have manly thighs and himalayan pants on.
Joseph K.
I ordered the Adjama and Adjama 2 at the same time so that I could compare them, and I ended up sending this one back because I liked the Adjama better. No real complaints, I just thought the other one was a little more comfy...
Dahlin Draper
Wolfgang Schweiger
This harness is an improvement over the previous design, which I had for a little while until I outgrew it (read: gained weight). It has a little more padding, but is still light and breathable. Also, the wider waist belt on the hips is really nice, and if I'm not mistaken, the leg loops seems proportionally wider than they were before.



I thought the caritool slots would bug me, because they makes for smaller rear gear loops that are pushed further back. But the rear gear loops on the medium are completely adequate in size for trad climbing and I have not had a problem fishing around back there for a sling, biner or belay device. Also, the location of the rear gear loops makes for better weight distribution with a full rack.



This harness fits me very well and it feels very comfortable when working a route or lowering. Petzl is on to something with the fit of their harnesses. They cradle your weight in a way that I've not experienced in 20 years of wearing climbing harnesses. Considering that other companies are asking 50 to 75 dollars more for their high-end harnesses, the Adjama 2 is a good bargain.



As for sizing, my waist measures about 34 inches and my legs about 24 inches and the medium fits me perfectly. I cinch the waist belt tight on my harness so I can hang a trad rack on it without sagging, and I have about an inch of room to tighten it down more should I lose some weight (fingers crossed). Looking at the sizing chart I don't see how someone with an actual waist measurement of 30-32 inches could wear this harness without it sagging.
NC Neil