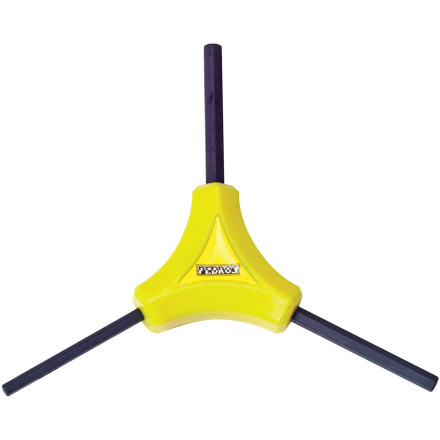 Colors
The reason Pedro's Y Wrench is ubiquitous to every bike tech's bench and serious pedal-head's garage is that the shape provides great grip and twist-ability. Add to this the angle-friendly ball end, and the Y wrench effectively cuts minutes off the installation and removal of bolts. When leverage is needed, the 'L' shaped wrenches come into play, but when efficiency is of the essence, nothing beats having three sizes at hand in a design that's easy to use.
Pedro's Y Wrench comes in three hex variants: 2/2.5/3mm, 4/5/6mm, ball-end 4/5/6mm; and one Torx: T10/T25/T30. They are constructed from heat treated steel for durability and long term use with a plastic body for comfort. Pedro's Y Wrench's come with a lifetime warranty.
Never Gets Lost
Familiarity:

I've put it through the wringer
There are some other options on the market if you're looking for a cheap Y wrench, but that bright, recognizable Pedro's yellow makes this thing super easy to spot in a tool bag or on top of the bench. I originally bought this as a back up for other hex wrenches, but have found myself using this all the time due to its convenience and ergonomics.
Max Pauer