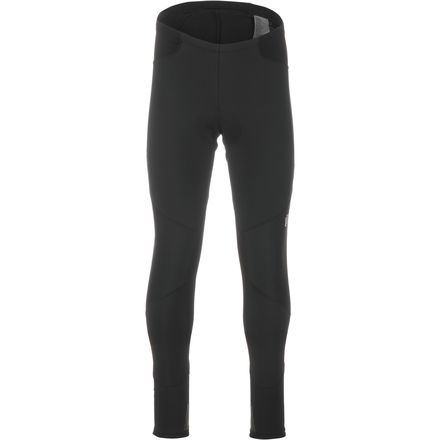 Colors

Detail Images
No more frozen legs.
Your legs are your motor, so if they're frozen solid, you won't be moving. That's why Pearl Izumi made the ultra-toasty AmFib Men's Cycling Tights. Designed to fit like it's race day but insulate like you're exploring frozen tundra, the AmFib has all the warmth you need to turn icy training rides into comfortable cruises.

The AmFib is made from a blend of Pearl's Elite AmFib softshell and Elite Thermal Fleece fabrics. Thermal Fleece, which constitutes the back panel, handles thermo-regulation and moisture wicking, while the Amfib softshell is incorporated in key areas to eliminate moisture and wind penetration. The two fabrics coordinate effectively, so much so that Pearl gives the AmFib tight a thumbs up for weather conditions as low as 15 degrees. In case you're concerned about the tights getting too balmy at their recommended upper limit of 40-degrees, you can ventilate from an opening at the top of the waist — though its main intention is for easy natural breaks.

Sub-freezing riding is hard enough without unnecessary discomfort, so Pearl Izumi integrates its Elite 3D chamois into the AmFib. The chamois uses variable density padding that's been pre-shaped to enhance blood flow. It's covered in a breathable, four-way stretch material that creates an abrasion-free surface to conform to the body as it moves moisture from your skin.
While a comfortable chamois is a necessity, nothing guarantees comfort like a precise fit. To ensure this, Pearl designed the cut to allow full articulation during cycling. The lower leg also follows a contoured shape that leads to an integrated stirrup and a gasket that allows the tights to be worn over shoe covers. Not only does this streamline and secure the fit, but it eliminates gaps to reduce heat loss. Pearl also added 360 degree reflective accents for safer night riding.