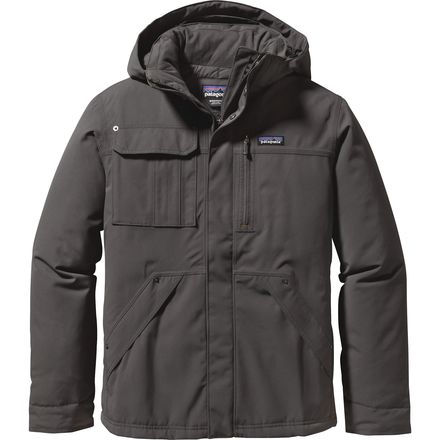 Colors
Urban style meets technical heritage.
Fight off rosy-nose temps by donning the urban-styled Patagonia Wanaka Men's Down Jacket, which'll cloak you in fully traceable 600-fill duck down and a water-resistant 2-layer H2NO Performance Standard fabric and DWR coating. You'll look like a boss on the wintery walk to work, as the Wanaka fights off snow and sleet and traps heat with its removable insulated hood, drop tail, and stand-up collar. Gusseted underarms make it a simple proposition to hail a cab or give someone a high-five when they compliment your style, and plenty of pockets hold your phone, hands, and secret treasure maps.

Nylon and polyester with 2-layer H2NO Performance Standard laminate
DWR coating
Fully traceable 600-fill duck down
Removable, insulated hood
Gusseted underarms
Four external pockets and one internal pocket
Stand-up snap collar and drop-tail hem
Front zipper with snap storm flap and snap-closure cuffs
Best Winter Coat
Familiarity:

I've used it several times

Fit:

True to size

Size Bought:

Large
I bought this when I found out I was moving to New Mexico from Florida. Living at 5k feet with nearby mountains that go up to 10k, I've worn it a few times this Winter. Most recently during a snowstorm where we took the Jeeps up to the mountains and did a nice snowy, muddy trail ride. This thing is amazingly comfortable and warm. You can stand out in the snow for hours and it will keep you dry and warm. Highly recommend getting one of these if you deal with regular temps in the 30's or below.
Greg Roberts
Height:
6'1"
Weight:
239lbs
Very good jacket
Familiarity:

I've used it several times

Fit:

True to size

Size Bought:

XXL
I use this jacket to walk my dogs during the winter months when its most frigid outside.
I only need to wear a t-shirt under it to stay warm.
Nice high collar.
I did replaced the zipper pulls, found them to be too small to grab onto with gloves on.
Keith
Height:
5'9"
Weight:
245lbs
Unanswered Question
Ty Nelson, thank you for your response. I understand fill power. I meant that for only 600 fill power, you would think the jacket would have a greater quantity. Yet it feels very light and thin. I would be interested in hearing if any purchasers have taken this jacket out in windy weather in the teens, and what their experiences have been. Thanks!
Christopher M.
So after holding this jacket, it feels awful light for a heavy duty winter jacket. If I purchase it I will be using it for winters in the Boston area and in Germany with temperatures frequently in the teens with much lower windchills. Will this jacket honestly hold up in those temperatures? The fill is 600, yet it doesn't seem like it's packed with that much.
Christopher M.
Christopher,

600 fill refers to the quality of the down, not the quantity. The Wanaka is a very warm jacket, and as long as you have a warm layer or two underneath it will have no problem keeping you warm during winters in Boston and Germany.
Ty Nelson
Not what it used to be...
Patagonia used to be the best, but things have changed. The jacket is warm and the overall construction seems to be durable. However I bought the jacket two days ago and went to remove the hood and the cheap plastic button popped right off. Sad to say I'm returning the jacket today. The label says made in China which means mass produced and lacking the quality that Patagonia used to be known for.
Brad B.
Great all around jacket
Familiarity:

I gave it as a gift but have feedback to share
Awesome Jacket! I am 6'1" tall, and 180lbs, and I have pretty long arms. The fit of this jacket was perfect, easy to slide into bare arm, or with a hoodie on. The outer shell is waterproof and windproof, with plenty of pockets for keys, phone, and all your other items. The fill of the down keeps you super warm, especially in the hood, usually hoods are too big and feel like you are wearing a space helmet, this one softly cushions your head like a teddy bear, not too hard, but not too soft either. I wear this jacket to and from work on cold days, and hit the mountain with it too, it gets a little warm on sunny days on the slopes, but on the cold or windy days you will be happy as a clam.


Jesse DeKrey
Height:
6'1"
Weight:
180lbs
Fantastic Jacket!
Familiarity:

I've used it once or twice and have initial impressions

Fit:

True to size

Size Bought:

Large
This is a very nice looking and very comfortable jacket. If you know how Patagonia fits, it's right in there with their "regular fit." I ordered a size Large which is a perfect fit over a t-shirt. Then I put on a hoodie under it and it still fit just right. Seems really warm as well. Can't wait to get out in the cold where I can use it!
Greg Roberts
Height:
6'1"
Weight:
239lbs
Stylish,warm, top notch cust. service
I ordered a large initially because that usually my size, however, I swapped it out for a medium. I'm 5'11" 180 lbs with broad shoulders and the large was too bulky for me. There was a lot of extra room in the front of the coat which allowed cold air to enter more easily. The medium fits me perfectly and the coat looks very stylish. Backcountry's customer service was extremely kind and helpful with the return process, even for a first time customer like myself.

As for the coat itself, it is VERY warm. I wear it daily on my commute in Chicago. As you know, Chicago can get very cold and windy (recently it has been in the single digits), and this coat keeps me warm and toasty. If the temp is in the 30s basically all I need to stay warm is a light base layer or maybe even a t shirt. When the temp starts creeping down below ten, I wear a base layer, warm long sleeve shirt, and maybe a light sweater underneath. Even in single digit temps this coat keeps me toasty, ESPECIALLY with the insulated hood on (makes all the difference).

As another reviewer mentioned, my only grip with this coat is the pieces of foam they use to hold the hood cinches closed. They serve their purpose, however, they do tend to come loose after a while. Absolutely not a deal breaker considering the quality, warmth, style, and number of pockets this coat has. Do not hesitate to purchase this coat, I'm sure it will serve me well for many years.
Michael Bailen
Great Coat
Familiarity:

I've put it through the wringer

Fit:

True to size

Size Bought:

small
Got this jacket for New England winters and so far it has not been a disappointment. It is really warm with just a t shirt on underneath, but there is enough room to layer if you need to. The H2NO waterproofing is the real deal and the windproofing is just as good. There is plenty of pockets for storage, though I wish the two front ones were insulated. The gussets in the armpits really help movement. The hood is a little big, but you can easily tighten it up.
Timothy M.
Height:
5'5"
Weight:
130lbs
How compressible is this jacket? Planning a week trip with limited luggage space. Will this take up my entire suitcase?
cvamos
The Wanka here will pack well for sure, it's tough to get any waterproof and insulated jacket to really compress. Patagonia's Down Sweater and Nano Puff are designed to do that though, and self stuff into their own pockets.
Ty Nelson
Looks good.
Familiarity:

I've used it once or twice and have initial impressions

Fit:

True to size

Size Bought:

Medium
Received this jacket last night just in time for our first winter storm. First impressions - the jacket looks good and fits me perfectly with a little room for layering, the sleeves however run a little big. The outer shell has a good quality feel to it as this jacket is waterproof and windproof. Sufficient insulation from the duck down fill to keep you warm. Plenty of pockets for your belongings. Good size hood, they usually run a bit too big for me. I'm very much looking forward to wearing this thing to and from work.
LTN
Height:
5'7"
Weight:
160lbs
I'm looking for something to use primarily for work, to and from customer sites, and some travel to the North West this winter for work trips. On some occasions I will be wearing this in over a shirt and tie (Possibly even a suit) during the winter months, can anyone comment how it handles going on over layers? I'm also looking at the NAU Blazing Down Jacket, but they both seem very similar.
Ray Barmore
Best Answer
Ray,

This jacket would be great for you for how you're describing your needs. It'll layer well over a shirt and tie, and look sharp while still being warm and waterproof.
Ty Nelson
Thanks Ty,

I'm going to try one out. I appreciate your response...



Ray
Ray Barmore
Solid jacket
Familiarity:

I've put it through the wringer

Fit:

True to size
I live in the Mid-Atlantic, and wanted a good, insulated waterproof coat for commuting - walking, biking and motorcycling. I could not be more pleased with the Wanaka. It is super warm and I've been really impressed how windproof it is, even riding at 40 mph in high winds and temps in the 20s. I do wish it was little slimmer, but there is plenty of room to layer.
Jeremy S.
Great Jacket and Great Cust Serv
Familiarity:

I've put it through the wringer

Fit:

True to size
Where do I began...long story short, I tried out a total of 7 jackets and ended with this one. A transplant from the south and now living in the Northeast, I knew I needed something that would keep me dry and warm. I wanted something waterproof, snowproof, windproof, and warm, and not a ski jacket. This jacket is basically unstoppable in cold weather, even when its snowing, the snow is no match for this thing. Of course, quality is phenomenal as is usual with Patagonia products. The particular qualities I like about the jacket are the outer shell: I tried out a north face triclimate and it attracted a ton of pet hair and other things, whereas this one doesn't. I also like the fact it is not a 3-in-1. While it's slightly bulkier, it's nice not to be managing 10 zippers and an inner liner. This is the type of jacket you can just slip on easily and take off easily. In terms of bulkiness, I'd say it's medium. It is heavy, but on those cold days, you are super pleased with the warmth it provides. I compared this jacket with NF triclimate snow, MH quadfecta, Marmet Njord, and this jacket definitely won. The others were either too bulky or more snow oriented.



I also have to say how good backcountry customer service is! They were more than willing to send me 3 jackets at once for me to try on, and return the 2 I did not like. Thanks backcountry!!
John S.
What's the difference between this jacket and the Patagonia Hawke's Bay jacket? Only difference I can find is that the Hawke's Bay is lighter.
James R.
Best Answer
chatted with the gear heads and they said; the hawkes has a poly, nylon blend so its stronger and lighter. that along with more pockets and slight styling.


sco105244963-0
Thanks for the info. I know that the Hawke's Bay is slightly slimmer fitting and that the Wanaka is advertised as having a liner. They supposedly have the same type and amount of down. But you were the first person who has helped me understand the main difference in these jackets, which probably also explains the difference in price.
James R.
Patagonia Wanaka Down Jacket - Men's
Adam Saucedo