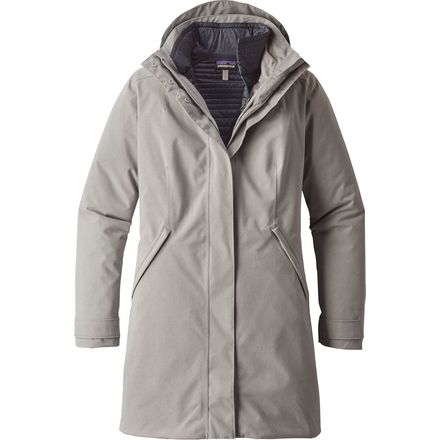 Three stylish jackets for the price of one.
Winter in a continental climate often brings a mix of weather: rain, sleet, snow, sun, ice, bitter winds, hail, or some combination thereof. Be prepared for whatever Mother Nature throws your way in the Patagonia Women's Vosque 3-in-1 Parka. The combination of a shell and zip-out liner gives you three different jackets for the price of one. Wear the liner alone when you all need is warmth. Wear the shell by itself on the freak February day when the temperature teases you with hints of an early spring. Or, snap the hood on and zip the liner and shell together for waterproof warmth on those cold snowy days you find yourself waiting for the train or scraping off your windshield.
Patagonia's technical features create unparalleled value in this parka. Made from 90% recycled polyester, the eco-friendly Thermogreen insulation in the zip-out liner provides low-bulk warmth even when damp. The shell is crafted from a luxurious tweedy nylon/polyester blend that's treated for water resistance. When joined together, Thermogreen and a DWR treatment protect you from water, wind, and cold, all for the price of one jacket. Don't worry, though; design details were not sacrificed for performance, the Vosque Parka sports a distinctly feminine silhouette. The shell has front darts, a centered back seam, and a yoke at the shoulder for a contoured shape. The zip-out liner has princess seams and front darts for a stylish look. An adjustable hood snaps onto the stand-up collar so you can hunker down when the wind kicks up. Cut to hit above the knee, both the shell and the liner warm more than just your core to help you withstand the cold longer.
65% nylon, 35% polyester shell with DWR-coating
100% polyester lining
20D 100% nylon removable lining with DWR-coating
100% polyester Thermogreen insulation (100g)
Adjustable, snap-on hood
Multiple zippered pockets
Shell has center-back seam and shoulder yoke
Horizontal quilt lines
Above-the-knee length
Contoured, feminine fit
Not for true winter temps
Familiarity:

I've used it several times

Fit:

Runs small

Size Bought:

Medium
I bought this in an attempt to replace my Marmot Montreal down coat with a non-down alternative. POSITIVES: nice long arms, waterproof and windproof barrier, looks beautiful, well cut, easy to remove and install lining, hood is a very good size and well integrated. NEGATIVES: NOT warm, the lining is in no way integrated with the coat there is just too much space for the layers to work, even though the wind can't get in you can "feel' it through the layers because the fabric gets cold, the hip area is a bit snug compared to the upper torso, I range between a size 4-10 and it was snug on my butt when hands were in pockets.
I wanted to keep this coat. I tried to make it work with a sweater or layers but it wasn't worth it for the price. I wore it in 40 degree weather with a long sleeve shirt and was still cold. My Montreal (Marmot) requires nothing more than a t-shirt and gloves in freezing temps. So I did a comparison test to figure out what wasn't working. The main factor in warmth came from the open bottom and lack of close layering. The bottom of the coat doesn't keep butt and legs warm because there's no contact, and the liner and shell don't make enough contact to create warmth. I looked at the Tres in 1 Parka (Patagonia) thinking that the down would make a difference but it seems to have the same problems as the Vosque. I think Patagonia took a swing and a bit of a miss on this one. Upgrades that would help: thicker insulated lining, some sort of a fuzzy lining on the interior of the outer shell and to line the interior of the cuffs to increase the effectiveness of the layers (it's nylon on nylon, no warmth is building up), finally, more pockets! I'm not sure what I'll do at this point. Hopefully someone out there makes a traceable or non down parka that works. I wish Marmot would get on the bandwagon.
Jennifer C.
Height:
5'10"
Weight:
135lbs
Green over black
Familiarity:

I've used it once or twice and have initial impressions

Fit:

Runs small

Size Bought:

Large
I loved this coat because the other 3-in-1 systems from other brands were very boxy and more casual. This one is form fitting and sleeker. I originally ordered a medium black one. Im 5 ™7 and 148 lbs. It fit perfectly but left no room for layers underneath. Also the fabric isnt smooth so every piece of fuzz, dog hair and dirt stuck to it. Within a day it looked bad. So I exchanged for the carbon (green) large and its perfect. It is not so much larger that it doesnt fit but now I can wear a sweater underneath. The green is a cool heathered color and no dirt or hair show up. Customer service was great in helping with the exchange. I will definitely order here again.
Rachel C.
Height:
5'7"
Weight:
150lbs
Really confusing sizing
Familiarity:

I returned this product before using it

Fit:

Runs large

Size Bought:

Medium
I followed the reviews stating that this coat runs true to size to small. I have another Patagonia jacket in a small and it's very fitted. So I decided to order a medium in this coat to have room to wear sweaters underneath. The coat is HUGE on me; it fits more like a large than a medium. Now I‒m really confused about what size I need. And having to return this one and pay a return shipping fee, I'™m not even sure I want to order another one. Really disappointing, especially considering how much I needed the coat this time of year.
Ashley H
Height:
5'6"
Weight:
130lbs
I love this coat! It is warm, comfortable, and flattering. Love the versatility of the three coat options and have worn it all three ways. So happy with this purchase!
Lisa T.
Height:
5'0"
Weight:
100lbs
Mom Loves it!
Familiarity:

I've used it several times

Fit:

True to size

Size Bought:

Large
Didn't get too much detail out of Mom, but she loves this jacket. Said it fits true to size. She lives in the Northern Wisconsin, and seems to keep her warm throughout the winter and handles the winds of Lake Superior
Matthew Lundberg
Height:
5'5"
Love this jacket!
Familiarity:

I gave it as a gift but have feedback to share

Fit:

True to size

Size Bought:

S
I purchased this for my kiddo's mom's birthday. Here's what she had to say:
"I normally wear an XS but bought a small so I have extra room for winter
sweaters/layering up & it's a perfect fit for that. On warmer days, the outer shell alone is great at keeping the wind at bay; it's a little baggy, but again, I bought a size up so I could layer on colder days. The inner coat is nice and warm on cold days & very flattering. The coat is well made; the zipper to separate the coat is completely covered with a nice seam, the outer zipper flap snaps closed, also completely covering the zipper. There is no way water is getting through! I had an unfortunate incident causing my dog to knock me over & drag me 5 feet into the street & a puddle, and the only part of me that got wet were my knees. The coat kept me dry, didn't tear or snag, and I was able to simply brush the dirt off when it dried. This is the nicest coat I have ever owned. It's beautifully form fitting & functional.
-Erika"
JoeStreet
Height:
5'4"
Weight:
105lbs
coat heaven
Familiarity:

I gave it as a gift but have feedback to share
I got this for my sister in law because she takes the bus to work every morning so she needed a really warm jacket to walk to the bus stop and wait in the cold. She absolutely loves it! she says it's really warm and it makes her waiting in the cold less troublesome.
Andrea Reeder
No regrets on this purchase
Familiarity:

I've put it through the wringer

Fit:

True to size

Size Bought:

Small
I've worn this jacket since last April. I've gotten many compliments on how stylish this is, and have worn just the shell in the rain, and both pieces together through the fall. This jacket holds up well down to 20-30°F range. Below that temperature I need a warmer coat, but I take public transportation in Chicago, so Winter commutes involve polar vortexes.
Antonia C.
Height:
5'4"
Weight:
120lbs
Warm, Feminine Winter Jacket
Familiarity:

I've used it several times

Fit:

True to size

Size Bought:

Medium
This jacket is so warm! I love the double layers and anticipate the outer, waterproof shell will be perfect for rainy springs. I bought this in February in Washington, DC and it's been almost too warm for our average temperatures in the 30s and 40s, but I'm looking forward to using it when I move to Boston next winter! I haven't had a chance to test it in our infamous, wet "wintery mix" yet, but it is impervious to 20 mph winds. The tweed-like outer layer also looks professional enough for the office.

The fit is feminine without being too snug. I originally ordered a small as it was the only size available in gray, and the arms and torso fit so well it looked like it had been tailored to me! However, with the addition of a bulky sweater, I needed to size up for the shoulders (they're pretty broad). Thankfully a medium appeared in stock again, and this one fits like a well-cut winter coat. I have no fears I'd rip seams when shoveling snow, and the arms are long enough to provide protection and warmth for my wrists even when I'm biking. It's a tall girl's dream!
Alexandra S.
Height:
5'9"
Weight:
135lbs
Great Looking, Slim Fitting Jacket
Fit:

True to size

Size Bought:

XS
This is a very beautifully made jacket made to last for many years. I purchased it for an upcoming trip to Norway where we will be in cities and also traveling north where it will be still cold in late May. You can zip out the liner and have a chic raincoat, keep the liner in for cold weather, or even wear the liner like a dress with a fluffy scarf and leggings and boots.. If you like your clothes rather close to the body you will love this. If you prefer a roomy fit, it may not fit quite right. I purchased the xsmall, the small was too big in the shoulders and just did not fit correctly.
Sara R.
Height:
5'1"
Weight:
110lbs
Hardshell ski in winter trench form
Familiarity:

I've put it through the wringer

Fit:

Runs small
Love heft, construction, design and features of yr ski hardshell? Wish it was longer so you could commute in it w/out freezing or soaking yr thighs? Want a seriously wind & waterproof outer layer with insulation zip-out optl for warm-to-cold/cold-to-warm, wet/dry days? This is THE coat. Vosque is perfect for people who want to stay warm **without overheating**, dry, & sheltered fr strong winds. Hood, sleeves, & stand-up zip-thru collar are constructed exactly like yr technical hardshell. Shell by itself is awesome on days in the 50s & 60s when winds buffet fr every direction. Inner layer is ltwt quilted jacket best worn separately when it's warmer & not too windy. Together they're a just-above-the-knee-length coat that will get most ppl thru days @/above 20F. I have worn this coat or part of it every day since it arrived, thru late winter-early spring w/ highs 18-62F & sleet, ice, freezing rain, pouring rain, wet snow, powder, or plain sun, & high winds. Zip-in design ingenious & indiscernible. Zippers bigger & easy to use. Pocket lining light nap warm enough for bare hands. Hood roomy but covers head securely, collar stands & zips independently up to cheek bones. Sleeves are long--to thumb-knuckle--& slide into the pockets. Satiny inner layer slides on & off easily--no more struggling in & out of heavy winter coat. Length combined w/ slight waist & skirt line creates unusual & lovely hybrid of swingy trench & luxe ski coat. Different layers under shell are possible as weather warms & wardrobe changes--shell's lines very accommodating for long sweaters & hoodies. 2 cautions: (1) I usually order an M for sltly roomy fit 5'5.5"/117lb frame (squ shldrs, flat front), but ordered an L & got exactly what I wanted--room to breathe but not swimming in it. Coat perh too small for some people of different blds. (2) If the staple of yr wardrobe year-round is a cocktail dress over bare legs, nothing about this coat is going to keep you warm in January.
RealInNYC
The perfect jacket
Familiarity:

I've put it through the wringer

Fit:

True to size
I have this in the grey and purple. Unfortunately these pictures don't do it's beauty justice. The outer shell is soft yet tough. It can handle a downpour and a snowstorm. The hood fits great and the lines are so clean. The inner piece is so cute on it's own with gradient baffling. I wear these together and separately all the time, a great seasonally transition jacket separately depending on the weather, but a bomber heavy duty jacket in the winter. A favorite jacket of mine - and I have a lot!
Meg Fogg