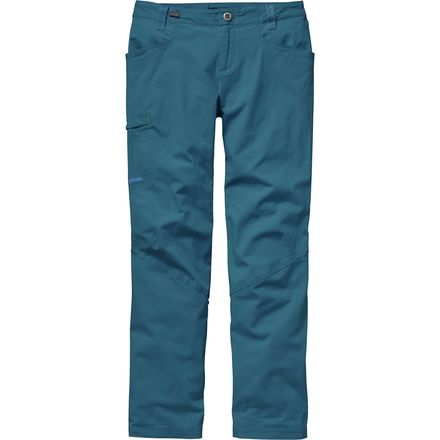 Venga venga venga!
If you ever find yourself climbing in Mallorca, Spain, and people are yelling, "Venga," at you over and over, it isn't because you're wearing the Patagonia Women's Venga Rock Pant. It's because they want you to send as rad-ly as this Patagonia pant does. Its organic cotton stretch blend breathes, keeps you cool, and offers a full range of motion. The Venga's climbing-specific fit includes an articulated pattern, darted knees, and a gusseted crotch so you can drop-knee, high-step, and stem your way to the top. Patagonia also added an OppoSet adjustment at the waist, drop-in hand pockets that lie flat under your harnesse, rear pockets that reinforce the pant's backside, and a right thigh pocket for a brush.
Organic cotton stretch blend
Climbing-specific fit
OppoSet adjustable waist
Drop-in hand pockets with mesh bags
Reinforced rear pockets
Right thigh pocket
Some of my Favorite Pants
Familiarity:

I've put it through the wringer

Fit:

Runs large

Size Bought:

6 and 8
I wear the crap outta these pants. I have a size 8 and 6 and the 6 fits better, 8 is still loose with the belt cinched and tied in a knot to keep it there. The gusseted crotch is perfect for mobility in climbing and the stretch is everything I want it to be. The length is short, which is usually a problem for my 5'9", but I usually roll up the bottoms when I climb anyway, and just deal with the slight high-waters when I wear them out. They're too comfy not to wear all the time. The pockets are actually big enough to hold real-sized items, which is the most annoying part about women's pants to me, and the thigh pocket fits a phone nicely as well. I only say it runs large because the description states it's a slim fit. I'd say it's fairly true to size for a relaxed fit
Christina M
Height:
5'9"
Weight:
150lbs
Loose and comfy!
Familiarity:

I've used it once or twice and have initial impressions

Fit:

Runs large

Size Bought:

6
Wore these for a solid day of climbing, and they're really comfortable and light. They also have a ton of stretch, and as others have commented, run large everywhere, but especially in the waist. I would recommend going a size small when ordering these- I'm usually between a 6 and an 8, and the 6s that I ordered are really comfy but they fit a bit like scrubs, and I have the waist tab tightened all the way. Not really a problem for climbing in a harness, but might be annoying for bouldering.
M
Height:
5'6"
Weight:
135lbs
Not the greatest
Familiarity:

I've used it several times

Fit:

True to size

Size Bought:

6
I can't remember when I got these pants, but they might be an older model and since been changed. I am disappointed in the fit and quality though. I am 5'10", 145lb, long arms/ legs, average torso and I got a size 6 (my usual Patagonia size) which fit well only in the waist.

Usual sizes: Carhartt 4 long, Prana 4, American Eagle 2/4

The crotch area is weird and the length is too short. After wearing them a few times at the crag, I got over the length and fit because wearing them under a harness and rolling the ends up a little alleviated any previous fit issues. However, after taking them up a multi pitch climb in Red Rock, they came back with a lot of abrasion and were worn through on the knee. I know I wasn't the easiest on them but come on, they lasted 4 or 5 wears. I will continue to wear them out but they aren't my first pick when it comes to grabbing pants for climbing.
Kori S.
Height:
5'10"
Weight:
145lbs
I agree, the waist is a problem
Familiarity:

I've used it several times

Fit:

Runs large

Size Bought:

6
Since purchasing, I've climbed and worked out at the gym with these and I love them! Breathable and stretchy, but also cool and casual looking enough for me to wear them everyday. The 6 fits my thighs and butt perfectly, but the waist stretches out so quickly I have to wear a belt.
Samantha Fox
Height:
6'1"
Weight:
140lbs
These pants are a durable material and I really wanted to like them. However, just as a personal preference, I like my pants to sit on my hips without squeezing. Although he pants fit right, the waistline is just a little tighter which I dont like. The Prana pants as a comparison have a looser waistline so they sit perfectly at the waist without a squeeze at the top. They also have a slimmer leg than the Prana.
Carolina J.
Height:
5'10"
Weight:
160lbs
wife loves em
Familiarity:

I've used it several times

Fit:

True to size
Got these for my wife, she likes that these are not too tight and comfortable. she looks amazing in them. highly recommended
Leo Mata
Height:
5'11"
Weight:
220lbs
Awesome Outdoor Pant
Familiarity:

I gave it as a gift but have feedback to share

Fit:

True to size

Size Bought:

Size 4
I bought this for a friend and she love them! She uses them for hikes, climbing, and just as a casual pant. The one thing she did say is that the thighs are a little tight, but she isn't too concerned as she thinks they will stretch out a bit.
Kristina Fischer
Great so far...
Familiarity:

I've used it once or twice and have initial impressions

Fit:

True to size

Size Bought:

4
Lightweight and soft/comfy. I have not tested them in outdoor trip yet but so far so good. Although they don't have a tie strap at the bottom for rolling them up I do it anyway and they stay put and give an extra option. They are lower cut and have just enough stretch. The only reason I didn't give 5 stars is that I wish they came in earthier tones.
Tina F.
Height:
5'2"
Weight:
130lbs
I really wanted to love these
Familiarity:

I've used it several times

Fit:

Runs small

Size Bought:

6
I want to love these pants more than I actually do. I'm normally a size 4 in Patagonia pants but ended up sizing up to a 6. They fit fairly well except for the butt - tight and kinda squashes my behind. The stretch isn't nearly as good as my PrAna Zion pants. They are a little bit low rise and sometimes cause discomfort when wedged underneath my climbing harness. They also didn't breathe very well - when I hiked up a short but steep 20 minute approach in about 77 degree F, puddles of sweat dotted the pants - it did not look pretty! Once I started climbing, I mostly forgot about them and ended up enjoying the thicker material during some slab climbing for avoiding scratches and scrapes. These will likely be my colder weather climbing pants - and definitely not for hiking.
Kailey C
Height:
5'7"
Weight:
135lbs
I haven't tested these outside yet, but they performed well in the gym. I love the belt strap that allows you to tighten the waist.
Amanda W.
These Pants Rock!
Familiarity:

I've used it several times

Fit:

True to size
These pants rock! I recently purchased these pants for hiking and camping and I love them. They are so comfortable and a super cute fit. I have been wearing them rolled, but the length is good unrolled too. The waist-cinch is great to get the best fit, but they also have belt loops to wear with a belt. These will definitely be my go-to camping and hiking pant for the summer!
Sara Gemmell
Comfortable for Climbing.
Familiarity:

I've put it through the wringer

Fit:

Runs large

Size Bought:

0
Reader's Digest Version: This pant is super comfortable. I'd venture to say that the Venga is most ideal for gym or mild-weather climbing at, say, the Gunks or Boulder Canyon. I do occasionally wear the Venga to work as the color I own is less prone to showcasing The Accumulated Gnar and the stretchy material is definitely nice for all-day wearability.

Non-Reader's Digest Version: I really like the fact that the Venga is not made with a swishy, static-y material. The material is just super comfortable. That being said, the cotton component does lend itself to stretching out (a lot) and isn't great for climbing in damp, humid, or super hot conditions (simply because it won't dry quickly). However, the hint of spandex is awesome because it provides ample mobility and the gusseted crotch bolsters my range of motion (which, all pants should have a gusseted crotch IMHO - just saying). I love, love, love the OppoSet adjustment - I get a personalized fit in the waist without having to wear a belt (which is an awesome detail when you're wearing a harness). There are belt loops, but meh, I never use them. The length is also pretty primo, I don't have to up-cuff the pant to prevent them from dragging on the ground. As for the fit, I wear a XS (or SM for a relaxed fit) / 24 (in Gap, J.Crew, Patagonia) in bottoms and the 0 initially fits great, but it does stretch out a bit in the waist hence my love for the OppoSet adjustable doo-hickey.

My only qualms are as such: I do wish that the rise on this pant was a little higher, simply for the sake of coverage. Also, it would be awesome if these pants had an internal drawcord at the hems - though, I have remedied my displeasure with this lack-of-feature by tight-rolling my pants at the cuff. If you've never tight-rolled your cuffs, look it up - it will come in handy more often than you think it will!
Monique Seitz-Davis
Height:
5'3"
Weight:
110lbs
Neon queen.
Familiarity:

I've used it several times

Fit:

Runs large

Size Bought:

4
Patagonia strikes back with another beyond-bizarre sizing... Woohoo.

For starters, I'm 5'9", 135-140lbs (pizza-dependent), with bigger skier quads, slightly wider hips, medium butt. Generally, I have a 28in waist and 35in hips, and wear a 4/6 in most climbing/hiking pants.

The 6 was loose in the waist, fitted in the rear and hips, semi-fitted in the thighs... But after an afternoon of climbing around, they stretched out to the point of nearly falling off my bum. Upon trying on the size 4, they were snug in the waist and TIGHT in the rear/hips/thighs, but stretched out to a reaaaally comfortable fit after a bit of climbing. They're a teeny bit short, but not too bad. If you're generally between sizes in pants, definitely go with the smaller size in these.

I snagged the bright blue color, and hoooooly guacamole it's vibrant. Perhaps a lil' loud for me, but awesome. It does show dirt and sweat (ew), and the fabric could be a bit more durable for climbing. My main pet peeve (besides the weird stretching/cut) is that the leg openings DON'T HAVE ANY CINCHING. Woof. It's beyond annoying to not be able to see your feet and have to shake the cuff around to ensure you're really toeing into small features. I usually roll them up due to this, but if these pants had little cinches at the bottom like the Prana Avril pants, I'd be aaaaalll over them.

Bottom line:

These are the pants you want for a long session bouldering or ARCing in the gym, or sport climbing in BCC.

These are NOT the pants you want to wear while scumming on sandstone and writhing through offwidths in the desert. They will end up with some new "ventilation holes" and interesting red-dirt type stains.
Zoe Zulauf
Height:
5'9"
Weight:
135lbs
Super Comfy Climbing Pants
Familiarity:

I've used it once or twice and have initial impressions

Fit:

Runs large

Size Bought:

4
The "Howling Turquoise" color is a bit darker than I expected. The material is a bit stretchy. Super comfortable for climbing.
Cheng Atkeisson
Height:
5'7"
Weight:
130lbs
Very comfortable climbing pants
Familiarity:

I've used it once or twice and have initial impressions

Fit:

Runs large

Size Bought:

4
I got these pants a couple of weeks ago. I have worn them twice for indoor climbing. They are very comfortable, feel durable, are soft and just flexible enough to be able to climb comfortably in them all day. I got the mogul blue color, which is very attractive and the color is exactly as pictured. The pants do seem to run a little big. I am 5'3, 120ish lbs and am normally a size 4-6. I got the size 4 and they are just a bit big in the waist, though they fit nicely in the bum/thigh area. I think a size 2 would have been too small for my hips/bum/waist. They are also a little long (I wish Patagonia made more of their pants in multiple lengths/inseams), but that's to be expected, I guess, for a smaller person. I haven't used them outside yet, but I'm excited to see how they hold up.
Hattie Oswald
Height:
5'3"
Weight:
120lbs
Bad material for outdoor pants
Familiarity:

I've used it once or twice and have initial impressions

Fit:

True to size
I wore these "howling" pants one time hiking and got mud on the legs at the bottom. I have tried 7 different tricks and detergents to get it out (have NOT used the dryer) and still have stains. You would think outdoor pants could actually be USED in the outdoors! :(
Dawn A.
Soft & comfy
Familiarity:

I've used it several times

Fit:

Runs large

Size Bought:

6
Tried these on a few years ago in navy blue and waited to get them until they were on sale. Although I didn't get the navy, I ended up with the violet blue, and was surprised to like the bright color so much. I got them specifically for hiking even though they're climbing pants, because it's not uncommon for me to do some scrambling during a hike. The waistband is not perfect, but depending on your build you may not have a problem. I have hips; I was okay, it just wasn't perfection. However, I will grab these second to my new Kuhl's I'm about to review, the next time I hit the trails. Great pants for my usage, lightweight, stayed snag-free, great color, and super comfortable.
Jen
Height:
5'4"
Weight:
151lbs
Looks good in pics
Familiarity:

I've used it several times

Fit:

Runs large

Size Bought:

6
I originally thought the color was a little bright, but after seeing it in pictures.. I have to say.. they look nice! The fabric stretches a bit, so good to buy a size smaller and it'll eventually stretch. I had to put mine in the dryer :)



Super durable fabric though. I took it on a roadtrip - trad and sport climbing.. no tears yet! Yay!
Joan Y.
Height:
5'6"
Weight:
138lbs
Very poor quality!
Familiarity:

I've used it several times

Fit:

Runs large

Size Bought:

0
Three days, ~24 pitches and these pants are destroyed! The pants have rips through the back pockets and on the legs, and I wasn't rolling down rocks.

I've owned Patagonia pants of much thinner material and have been climbing in them for years with no issues. These pants are not worth the money if you actually want to use them for non-cragging wear.
Austa P.
Height:
5'4"
Weight:
116lbs
Worst climbing pant ever
Familiarity:

I've put it through the wringer

Fit:

True to size

Size Bought:

8
I bought two pairs at the beginning of this summer, and used them on climbing trips periodically this season. Not an absurd amount, but they received use - maybe 20 wears each since the beginning of summer.

The durability of these pants is the worst I've ever experienced in a climbing-specific pant - jeans are better.
1. Both have holes and tear at the slightest abrasion of rock. I've had climbing pants (even yoga pants) withstand greater force.
2. Climbing is a dirty sport - between the dusty crag and rope scum, clothing gets dirty. I have no idea why, but this fabric hold onto dirt and grime even after being washed. Especially the purple ones. To quote one of my climbing friends: 'you look like a coal miner' - and this was after washing them! I can only wear these in a dirt-bag friendly environment (i.e. the crag) and not out in public, because I look too damn dirty and greasy.
3. They are NOT breathable - in warm weather I sweat when I climb. And the color/material combination creates the most embarrassing butt sweat line - ever.

All around, these pants have the worst utility of any athletic pant I've purchased. I've purchased many patagonia clothing items in the past and have never been this dissatisfied with an item. I'm trying to return them - but have to go outside of Backcountry and file a complaint through Patagonia. It's unfortunate that return policies are at 30 days now - if a pant craps out at 2 months, that's unacceptable in my perspective. Especially for $80 pants that should last YEARS!
Emilia M.
Height:
5'9"
Weight:
165lbs