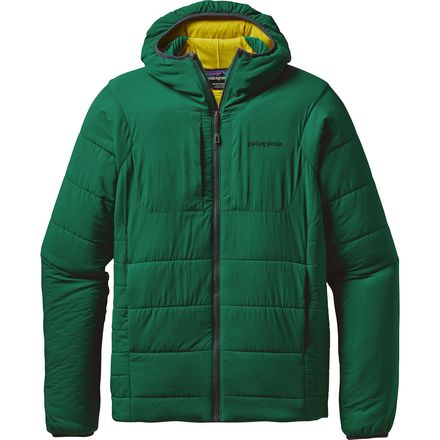 Colors

Detail Images

Videos

Community Images
Built for the up and the down.
When your day is going to consist of as much up as down, you need something special to keep you warm and comfortable for the long haul. Conveniently, that special something comes in the form of the Patagonia Men's Nano-Air Insulated Hooded Jacket. The combination of a nylon ripstop shell and plain weave nylon lining offers excellent breathability, so you don't feel like a dog in a hot car when you're hiking, climbing, or skiing, and the FullRange synthetic insulation stretches with you to provide generous freedom of movement whether you're reaching through the crux move or reaching for a tail clip as you rip skins on a windy ridge.
The DWR treatment on the outer face helps to shed light moisture, and its windproof construction cuts wind on the way down, too. In order to help combat the elements, Patagonia added storm flaps to the front zippers and a zipper garage at the top, so you're not taking a cold metal zipper to the chin every time you move your head from side to side. Stretch material around the cuffs helps to make a seal to fight off even more winter chill, while zippered handwarmer pockets let you warm up your digits when things head into those frigid temps. The hood is designed to be worn under a helmet for next-to-skin warmth, but it can also be worn over a low-profile helmet thanks to its stretchy nature.
Protective insulation for start-and-stop missions in the mountains
FullRange stretch insulation maintains warmth when wet
Light and tough 4-way stretch shell with water-resistant finish
Nano Puff brick quilting along sides enhances durability
Stretch hood fits close against the noggin and will fit over helmets
Stretch binding at cuffs and drawstring at hem locks in body heat
Regular fit allows piece to be worn both over and under layers
Patagonia has been building gear for the high mountains since 1973
The best
Familiarity:

I've put it through the wringer

Fit:

True to size
This jacket is absolutely amazing. For an insulated jacket for high output activities you can't beat it. It is stretchy and breathes ridiculous well. It even does a very good job keeping you warm while inactive , i.e belaying, lounging around in camp etc. I've taken this jacket around the world from trekking in the Himalaya , camping in near/freezing temps, and climbing. I will sayit can't be beat in terms of comfort and breathing. One thing I love about this jacket is that's it's great to fall asleep in. If you're cold at camp throw this baby on for another level of warmth in your sleeping bag. Hell, put it on while laying in your hammock and see you next morning. It feels like wearing a blanket. It's f*ing great for wearing on long international flights (its that comfortable). Anyways, buy it and I'm sure you'll love it too.
Jonah V.
Super warm, super comfortable
Familiarity:

I've used it several times

Fit:

True to size

Size Bought:

Medium
This jacket will keep you warm and is extremely comfortable. I've worn it in 20°F weather with only a long sleeve underneath and stayed warm the entire time. The jacket is very lightweight as well. It'll make you forget you even have it on. Bought a medium which fits a little big, which is good if you want to layer (such as a hoodie underneath), otherwise I'd get a small. Overall, this is an amazing product that will serve me for a long time and one I will definitely put through the wringer.
Paul K.
Height:
5'10"
Weight:
140lbs
New Favorite!!!!!
Familiarity:

I've used it several times

Fit:

True to size

Size Bought:

L
Oh boy....where do I start......This jacket is astounding. SO soft and stretches in the right places. The best thing about putting it on is realizing the potential. From mid layers to a stand alone piece, it is the perfect shoulder season item. It offers breathable insulation? sounds like some hippy dippy mumbo jumbo...when you put it on you will see. Call me to get the right fit!

Kameron Wansel
Gearhead, Account Manager
Office: 801-619-7469
kwansel@backcountry.com
Hours: Sunday:9am-5pm
Monday: 7am-3pm
Tuesday: OFF
Wednesday-Friday: 9:30am-5:30Pm

Kam Wansel
Height:
6'3"
Weight:
235lbs
Ever Changing Insulation
Familiarity:

I've put it through the wringer

Fit:

True to size

Size Bought:

medium
From shady and 70 degrees to about 30 degrees the nano air is the most comfortable jacket I own. I never seem to overheat in the nano air, it seems to be just in that sweet spot or just a tad cold (which as a high output mid layer is important). I sized a little small on this item so it layers well under a shell for skiing and mountaineering, I'm pretty slim and a medium form fits. A drawback that I'd recommend Patagonia work on are the arm lengths which seem to be a little to short on the medium and way too big on the large.
Andrew Butterworth
Height:
6'1"
Weight:
175lbs
My go to Jacket for high output days
Familiarity:

I've put it through the wringer

Fit:

Runs large

Size Bought:

Large
I traded in my nano puff pullover for this jacket and I'm happy with that choice in every category except 1. This jacket seems to run a bit large for its size, both in sleeve length and in the body. It is rather baggy on me despite the nano puff fitting perfectly. As this is a mid layer or outer layer I can understand that it leaves a little room for layers underneath, but this jacket leaves a little too much room. I wish I could try on a medium, but I've already worn this on multiple climbing trips and it wouldn't be right to trade it in now. It does an excellent job keeping me warm when I'm not moving while at the same time it dumps excess heat when I'm actually climbing. This is key as I don't have to adjust layers constantly. I also like the mechanical stretch which gives me better range of motion when reaching or contorting my body into weird positions. I also really like the double chest pockets. I typically wear this with a harness on so the standard pockets are inaccessible. The 2 chest pockets are great to store my phone and snacks.

I would absolutely recommend this jacket, I would just suggest trying it on first to make sure you are pleased with the fit.
Michael P.
Height:
5'11"
Weight:
188lbs
I never stop wearing it...
Familiarity:

I've put it through the wringer
I wear it to work, in the mountains, and around town. It basically never leaves my body during the winter. I love the feel and fit of it and it's definitely quite warm. I personally don't think it breathes *especially* well, but likely a little better than other puffies I've tried. No wear or issues to report at this time. Get yourself one!
Brock Price
Heat!
Familiarity:

I've used it several times

Fit:

True to size

Size Bought:

Large
This jacket is super awesome and I love using it for layering under my shell, when skiing. It puts out a lot of heat! I've also worn it in light rains, and the DWR coating kept me dry. Get the Nouveau Green, you won't be disappointed. I'm 5'10" 165 and the Large fit me perfectly.
Nick Johnson
Height:
5'10"
Weight:
165lbs
Fantastic synthetic puffy!
Familiarity:

I've put it through the wringer

Fit:

True to size

Size Bought:

large
This puffy is probably one of my favorite articles of clothing. It's super warm but still very breathable. It's had no problems facing Joshua tree rock and plants. It's pretty great for a skiing mid layer as well.
Duncan
Height:
6'4"
Weight:
195lbs
Lacks Details, Poor Value, Too Warm?
Familiarity:

I've used it several times

Fit:

Runs small
I own an Arcteryx Atom LT and have compared these two pieces. I bought this thinking it would be a good high activity insulation piece in cold weather. I've used it while charging up hill on mountain hikes or backpacking trips. My initial impressions are that either it doesn't breath like it claims, or it's just too warm. In 30 degree weather I got very warm and quickly found myself wanting to switch to a fleece instead of the Nano Air.

The cuffs are shaped awkwardly in that they don't taper like the comparable options from other brands, so you end up with too long of sleeves that bunch up into big puffy masses around your wrists.

The lack of any hood adjustment on a $300 synthetic jacket is a big oversight.

Overall I like the jacket, but not for $300. It's a good insulation piece at a relatively poor value. Can't help but feel like I paid for the brand name, which isn't even embroidered. Details matter when you pay a lot for a simple piece!
Bryan Smith
I already own the one without a hood but decided I wanted another Nano Air and went with a hood this time. This jacket is great for playing in the mountains of just hanging out around town. It is by far the most comfortable jacket I have worn. As others have said, it's like being wrapped up in a cozy comforter. The Nano Air breathes really well for when you skinning uphill to earn your turns in the backcountry but also stays plenty toasty when the temps drop. The one area this jacket falls a bit short is wind protection but on really windy cold days I use this jacket as a mid layer underneath my shell. It's an all around great jacket, good enough that I decided to buy two.
Justin Henderson
Top of the line
Familiarity:

I've used it several times

Fit:

True to size

Size Bought:

Medium
Still trying to find the perfect use for this jacket. It's a tech clothing dream; unbelievably breathable, super light, super warm. I bought it because I tried it on and immediately felt the warmth and loved the stretch in the fabric and it was on sale. I've avoided certain products (from all brands) because of how stiff the item felt while wearing it. This jacket is very comfortable due to the material and the sizing. It has a normal fit, nothing overly slim but not baggy. The problem I face now is how warm it is during exercise. I bought this for hiking and running. I hate having to strip layers during exercise and the wicking on this jacket is unreal. But you have to either be in sub freezing or high winds (for vigorous exercise when wearing the jacket) or just above freezing for moderate exercise. I went for a run on a still 35 degree day and sweat through the jacket before I hit 3 miles. This isn't a knock to the jacket though, it's amazing at what it does, but you have to realize that the activities you do may not require something like this. I haven't worn this in a situation where I would be inactive, but it's not really meant for that situation. I am also a bit fearful of the durability of the outer layer. It's very soft and plush and I fear it could rip very easily (like trail running and clipping a bush or excessive wear in high in highly abrasive areas like elbows under the arm).

All of this aside, I love the jacket. If I were to buy another one, I would first research Arctyrex atom LT jacket, it's similarly designed and cheaper. Bottom line, this is a great product, but for niche use. The main zipper also feels cheap, no hood adjustment ability and no inside pockets detract from the practicality. Still happy!
trev lawson
Height:
5'7"
Weight:
165lbs
Great All Purpose Jacket
Familiarity:

I've put it through the wringer

Fit:

True to size

Size Bought:

Large
Have been using this jacket in all seasons for about a year. It seems to always keep me at the "right" temperature. I believe I picked it up on SnC, so I know I got a good value and it could replace a number of jackets it is so versatile. The one rub I have with it though is that between hiking or commuting, I often use a backpack with the jacket and I have noticed that the jacket does not wear well with a backpack, as I have been getting significant pilling around the contact points of my bag.
detroitexpatriate
Height:
5'11"
Weight:
220lbs
average product but overpriced
Familiarity:

I've used it several times

Fit:

Runs small

Size Bought:

Medium
I have always had the upmost respect for Yvon Chouinard and the products that he has launched....however, I think this Nano-Air Insulated Hooded Jacket is a little pricey for what you get...yes it might be due to me being an average joe who doesn't respect he quality of such items for what they might really be designed for. I was disappointed first in the fit as the sleeves are very tight when any long sleeve garment is underneath. The sleeves are extra long in respect to the rest of the fit. Yeah it performs well out in the elements but again maybe because I wasn't mountain climbing or doing strenuous exercising which would have proven the wick-ability etc., but the product just was not a good value to me...again, maybe this old coot shouldn't expect more for an everyday wear....
Michael W.
Height:
5'9"
Weight:
165lbs
everything you want
Familiarity:

I've used it several times

Size Bought:

medium
When i first saw a Nano Air, it was one of the first pieces i ever saw with the soft quiet Nylon. thought it was great and wanted one. So i just finally got one. I have become sort of an expert, i now have 4 synthetic puffies. All nice, but the Nano has- the great outer material i just described. plus it seems to block wind better, The insulation does seem to regulate Temperature well. and overall warm for its lightweight.
Fit- for me , it is very fitted/ perfect layering piece.
Jeff Mikaelian
Height:
5'10"
Weight:
150lbs
A Great Step Forward
Familiarity:

I've put it through the wringer

Fit:

True to size

Size Bought:

L
This jacket really has paved the way, now nearly every major company is releasing their version of the Nano-Air. It's stretchy, soft to the touch, wicks sweat incredibly well, lots of pockets, good fit. I sweat a lot so I need my gear to breath and traditional puffies were just too clammy for me. Having said that, wind pours through this jacket, so a shell is necessary if you're facing a cold breeze.

This jacket allows me to be comfortable with every literally every activity, from couch lounging to charging up a mountain side. It even looks great around town!

I no longer own a fleece and a puffy jacket because the Nano-Air combines all of the best features of both. This combined with a good base layer and the OR Ferrosi Softshell gets me through 99% of my life.
Jake Hansen
Height:
6'4"
Weight:
200lbs
Great jacket for the do it all person
Familiarity:

I've used it several times

Fit:

Runs large
This jacket is amazing! I love, great coat for doing it all. The material is soft to the touch which gives the it a light feeling. great layer or coat for warmer days. The material is what I like the most feels like a sleeping bag. If you are looking for a light warm jacket look no further
Garrett Corbari
Best Puffy Jacket I have every owned.
Familiarity:

I've used it several times

Fit:

True to size

Size Bought:

Medium
This Jacket is super versatile. In 36 hours, I dresses it up on a plane, skinned in the Little Cottonwoods, and fished the Provo. This jacket does it all and looks stylish doing so. It breathed so well that it kept me cool skinning up the Wasatch Mountains but kept me warm enough our on the river in the afternoon. I usually sweat trying to wear a puffy but this Nano Air is super breathable. It is also a bit stretchy so I am completely unrestricted in my movement. It is also super warm, I was fishing some cold waters but was never once cold. It is also a piece you can wear a button up shirt under and look slick in it too! This is, hands down, the best and most versatile puffy I have owned!
Joseph Davies
Height:
5'10"
Weight:
155lbs
Favorite jacket ever
Familiarity:

I've put it through the wringer

Fit:

True to size

Size Bought:

Medium
This is hands-down my favorite jacket. It's a bit pricey, but I haven't regretted paying for what I've received. This jacket is comfortable and looks great (tons of compliments). Its a thinner jacket that I prefer to use touring, since it breathes well, is extremely light, and packs down. But it can serve as an outside coat to temps of ~15-20 degrees.
Jack Fullmer
Height:
5'11"
Weight:
160lbs