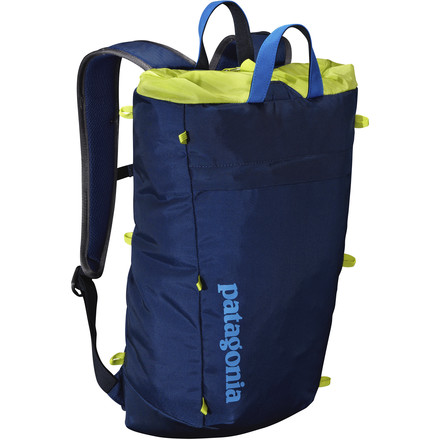 Colors

Detail Images
Made for multipitches.
Patagonia designed the Linked Pack to move with you while climbing day-long multi-pitches. The Linked has enough room for water, lunch, and layers, and Patagonia added gear loops to attach the cams and draws you don't need for the next pitch. The Linked also has a top strap for your climbing rope, and this top-loader features a drawcord closure that's easy to open on hanging belays. Reinforced haul handles let you drag the Linked behind you on chimney pitches, and the hydration sleeve includes a port for your hose. Patagonia made the Linked out of water-resistant fabrics, burly Ballistic reinforcements, and Cordura for the long-lasting durability that climbing walls call for.
Air Flow mesh shoulder straps and back panel
Webbing hip belt
Reinforced haul handles
Top access with drawcord closure
Top rope strap
Hydration sleeve with port
Gear loops
Perfect on-route, too small on approach
Familiarity:

I've used it several times
Perfect on-route pack for multipitch rock climbing; frustratingly small on approach. Expensive and never goes on sale.
I really wanted to love this pack. I researched and tried on several packs shopping for a multipitch day pack and this one disappeared on my back- super comfy, I felt I would reach for it enthusiastically. I love the handle, the rope strap and buckle, and the simple drawstring closure. Tough, no fuss. And it is perfect on-route. It carries what you need and you pretty much forget it's there.
But it is just so small on approach, particularly for trad. I either have to wear my harness with gear clanging around, frankenstrap stuff to the outside of the pack, or both. You just can't carry a day's worth of personal stuff (layers, snacks, approach shoes, water) and a day's worth of climbing gear without turning into a junk show. 18-20L would be enough.
I could give it 4 stars but I am probably going to return it so I don't think more than 3 is appropriate. Bummer. It's so close to a killer pack.
Basil N.
Perfect!
Familiarity:

I've used it several times
My gym bag in the winter and my multi pitch bag during the season. Very simple, durable, light design. It has everything you need and nothing more. Fits tight and snug to your back so you're never battling a pack trying to throw you around.
Matthew Lundberg
You can forget you're wearing it
Familiarity:

I've used it several times
This pack really hugs your back while climbing. I found that I could totally move freely with it, to the point that I could forget I was even wearing a pack. It's night and day vs. other packs that feel like they "slosh" around, pulling you off balance.

I also really like the rope strap and the overstuffable top. It feels like you can add a few liters for the approach and then vanish them once gear is racked on your harness. However, weight is carried on your shoulders, with an insubstantial waistbelt and sternum strap serving only to hug the bag to your body, so don't pack it too heavy.

The outer pocket on the back fits most guidebooks as well, making a quick reference easy. The internal sleeve just fits a 3L bladder snugly.

My only wishes are (1) that the outer pocket on the back had some sub-pockets so I could organize small things for easier access; and (2) that the hole for passing the bladder drinking valve out of the pack were larger.
Maia B.
chandra martinez
Buying multiple
Familiarity:

I've used it several times
I just received this in the mail and can tell it is worth every penny. I am upgrading from the rei flash 18 which disintegrated quickly after regular multipitch climbing.

Also, let it be known that I usually stay away from patagonia just because it's patagonia. But this bag is extremely good. The material seems very scratch resistant and durable, it has sturdy loops for hanging on anchor, and a rope strap. Perfect.

07172016 update: used on many long routes now. And I'm buying another one. So good! Let it scrape against rock in the chimney on the casual route on the diamond, not a scratch on it. Did I mention the rope strap?
c70smith2349089
Best multipitch bag ever!!!!
Familiarity:

I've put it through the wringer
I spent a long time researching and trying to find the best summit/multipitch bag to use. I found the linked and decided to try it out on my week long trip to Red Rock. I couldn't be happier with this bag!!! It is perfect and is everything I was looking for. 16L is just big enough for water, Snacks and a warm layer. It has a built in area for a platypus style water system. It also have two great zipper compartments. The shape of the bag sits high off my harness and also is low profile so it doesn't interfere when I carry a rack. There are two haul style handles that work great to hook it to the anchor and since the top is draw string it's easy to access when I'm belaying. My favorite feature however is the ability to carry a rope over the top. I dislike carrying a rope as a backpack especially if you already are wearing a backpack and this bag makes it super easy. I love this bag and am super excited to use it more!!!!!
Alpingrl
Gear loops? No.
Familiarity:

I've put it through the wringer
'...and Patagonia added gear loops to attach the cams and draws you don't need for the next pitch.' In the climbing vernacular 'gear loops' are located on the waist-belt of a harness or climbing pack. They are designed for 'easy reach' racking of 'draws and hardware. The Linked Pack's waistbelt does not have gear loops. What the pack does have are twelve, small webbing loops to which one can attach accessory or bungee cord for lashing things to the exterior. (You wouldn't want to try and coax gear off those tiny loops mid-pitch!) Patagonia doesn't refer to these as 'gear loops' as that would be misleading. Anyway...great little pack. Simple, functional, durable and light.
AB
Good, but not awesome
Familiarity:

I've used it several times
I think this is a wonderful pack for multipitch climbing with a simple yet elegant design. Burly construction with tough fabric, and I'm digging the new roll-up closure system at the top of the pack that all Patagonia packs seem to utilize these days.

What I dislike about the pack is the fact that the tiny gear loops on the side of the pack are minuscule that they would only be able to accommodate CAMP Nano 22 sized carabiners. Furthermore, I'm unable to fit the spout and hose of a Platypus hydration bladder through the bladder outlet on the back of the pack. Hence the reason I give it 4/5 stars.

In case people are curious, you can easily fit a 15" macbook book pro sized laptop into this pack along with a ton of other odds and ends.
rohanbk
Can this bag fit a 13 in. macbook in the main compartment? Looking for a pack that does all of the above + serve as a small school backpack .Thanks!
Anna Jean W.
Anna,



Yes, this would suffice for both a small school backpack and a back pack for many other outdoor activities and be able to fit your macbook in it.
Mark Burnett
Anna Jean W.
Super Versatile!
Familiarity:

I've used it several times
Didn't think I would use this before next ski season, but it's proven to be a great addition. While designed for climbers, I've used it extensively for cycling this spring. Size is perfect for a shell, nalgene, tools, and an extra layer. Outside zip pocket is huge - runs the full length of the pack. Inside zip pocket for small stuff. Another pocket to hold a bladder, and a hook for your keys too. The external "lash," points are practical too ! Waist belt is easily removed if not needed. Originally I ordered the grey, but returned it! The webbing handles and trim are WHITE - I mean bright white! Exchanged it for the red color and am quite happy! A bit more practical! Looking forward to ski/snowboard season - should be ideal for lift served areas!
Craig V