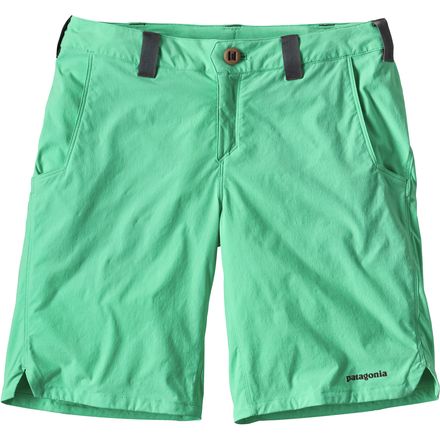 Wear before, during, and after your ride.
Patagonia's Dirt Craft Bike Shorts combine a clean, flattering design with all of the functionality you'll need for a day of hard trail riding. Constructed with an inner and outer layer, the shorts' slim fit is as well-suited to cycling as it is to hiking and most other outdoor activities. On the outside, a nylon/spandex blend keeps the outer layer of the shorts cool and breathable on hot days and a DWR treatment repels water during surprise rain showers on the trail.
On the inside of the shorts, Patagonia includes a separate, removable liner complete with a soft three-layer chamois and breathable mesh panels. It keeps you comfortable in the saddle without suffocating you under too many layers, and it can be omitted altogether for days spent navigating trails on foot. Added touches like drop-in hand pockets, a zippered security pocket, and an internal elastic waist with button adjustments further enhance the shorts' functionality — don't be surprised if this is a pair that you find yourself reaching for one day after another in the summer.
Frumpy and unflattering
Familiarity:

I've used it several times
I ordered these right before a mtb trip and unfortunately didn't have time to return these/order a different pair when these arrived so I'm stuck with these. I ordered a medium because I wear a medium in most running shorts. These run very wide in the waist. Also the legs are too wide, and are very unflattering. I wish I had ordered two pairs so I could have returned these before a mtb trip. Not worth the sale price.
Jessica L.
Love these shorts!
Familiarity:

I've used it several times

Fit:

Runs large

Size Bought:

Medium
I love nearly everything about these shorts! I am 5'9", 160 lbs and have big legs. I struggle to find MTB shorts that are comfortable and don't look/feel too tight. These fit the bill - they are comfy on my legs, the chamois is amazing, and feel durable. My only complaint - they fit a bit large around the waist (they are very high waisted, even on me, a tall woman) and the system to cinch down feels outdated. It is a few little buttons on the inside of the shorts and they don't stay put very well. I wish they had put the cinch system on the outside of the short. For women with smaller frames/skinnier/leaner legs, these will probably run big. They DO flare at the bottom a little bit, but I just didn't care because they were comfortable. Used them in Moab just this last weekend and loved them. Would recommend, even with the little quirks.
Shelly
Height:
5'9"
Weight:
160lbs
Weird fit
Familiarity:

I returned this product before using it
These shorts were extremely comfortable and seemed durable, but the fit was a little weird. They seemed to flare out at the bottom, so I returned them and got the newer version, which fits MUCH better!
Losaunne
Pretty close to perfect
Familiarity:

I've put it through the wringer

Fit:

True to size

Size Bought:

XS
I have just got into biking the past few years and have pretty much hated trying to find clothes to ride in. I'm not built like your typical buff biker chic, so I always felt like I was swimming in bike shorts--and had yet to find something that was actually comfortable.
I was able to snag these for a killer price at an outlet sale, and I've been wearing them several times a week since!

The chamois is soooooooooooo comfortable. Seriously--it fits perfect. The wide waistband stays in place and doesn't dig in. It's fitted in all the right places without being too tight, and super cushy for hours in the saddle. I am usually dying to get out of my shorts after a ride, but I've had no problem keeping these on for dinner and the car ride home. The chamois is so good, I really wish Patagonia would consider selling it separately.

I'd give the shorts themselves 4 stars--they are almost a 5, but I think Patagonia could make a few changes to get that extra star. The material is perfect--super cool, comfortable, quick drying. I really have washed them a million times and they still look great.
BUT: the look is a bit frumpy--I think they could be just a little more fitted on the leg--not tight--they just need some more shape to them.
And hey Patagonia--WHY DO THE GUYS GET A ZIPPER POCKET?! (That's me yelling for equality ;) The front pockets are extra deep and fit my phone, but when I'm flying down the mountain I want to make sure it stays secure--give us a zipper too!


Sheena
Height:
5'4"
Weight:
115lbs
Reader's Digest Version: You'd think that a company like Patagonia, with climbing-specific roots, would struggle with the fit and design of a bike short. But they most certainly do not (struggle, that is)! The Dirt Craft touts a full-coverage, comfortable fit that you can depend on right off the bat.

Non-Reader's Digest Version: I've had a love-hate relationship with bike clothing for the longest time, especially with liners. Usually the chamois never fits me - at all. And I get it, I don't have the kind of body type that's in-line with most bike-specific fits. But, to say the least, it's been a very uncomfortable experience in the long run. Bibs are fine-ish. So to say the least I was super skeptical when I bought these.

At any rate, I sort of expected that the Dirt Craft would be a miss and that I'd be returning these... And I was so wrong! So, yes, the Dirt Craft does have a high rise, but I personally like that. Also, I have a short waist so everything is high rise on me. However, the manner in which the Dirt Craft is high rise doesn't lead to uncomfortable pinching or weird bulging. There's something about the liner's waist band that discourages that "lower-ab-pressure" which in turn promotes a really great fit and feel. I bought an XS and the liner fits comparable to an XS in the Capilene line.

1. Okay so, as Sverre noted, the chamois is SO INSANELY COMFORTABLE. Yes, that statement is deserving of all caps. It seems to have better contouring and coverage than other chamois I've used.
2. Liner fabric. It's soft, quick-drying and unreal how comfy it is. Also, the mesh inserts are supreme and provide subtle, yet substantial ventilation.
3. The 3-in-1 versatility. This design feature really appeals to me. I love the fact that I can wear the Dirt Craft together or separately. That being said, I wouldn't wear the liner on its lonesome - simply because of the showy mesh inserts.
4. The shorts. I can move and groove and do pretty much everything and anything in them. Patagonia has been creating movement-centric clothing for a long time, so I'd like to think they know a thing or two about designing shorts that are built for mobility.

My only wish is that the waist (on the shorts) had one of Patagonia's Oppo-Set adjuster, or like, had a built-in belt. Other than that, I love love love love the Dirt Craft.
Monique Seitz-Davis
Not Patagonia's best product
Familiarity:

I returned this product before using it

Fit:

True to size
The shorts have a great fit through the hips, but they flair around the leg and they are very high waisted. I sent mine back.
Gretchen F.
Height:
5'7"
Weight:
145lbs
WOW! Extreme comfort
Familiarity:

I've put it through the wringer

Fit:

True to size

Size Bought:

Small
I just need to get this off my chest, I feel like a total d-bag for ordering $150 Patagonia cycling shorts. I fully expected to try them on and return them immediately, but these shorts are magical. So here's the great stuff:
1) No. Muffin. Top. Hallelujah! I'd converted my cycling wardrobe entirely to bib shorts because I hadn't been able to find a chamois that doesn't make my belly bulge. Major breakthrough :-)
2) Extraordinarily comfy chamois. Of course everyone will experience this differently. Out of the box I used these shorts on a strenuous 2-day bike tour. I have never been so comfortable on my bike. I typically wear Castelli bibs that I thought were really comfy, but this Patagonia chamois blew them out of the water. The Patagonia chamois has deep contouring that fits my anatomy well. This seems to eliminate any extra chamois fabric that can bunch up on a long ride and irritate my hoo-ha.
3) Overshorts have a solid waistband. Often I find baggies are too stretchy and work their way down my butt as I'm riding. Really frustrating when you're on and off your seat, catching the crotch of the shorts on your saddle. These shorts stay put, and even have belt loops if you're so inclined.

The things Patagonia can do better on the next iterations:
1) These shorts look more frumpy than other mtb overshorts (like Yeti, Pearl Izumi, Shredly). They're baggy, straight cut shorts with no shape whatsoever. They actually fit very similarly to the Patagonia Baggies (although the sizing is different). Patagonia could work on the styling of the shorts just a bit.
2) Talk about boring colors. I'm glad they're not going all periwinkle on us, but these shorts would be awesome in a bright Hawaiian print.

My sizing: I have a 28" natural waist and 37" hips, the Small fit well. FYI, I have a long torso so shorts that are supposed to hit women at their natural waist normally grab me right in my lovehandles. Didn't make a difference with these shorts.
Sverre L.
Height:
5'7"
Weight:
135lbs
Great Shorts
Familiarity:

I gave it as a gift but have feedback to share

Fit:

Runs large
I gave these as a gift to my Mom and she loves them. She says they're very comfortable and they have a lot of great features. But, they do run a little big. Though, that could be good depending upon if you're wearing them over a padded liner.
Darick Nace