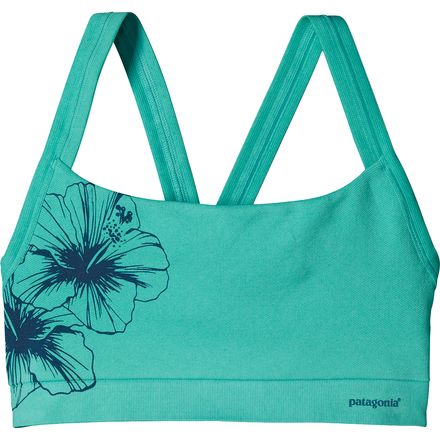 Colors
Supports your every move.
The Patagonia Active Mesh Bra provides seamless support and wicks moisture, so you stay comfortable while you move. Recycled polyester causes less stress on the environment so you can support the earth while the Active Mesh Bra supports you.
Recycled polyester/nylon/spandex blend fabric
Moisture wicking
Light support
Straight neckline with reinforced straps
Seamless construction
Nonslip straps
Tagless
Does everything a sports bra should
Familiarity:

I've used it once or twice and have initial impressions

Fit:

True to size

Size Bought:

small
Very comfortable bra. My second Patagonia sports bra and probably more comfortable than the first one I bought. This one has wide straps, easy to slip on and stays in place. I'm small chested and it doesn't ride up or pinch me under the armpits or across the back like some do. Wearing it currently and about to go hit the gym. Bought it to take out backpacking. Probably should have bought another while it was on sale!
Lauren H.
Height:
5'7"
Weight:
155lbs
Love it!
Familiarity:

I've put it through the wringer

Fit:

True to size

Size Bought:

large
This is not a high impact sports bra by any means( just as it's advertised, it's light support) but it's my go to for backpacking. It's so soft and fits so well without being really tight and restricting. I'm a pretty chesty person but I honestly forget I'm even wearing it because it is really just so soft. I love that it's moisture wicking and after backpacking for multiple days in the middle of June it didn't have any odor to it at all.
Lauren
Height:
5'7"
Weight:
155lbs
Super comfy sports bra!
Familiarity:

I gave it as a gift but have feedback to share
I love how comfortable it is and the cute back. I would definitely recommend it.
Jeff Guest
Sweet bra but XS is super small!
I really liked this bra - cute color, great fabric, good coverage. I got the xs which turned out to be way too tight on the girls. Like, serious smash-age. I'm a 32 B and the size chart says an xs is in the range of 32-34 ish. If you're a 32 A I'm sure the xs would be great, but otherwise size up! Ended up giving this to a friend rather than returning it.
Jaime C
Height:
5'1"
Weight:
100lbs
This is a fabulously breathable, very well made sports bra. I'm tall and not too busty at a size 32B, and the Small was snug but comfy on me. For high-impact activity like trail running, it's great, but for climbing, yoga, and lower-impact wear, the neckline is much too high for most of my athletic and casual tops.
Zoe Zulauf
Height:
5'9"
Weight:
135lbs
Comfortable and just supportive enough
Familiarity:

I've used it several times

Fit:

True to size

Size Bought:

Medium
I typically wear a 34C/D and bought this in a medium - it fits perfectly fine, and I love the way the material feels on my skin. I hate cups and underwires, and this has neither (though it has a place for you to add cups if you want.) I wouldn't wear this to run, but I wear it for hiking/backpacking and find it to be comfortable, chafe-less (thank you!!), and quite cute considering I will wear it, as its marketed, as an "on the fly swimsuit." Very happy buyer!
Miranda
Height:
5'2"
Weight:
125lbs
I just got this bra and already know it will be my favorite. Super comfortable - I wore it on an all day hike and felt supported with no itching or chafing!
Won't be my go to for running, but perfect for my every day, or hiking, or skiing, or pretty much any other activity bra
Emery Gaylord
Comfy for hanging out
Familiarity:

I've used it once or twice and have initial impressions

Fit:

True to size

Size Bought:

M
I'm 5'4", 135 lbs, wear a 34DD bra. I bought a size M and it fits terrific and I love it. A few notes though - I did NOT buy this bra for high impact (running) activities. It wouldn't provide anywhere near the support I need for an activity like that. I bought it because I wanted something comfy to wear around the house and when I hike with my dog in the woods or go to yoga. For hanging around it is comfy and well made.
Skye P.
Height:
5'4"
Weight:
135lbs
This was a great bra, but I ended up returning it. The issue I had is that it was a little too tight underneath the armpits, I'm not sure A larger size would help because the rest of the bra fit right. For me, I get a lot of chaffing underneath my armpits when I run, so felt like this would cause more problems with that! But it's great quality and fit great everywhere else
Charissa Olsen
I bought this bra as a gift for my girlfriend.

She's very picky when it comes to sports bras and was pleasantly surprised with this one. She especially liked the seamless construction and made comments like 'I forgot I was wearing it', which I've never heard her say.
Chris
I wore this bra for 7 days. Straight. Just that fact speaks volumes. Now, throw in that I wore it 7 days straight on an Elk hunt in the Colorado mountains says a whole lot more about this bra. I was a sweaty mess half the day and freezing cold the other half. It didn't smell, there was no chafing or itching. The straps didn't dig in. Most important, I didn't think about at all until day 5 when I was like "dang this bra is awesome, I don't feel the need to rip it off at all". Spend the money you won't regret it. I'm a 34/36 B and bought the medium which is a perfect fit.
Fish-ee
Perfect!
Familiarity:

I've put it through the wringer

Fit:

True to size

Size Bought:

Small
I love these bras :) I wear them almost every day, for running, mountain biking, yoga, and to work! They are comfy and look great worn on their own--they double as a running top and a swimsuit top :)
Indyfly
Height:
5'3"
Weight:
130lbs
Keeps it's shape through the years
Familiarity:

I've put it through the wringer

Fit:

True to size

Size Bought:

small
Ladies, if you want a no-frills quality sports bra this is for you! I am small chested so I don't need all the bells and whistles of these new-fangled bras. I just want a compression tube to keep my boobs in place without padding and with a good fit. It is very hard to find a sports bra that is a perfect fit for us A-cup ladies! Patagonia has nailed it. Plus, it is cute and flattering. I feel comfortable wearing this piece as a bathing suit top, or on its own on a hot day of sandstone desert climbing. Plus, this bra doesn't stretch out over time like most spandex products. Double win! Thank's Patagonia - now come up with some new patterns already.
Kate Samp
Height:
5'8"
Weight:
135lbs
Was hesitant, glad I got it though!
Familiarity:

I've put it through the wringer

Fit:

True to size

Size Bought:

L
The reviews made me hesitant to purchase, but I am so grateful that backcountry has this sports bra available at such a good price. I just ordered my second pair of this sports bra, and probably not my last. It fits SO comfortable. I am a size M t-shirt, but bought a L bra. It's perfect for hikes, hot yoga classes, and casual daytrips but I would never be able to wear it on a run. Different uses for different bras though so I would say it's worth getting and it's very useful.
Elica A.
Height:
5'2"
Weight:
155lbs
Good, but room for improvement!
Familiarity:

I've put it through the wringer

Fit:

Runs small

Size Bought:

Small
Size ref: I am 5' 4.75", run between 108-112 lbs. and carry my weight in my bottom half, and have a wider torso in relation to my cup size--I'm about a 34AA-34A (actually between 33 and 34) and take a size 0/XS dress size. I have this bra in a size small. I've had it for probably just under a year and have worn it in the ballpark of 100 times, 1-4 times a week (depending on when I'm in the swing of doing certain activities like climbing).



FIT & PERFORMANCE: the fit is rather unique; I don't have any bras that fit the same way, and I'm not quite sure if this bra in a small could fit women who have a B/C cup and above. I have a pretty small cup size and even I feel occasionally smushed, though the medium was too big of a step up for my cup size (but not for my ~33-34 bust measurement). The good thing about this is that, despite the fact I don't have much, well, *jiggle*, everything stays put and I never have to worry about bouldering on ceilings when people can easily see down your tank top. One odd thing I notice about the bra, though, is that it tends to shift downward on my body as time passes (throughout the day). It doesn't bug me all that much and it tends to feel a little more comfortable if I tug it downward a little when I put it on. I really love the position of the straps, and they don't feel like they cut into my body at all. However, the bust line is very tight on me, to a point where it's quite uncomfortable to put on and take off the bra because it doesn't stretch nearly as much as you think it might if you've ever felt the stretch in Patagonia's Active Mesh Boy Shorts.



CARE: I wash the bra probably every 3-5 times I wear it depending on the activity, though it has actually never once smelled funky, since it does breathe very well. Sometimes it looks stretched out after a use, but every time I put it on, the fit feels like it always has. It does not stretch or shrink whatsoever after a cold cycle wash (or hand wash) and a line-dry, which I think should be a number one factor when looking for a bra--what's the use of a bra that changes sizes after the first time you wash it? The radiant magenta has stayed perfectly radiant, but it has collected a few fuzzies/pills of other garments' materials I wash it with.



BOTTOM LINE: Despite this bra being quite tight, I do love it for climbing, running, bicycling, etc., or when I want something that doesn't show any bodily details through a tight t-shirt or tank top. I wear it with my Patagonia Layering Racerback and the straps show through the keyhole in the back in a very cute way. I'm on the fence about purchasing another one, and am kind of holding out in hopes that I stumble across something that is a little more forgiving for athletic builds, especially for female climbers who have muscles that simply seem to' get in the way' with a lot of bras. If Patagonia adds a little bit more stretch and perhaps a couple sizes more related to cup sizes (i.e., how more 'normal' bra sizing works), I think it'd be quite a hit!
Jen Teeple
Height:
5'5"
Weight:
110lbs
Forgot to read the reviews first!
Familiarity:

I've used it once or twice and have initial impressions

Fit:

Runs small
Yes...runs small. But since I didn't return it I still use it anyways. Fortunately I'm not someone that actually needs a whole lot of support in the chest area so I manage wearing it, even though it's perhaps a whole size too small. I would say there's nothing particularly special or exciting about this sports bra. The thin straps make it somewhat uncomfortable but that could also just be a consequence of the small size.
Kylin B
BLACK MESH BRA REVIEW
Familiarity:

I've put it through the wringer

Fit:

Runs small
Let me first say, I have 10+ of these bras (same size: M) and have been wearing them since 2006/2007.

I noticed a few years back they changed the material they use. The new material is not as durable/substantial as it use to be.

That did not bother me. What does bother me, is : I ordered a BLACK Medium (same as I have always been: I am 140LB 5'5 and am a 34B) recently and could not even get it over my head. I gave this to my sister who normally wears xs in patagonia: she could barely get the thing off once she got it on. I am so disappointed in Patagonia for this. For the price, I should be getting the best. This is not even close!

Thanks for reading.



I really do wear these bras EVERY DAY! LOVE Them.
Anonymous
Feels like nothing!
Familiarity:

I've put it through the wringer

Fit:

Runs small
This little bra is so comfortable--it really feels like you're not wearing anything. Some sports bras start to get annoying after wearing them all day, but I've worn this on a 4 day backpacking trip--hiking, sleeping, swimming, and it never started to rub or feel restricting. I agree with the other gals--this runs SMALL. I am a 32A and usually wear a XS in Patagonia, but I have this bra in a small and it fits snug, but comfortable.
Sheena
Roll the dice on size
Familiarity:

I've used it once or twice and have initial impressions

Fit:

Runs small
Bought 2 of these in size M, one magenta and one black. The magenta one fits perfectly...snug, but the right amount of snug (5 stars); the black one required my best David Copperfield skills to get on/off...way small! Had to return...will need to try on in store in future, or hope for free return shipping.
Steven B.
Nothing but Support!
Familiarity:

I've put it through the wringer

Fit:

Runs small
Nothing worse than spending money on a bad sports bra, but since my first Patagonia Active Mesh Bra I have been a believer. They are great for running, yoga, or just under a t-shirt around town. I love that they come in solid colors and different patterns and it's the only sports bra I will wear now. Take your shirt off ladies and show off that active mesh bra because it's a good one.



I would agree that this product does run a little small compared to other brands, but I order my normal size as it gives more support.
Aliza Lapierre