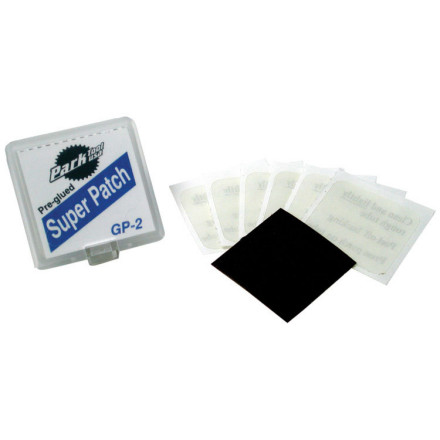 Colors
Park worked with 3M to produce a self adhesive tube patch that stretches, flexes, twists, and turns right along with the tube. The Park Tool GP-2C Pre-Glued Super Patch Kit has no messy glue and no bulky packaging. Lightly roughen tube with the included sandpaper, clean, apply patch, and you're ready to go. Six patches with sandpaper in a neat little carry along box.
Patch kit the size of a quarter.
Familiarity:

I've used it several times
What I like aobut this kit is the size. Super small and compact, and being that the patches are pre-glued you do not need to have glue with you as well. The only downside is that I have had a few of these patches not stick as well as the patches you glue on your self. Fortunately there are several patches in the kit so if one fails you are not stranded.
BJ Platte
excellent patch.
Familiarity:

I've used it several times
Great patch kit with no mess. I patched four tubes a couple weeks ago and the patch is solid. The self adhesive strip is a little hard to get off the backing but once you do, its a quick application. No more glue or empty glue containers after the first use from the old patch kits!!
Ronald E O.
Simple and fast
Familiarity:

I've put it through the wringer
I've used this at home and on the road. It is easy to use and works great.
Feldy
better for on the road/trail
Familiarity:

I've used it several times
Sure, glue and traditional patches are probably better if you have the time/space to do it, but on the road/trail, these are so much nicer and easier to use. They'll stop the leak, and they work. If I'm at home and find a flat, I'll use the blue and vulcanized patches, just because it seems like it does a better job, but these haven't failed me yet.
gilipollas
Great item to have!
Familiarity:

I've used it once or twice and have initial impressions
Everyone should keep this item in a pocket or saddle bag. Let's face it..............flats happen and if you don't carry an extra tube then you need a patch on pin hole and small pinch flats. These work................how do I know, I have had to use them to repair tubes and tires!
Mike S.
Can I use this to patch latex tube?
Can I use this to patch latex tube?
Hun Ming L.
Mike S.
This patch kit is the best I've used. Super quick and easy to apply. And if you do it right, that patch makes an excellent seal and holds tight; I've never had one come off. It weighs next to nothing and you can carry 6 patches that take almost no space.
Chris Huntley
I have had decent luck with these patches. They are easy to use and seal small holes very well. My only complaint is that the patches do not seem to hold very well on longer more aggressive rides.
BJ Platte
You're crazy (or tubeless) not to!
Easy to carry, easy to apply, hold great (like the rest of the season)! Takes up no room. Biggest problem? Finding them in your bag! Get some, patch stuff!
David Platt
Beter than glue patchs
Familiarity:

I've put it through the wringer
Forget that sticky, slow mess.
Dave McAlister
Small, easily packable
Familiarity:

I've put it through the wringer
These patches make sealing holes a piece of cake. The small package packs away nicely. I leave one hidden in my packs for those just-in-case situations where I might think I'm SOL. The only flaw I've found to using these is that the tube must be pretty clean and aren't necessarily a permanent solution.
Kevin K
tmail.comWhat size are your patches and...
tmail.comWhat size are your patches and will they work on a tractor inner tube1300 x 28? Does 2C stand for 2"square? emerson
Emerson L. Bowen
They are pretty small. Good for pin-sized holes in bike tubes. As long as the hole that you're patching is very small, these will do the trick though. I'd say they are less than 1"square. If you have a big hole, maybe you can try Park's TB-2 tire boot? It's meant for the inside of a tire but could adhere to a large tube also.
Connor Bruson
Chris Huntley
I've ridden multiple patched tubes for a lot of miles, these things are great. Except on pinch flats or slashes, no good for that but what is!? Super light, takes up almost no room, you can fold up a hamilton and stuff it in the case for apres-ride!
David Platt