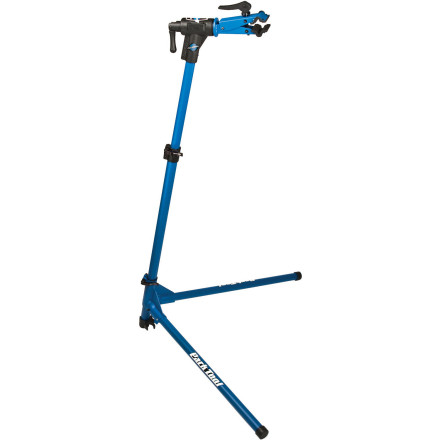 Colors
Work it.
The Park Tool Home Mechanic Repair Stand holds your bike securely at a perfect height so you can dust off your pants and stand up to work. No more sitting on the floor to work on your bike as it precariously leans against a desk or doorframe.
This stand's frame clamp is adjustable to multiple angles and can be rotated while working to get just the right angle on wrenches and cables. Its cam-actuated jaws are adjustable to hold a range of frame tube sizes, from 7/8-inch up to three inches in diameter, including deep, aero-shaped tubes. The Home Mechanic Repair Stand is also height adjustable from 39 inches to 57 inches at the clamp to accommodate different sized bikes and different height mechanics.
Cam-actuated clamp with adjustable jaws
Holds frame tubes from 7/8-inch to 3 inches in diameter
Clamp height adjustable from 39 inches to 57 inches
Three-point leg system
Folded dimensions: 41 inches
Ideal for carbon aero seat posts!
Familiarity:

I've used it several times
If you have a carbon aero seat post, then this is the bike stand for you. Very well made with a strong yet gentle clamp. Collapses quickly and easily for storage. This rig is a must if you plan to do basic checkups or maintenance on your new aero ride!
John W.
I bought this with some hesitation because I wasn't sure if I wanted to make the investment on a stand when I can accomplish the same thing by leaning my bike up against a tree. It has proved to be well worth it. Instead of wrestling my bike to stay in place when giving it a good clean, or lifting the back tire off the ground to service my drivetrain, I can now throw my bike on the rack and not think twice. I can move the bike around as needed and can make repairs with little effort. It feels very sturdy and the adjustments are super easy. Hoping this thing will last me a lifetime!
Joe Coughlan
Great stand for fat bikes
Familiarity:

I've used it several times
I was a bit nervous about how this stand would hold up with fat bikes, but I've used it now with my mountain bike and six different types of fat bikes of various weights. Even with the full extension lifting the bike high, the stand feels sturdy and stable. When not in use, it folds up conveniently to put away. The locking mechanism is easy to use and really holds the bike in place.
Joshua Higgins
Park Tool PCS-10 is a great investment!
Very solidly built and it's very easy to adjust your bike to any position you need it in to be able to work comfortably and efficiently .
Scott Chumbley
Works great. It was easy to setup and holds my full suspension 27.5 with no problem. It stashes away easily and doesn't take up much space when stored.
Mike Rosenberg
Does the job just fine
Familiarity:

I've put it through the wringer
Being a wrench for about 10 years, I have developed a pickiness for a good stand, and this review may be a little biased. I think this stand functions just fine, and I use it for my personal "bike shop" in my own house, but the quality level of it is definitely not professional level.

The clamp is basically a cheaper version of their 100-3D clamp, with taller clamping sufaces that can be difficult to find good clamping spots with shorter seatposts or bent tubes. That being said, it works fine, and I have had no issues with pivots or screws failing.

The fit and finish is good, and the legs are long enough to be stable. I had no problem punching out a stubborn PF30 bottom bracket with the bike in the stand, it remained stable and never had me worried that it would tip over.

Overall, its a good stand and does its job just fine, but for someone who is constantly wrenching, upgrading to something with a nicer clamp and potentially wider base could be nice.
Luke Dordai
Cheap, Broken, Difficult
Familiarity:

I returned this product before using it
Upon opening the box I first discovered one of the spring buttons to be broken and unable to be shift into place correctly. The directions are difficult to follow/cryptic, and it has a cheap feel. Had to return, as due to the broken spring button on the yoke it was impossible to even build let alone try to use.
Jason L.
The Chuck Norris of Bike Stands
Familiarity:

I've used it several times
Keeping your ride tuned and clean is the key to success. This stand delivers even after repeated roundhouses to the face. The design is solid and easy to set up. The clamp design is quite good and doesn't leave you holding your bike in an awkward position for too long. For those who need to travel with their own mechanical support, this is a great option and it doesn't take up much room in the trunk.

Sean Zimmerman-Wall
Park PCS10
Familiarity:

I've used it several times
This is quality you feel as you assembly the unit. Holds the bike effortlessly and securely. Just be be sure not to over tighten on carbon frames. As usual Park with their quality of design and construction, hits it out of the park again. No pun intended!
Michael Decker
never lost a bike yet!
Familiarity:

I've put it through the wringer
This stand has been used to hold many bikes, super light road bikes to full on tank DH bikes 50lbs easily.

I would buy another one of these but I don't think I will ever have to.
johngchrist
A must have stand!!
Familiarity:

I've used it once or twice and have initial impressions
The PCS-10 has all the features of the popular and original PCS-9 Home Mechanic Repair Stand but with special upgrades to make set up, take down, and use faster and easier. The PCS-10 works well with many recumbents and bikes with odd shaped tubing.

The pros of this one are as follows: it's rugged, versatile, has an exceptional grip, is lightweight and fully adjustable.

James Everitt
Well Built
Familiarity:

I've used it once or twice and have initial impressions
Made of heavy materials and the overall build quality seems really good.



Mine came without the extension clamp by accident from the factory. I contacted Park Tools and they had one in the mail the next day with an apology and no questions asked.



User friendly for all ages.
Jared G.
Have Stand will fix Bike
Familiarity:

I've used it several times
Love this stand Not too heavy, Sturdy Holds My Roadbike and Off Road. Keeps me from crawling on the ground and enlisting innocent bystandards from holding up the back end of my bike. I waited so long for this Bike stand to come into my life ... I don't know what I would ever do without it now. Plus it folds up pretty sexy and sets up Nicely on my little Balcony :D
FreeSarah
The stand is solid, and super easy to assemble and fold up for storage. It holds my dh bike no problem. The clamps are all well built and work smoothly. The rough matte finish feels like it will hold up well to abuse. Ice been wanting a proper stand for a long time, and cannot be happier with this purchase!
carey
A well designed stand
Familiarity:

I've used it several times
The stand is constructed heavy duty metal frame/tubing. The clamp is very easy to use. Once adjusted, the quick clamp/release lever operates smoothly and making it easy to get a bike onto or off the stand. The mechanism for adjusting the tilt angle of the bike is also very nicely design and once set for a particular angle, it can be locked in solid.



Minor problems with my particular stand were manufacturing related. I was missing a pinch bolt, and one of the plastic liner had its lip broken due to careless install. Adam at Competitive arranged contact with Park Tool, once I described the problem to them, replacement parts are now on their way. Very impressed by Park Tool's response.



Having been using the stand for a week to work on setting up a new bike I just bought. The stand made everything so much easier. This is a great investment for anyone who works on bikes, even if just once a week to lube the chain.
Dai F.
solid stand, decent deal
Familiarity:

I've put it through the wringer
I always feel that I'm paying too much for bike stands. they're relatively simple, not much engineering goes into them. that said, it's a good stand. solid, doesn't slip, fairly rigid. easy to use.
Ronen Sarig
Great Stand!
Familiarity:

I've used it several times
Easy to put together - no issues. It is a little tipsy compared to the tripod legs the competition uses - but the rapid release and clamp is far superior and it matches all of my tools which are - big surprise - Park! I am going to try to add something to the leg tubes to weigh them down a bit just to be safe.
kris W.
Great stand!
Familiarity:

I've put it through the wringer
If you are an avid roadie/mtn biker, you need one of these. Makes all those home repairs a million times easier. Quality is top notch, and stand feels extremely solid.
Andrew Meehan