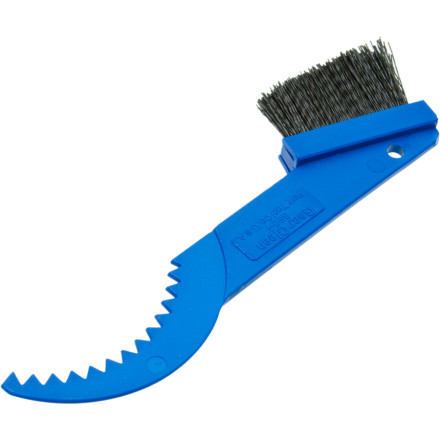 Keep your gears clean.
Get into the nooks and crannies of your drivetrain with Park Tool's GSC-1C GearClean Brush. The curved, toothed end fits in between cassette cogs to free impacted grit, while the stiff bristles break up stubborn dirt.
If you want to get your drivetrain shiny clean, this is the brush you'll want. The super stiff bristles agitate any sort of grease and grime off your gears. Obviously in conjunction with degreaser though. I find that if you do attack a particularly greasy part, the bristles will become impregnated with grease and you'll want a new brush after that. That applies for anything though.
Tommy Liao
Perfect for cleaning between cogs!
Familiarity:

I've put it through the wringer
This brush is ideal for cleaning your cassette. It's inexpensive, durable, and works very well.
Dan B.
The Best of the Bunch
Familiarity:

I've put it through the wringer
I have used a number of other dedicated chain brushes and decided to buy this one again due to it being simple cheap and effective. I like that the brush has a wider profile than some others, so it sweeps a wider section of the chain. On an older one I had to superglue the brush cartridge into the handle so it would not come out, it took a minute but solved the problem. On this one it seems like a tighter fit so it should not be an issue.
Forrest
Not sure what to say other than it is certainly tougher and scrubs harder than your average toothbrush cleaning job.
Christopher Siepmann
For Anyone that Owns a Bike
Familiarity:

I've used it several times
Do you own a bike? Yes? Get this. Clean your stuff and it will last longer. Not sure how to clean it? That's okay, check out Park Tool's website for plenty of at home maintenance tips.
Christian Ceraso
Essential tool for any home mechanic
Familiarity:

I've put it through the wringer
What really can be said. Picked this up as part of a maintenance build I was doing for my garage to be able to service my bike on the regular. Just like a wax scraper for the tune shop I have built for my skis and boards the chain brush is essential to any home shop. Get one today!

Kyle Laudenslager
Gearhead; Customer Account Manager
klaudenslager@backcountry.com
801-619-7486
Kyle Laudenslager
Great for tough to reach spots
Familiarity:

I've put it through the wringer
Excellent and pulling out the grime in between cogs on your cassette or if you run mulitple chain rings up front.
Ben B.
Disappointed snapped in half first use.
Hyker Wilson
This brush is great for cleaning chains and cassettes! I never realized how dirty they were and these bristles get it very clean. It definitely ups the bar for post-ride bike cleaning sessions.
Mike Rosenberg
Scrub a dub
Familiarity:

I've used it several times
Nice stiff bristles for getting the grime off the chain and cassette. Not great for trying to get into very tiny spots because, like I said, stiff bristles. Works great for its intended use though.
David Polson
My second one!
Familiarity:

I've put it through the wringer
I bought this brush to replace the one I wore out. Perfect for cleaning the cogs. I use Dumonde Tech lube on the chain, which can be messy. Pedro's Bio degreaser along with the Park chain cleaner and this brush makes for a quick and thorough cleaning of the drivetrain.
Eric B.
Nice
Familiarity:

I've used it several times
Arrived super fast. Thanks BC! This tool is exactly what I need to clean my bike! It's great so far, no issues.
Allen L.
Perfect
Familiarity:

I've used it several times
Pretty stoked on such a simple piece. I've historically been someone who doesn't keep my bike super clean. But having this brush makes scrubbing down my cassette after every few rides a quick and easy ritual.
Mark R
Useful
Familiarity:

I've used it once or twice and have initial impressions
Nice to have tool to give the cassette a deep clean or quick once over. Good quality, as expected.
Erika Schultz
Perfect for regular cleaning/maintenance
Familiarity:

I've used it several times
The title says it all. I can't get too poetic about a cleaning brush.
Jim Cody
Get that cassette CLEAN CLEAN CLEAN
Familiarity:

I've used it several times
The bristles are just the right length and stiffness to get the job done. Very well built. Can't see this breaking anytime soon
Nick Watson
These brushes are fantastic, and any bike cleaning bucket should ALWAYS have one of these in it. The bristles are long enough to get to all the gaps in the cassette, and it will get into all the little nooks and crannies you can imagine. It also has the plastic shape at the other end that can be used to get hardened grease or mud or grit out of the cassette and other components/parts.
Tommy Nankervis
I use this small and light tool to clean out mud and grass from my cassette easily. Super convenient. Way better than picking at your cassette with a stick.
Cecilia M