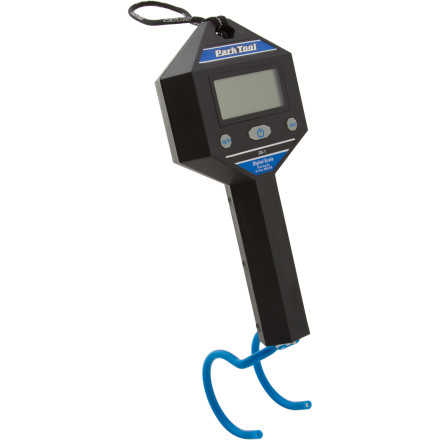 Colors
Not for weighing drugs.
The Park Tool DS-1 isn't really all about weighing your bike. It can weight your bike, of course—it will weigh anything up to 55 lbs, but it's so accurate that it can weigh individual components down to 20 gram increments. That's where it really shines. You can weigh each part to build the ultimate lightweight ride. Its accuracy is rated to within 0.005%. The DS-1 is designed to clamp into a bicycle work stand, or you can use the loop to hang it from the ceiling, a door frame, or anywhere else.
Weighs anything up to 55 lbs
Accurate to within 0.005%
Displays grams, ounces, or pounds
Silicone-coated frame hook
Batteries included
Simple and easy
Familiarity:

I've put it through the wringer
A nice tool to keep around if you're caring about how much your bike weighs. Has kg and lbs settings. Reads quickly and is precise.
CJ Brish
Does not come with batteries
great way to show off how light your new bike is! Keep in mind that this does not actually come with batteries! Please contact us if you have other questions, Enjoy!
Katie Harker
Disappointed
Familiarity:

I returned this product before using it
Received the item broken only read LLLL... Contacted Park who quickly sent out a replacement, but the replacement came working but way off. Parks customer service was awesome but if the scale couldn't handle shipping it won't last very long with practical use.
Brian M.
Weight a minute!
Familiarity:

I've used it several times
Looking for a review that carries some weight? This is no heavy revelation here. If you need to know the scale of your cycling hardware purchases, or at least the weight, this nice little scale will help lighten your concerns. Ok, maybe not. But, it will tell you what they weigh. So, take some weight off your shoulders and hang it on this scale. It works great!
Eric B.
Nice To Have
Familiarity:

I've put it through the wringer
It's nice to have this hanging around to check the weight of your bikes. Also great for making your buddies feel bad about their heavy bike.
Chad Cordell
Nice Scale
Familiarity:

I've used it several times
I purchased this after many of years relying on the bike shop to do my dirty work for me. That wasn't convenient so I purchased this and now have torn almost every bike down to weigh each component. Now I need the other scale for the smaller parts that just aren't easy to weigh with the hooks. Love having it however because now I do know the exact weight of each bike.
Jeff
Accurate when set-up correctly...
...which is difficult to do. Getting the two hooks under the top tube of an XC or road bike is one thing, but can be difficult with a bigger bike. Play around and you'll usually find a spot. Lower shaft fits perfectly in a Park repair stand.
Andrew