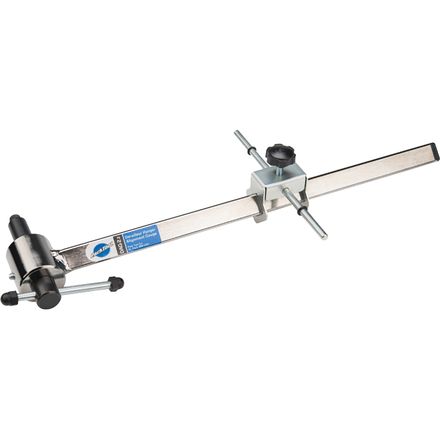 Colors
Straighten up.
Quit fiddling with your rear derailleur's barrel adjuster and address the issue of sloppy shifting at its source. Park Tool's DAG-2.2 Derailleur Alignment Gauge helps the home mechanic identify and correct a bent derailleur hanger, and — compared to the DAG-2 model — it features a stronger shaft, tighter tolerances, and improved clearance and reach. The sliding arm encompasses wheels from 20 to 29in.
Getting your act together.
Familiarity:

I've used it several times
Bikes not shifting right, it might be the hanger. Sometimes fixing the simplest of shifting problems is just needing to straighten the hanger. Save yourself some time and money and just straighten them yourself. The tool works great, and it's what you'll see hanging on the wall of almost every bike shop in the country.
Robert Jensen
Great for saving some money on new hangers every time you wack one out of wack.
just make sure you use the same spot on the rim to take the reading as you go around adjusting.
johngchrist
The Dag-2.2 just became my favorite tool
Familiarity:

I've used it several times
After adjusting the rear di2 derailleur on my brand new road bike it still wasn't shifting properly. I invested in the Dag2.2 tool to see if the hanger was bent. To my amazement it was bent in both directions. It shifts like a dream now!
Bryan H.
Great value
Familiarity:

I've used it once or twice and have initial impressions
I've had a run of good luck not bashing my rear derailleur in recent years--until this spring. My fully outfitted Ti bikepack rig fell over right before starting a 3 day adventure--I only had practical use of half the 10 gears in back. And shortly thereafter, on my plastic full suspension rig I caught a hidden rock or stump on a local ride that made for imperfect shifts. For the cost of a good tune up, I decided to buy this tool and gain the know how on 'bending' a hanger back in place myself. Couple things to note--there are some other hanger alignment tools out there that look a little more refined and possibly slightly more user friendly--but they are significantly more expensive and having a home workshop full of Park tools that have never done me a disservice, it was easy to get this. Derailleur hangers are designed to be sacrificial--that is, they are supposed to 'give' or even break before imparting those forces onto your expensive frame. Finally, aluminum hangers are not really meant to be bent much, if at all--so a minor adjustment is probably ok but a severe misalignment or repeated re-alignment really dictates you get a new hanger (each time you bend aluminum, it gets weaker). If you ride boutique brands (not the major names that are sold on the corner of every city), spend $20 when you buy your new bike and keep that spare hanger on hand and take it on destination type trips with you. Any shop can install and align a new hanger from any brand bike, but you're SOL if the shop doesn't have the right hanger on hand. If you can't get proper shifting after alignment, then the derailleur itself likely took a fatal blow.
Josh R